You are here
Streaming revolution reaches Grammys
By AFP - Feb 09,2017 - Last updated at Feb 09,2017
LOS ANGELES — Streaming has rapidly transformed the music industry and if there is to be a single moment to confirm the format's arrival, it may be the Grammy Awards.
The music industry's most prestigious awards, which take place Sunday in a star-studded gala in Los Angeles, this year for the first time considered releases that were only streamed online.
The biggest beneficiary has been Chance the Rapper, whose "Coloring Book" came out in May only by streaming — first through Apple Music and then on other services including the most popular one, Spotify.
The 23-year-old, known for incorporating gospel elements into hip-hop, is in the running for seven Grammys, including Best New Artist.
The Chicago artist insists he does not plan ever to sell his songs. His music giveaways have become part of a social media strategy, with touring his primary source of revenue.
"There's so many ways that music moves around now. I feel like trying to fit it into a for-sale album is kind of obsolete now," he told television host Jimmy Fallon on "The Tonight Show".
"It gives me more space to create and put out stuff," he said.
Streaming has brought new optimism to executives of the music industry, which has witnessed its first healthy growth figures since the start of the Internet era.
In the United States, the world's biggest music market, subscriptions to music streaming services more than doubled in 2016 alone, according to analytical firm BuzzAngle Music.
Larry Miller, director of the music business programme at New York University's Steinhardt School, said the change by the Recording Academy, the tradition-bound institution that administers the Grammys, would likely lead to more streaming exclusives in the future.
"It's certainly not the first and probably not the last, but it is perhaps one of the most important validating statements about the emergence, and maybe domination, of streaming as the way that many, if not most, people are finding and listening to music," he said.
The three top-selling albums last year in the United States, which are all up for the prestigious Album of the Year Grammy, show the diversity of strategies on streaming.
Beyonce, who leads the Grammys with nine nominations, sprung her previously unannounced album "Lemonade" onto Tidal, the upstart streaming service led by her husband Jay Z.
Beyonce started selling "Lemonade" on iTunes a day later and within two weeks put it out on CD — but has not streamed it on Tidal's rivals.
Toronto rapper Drake released "Views" through Apple for a two-week exclusive period — a triumph for the tech giant as it promotes its young streaming service — before sharing it with other platforms.
However, English balladeer Adele released "25" — the top-selling album in recent years — only through CDs, vinyl and digital downloads. It started streaming seven months later.
Miller said Adele's move made commercial sense for a singer of her broad popularity.
"But that is not a release strategy that can be undertaken by more than a couple of artists who have enormous global, older and moneyed fan bases," he said.
Pop superstar Taylor Swift, whose "1989" is the reigning Album of the Year, also resisted streaming initially and waged a campaign against Spotify.
She is not alone in her criticism. While the number of artists to boycott streaming has dwindled, many complain that the payback is paltry except for mega-stars.
Some artists have seen streaming's possibilities and experienced its pitfalls. Acclaimed hip-hop artist Frank Ocean fulfilled a label contract when he streamed a loosely defined visual work on Apple Music — and a day later, independently, released his long-awaited second studio album, "Blonde".
The audacious move reportedly outraged Lucian Grainge, head of the largest music label group Universal, who was said to ban future exclusives.
Kanye West, who is up for eight Grammys, declared "The Life of Pablo" to be a new type of release — a "living album" — which he fine-tuned even after its release on Tidal.
But Tidal did not report its data, meaning "The Life of Pablo" only entered the charts once the celebrity rapper released it more widely.
Related Articles
Feb 07,2023
LOS ANGELES — Pop queen Beyonce on Sunday reigned supreme at the Grammys, breaking the all-time record for wins with her 32nd prize and four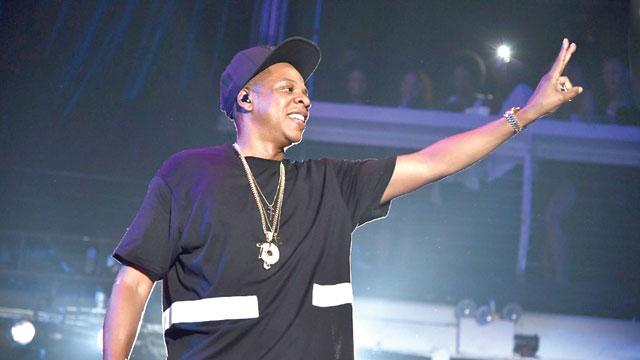 Nov 30,2017
NEW YORK — Jay-Z led Grammy nominations on Tuesday with eight nods, followed closely by fellow rapper Kendrick Lamar with seven, in a
Feb 04,2023
LOS ANGELES — The brightest stars in pop music will vie for the industry's top awards at the Grammys in Los Angeles on Sunday, with a Beyonc