You are here
UK retail sales slide on cost-of-living crisis
Key survey shows consumer confidence collapsing close to a near-record low
By AFP - Jan 21,2023 - Last updated at Jan 21,2023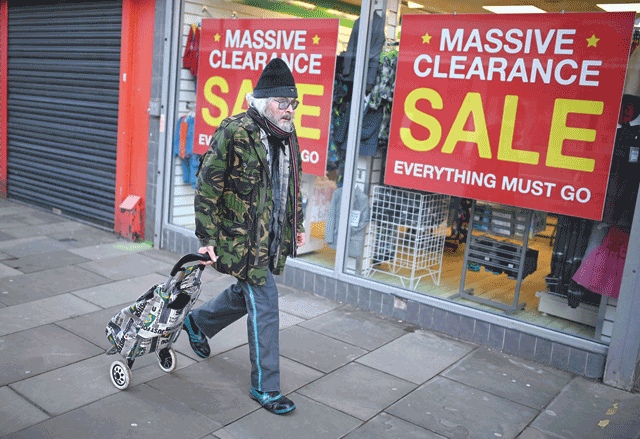 A pedestrian wheels a shopper past a shop advertising a closing-down sale in Bolton, north west England, on Friday (AFP photo)
LONDON — UK retail sales sank over the key Christmas trading period as consumers tightened belts in a cost-of-living crisis sparked by sky-high inflation, official data showed Friday.
Sales by volume dropped 1 per cent in December, the Office for National Statistics (ONS) said in a statement.
That marked a second monthly decline in a row after a drop of 0.5 per cent in November, the ONS said.
"Retail sales dropped again in December, with feedback suggesting consumers cut back on their Christmas shopping due to affordability concerns," said Heather Bovill, ONS deputy director for surveys and economic indicators.
Shoppers also curbed expenditure last month as wintry weather sparked soaring energy bills, while many had made their festive food purchases in November.
"Even Santa has bills to pay and when the household budget is feeling uncomfortably tight the only choice available is to spend less," said AJ Bell analyst Danni Hewson.
"For most people the fact the inflation number is falling doesn't mean anything."
The outlook darkened further Friday as a key survey showed consumer confidence collapsing close to a near-record low.
GfK's Consumer Confidence Index dropped three points in January to minus 45, close to the historic nadir struck in September.
Official data on Wednesday showed UK annual inflation slowed slightly to 10.5 per cent in December.
However, the rate remains close to a four-decade high that is causing mass strikes by workers, including nurses, teachers and the railway sector as they fight for wage increases to keep pace with inflation.
Inflation has galloped to its highest level in decades around the world, propelled by surging energy bills after key gas producer Russia invaded Ukraine almost one year ago.
Yet a recent drop in wholesale energy costs has fuelled hope of falling domestic electricity and gas bills this year, soothing inflationary worries in Britain and elsewhere.
Bank of England (BoE) Governor Andrew Bailey on Thursday forecast that inflation would fall "quite rapidly" this year — and that "a corner has been turned" with the December slowdown from 10.7 per cent in November.
"That has a lot to do with energy" costs dropping, Bailey told the Business Live website.
The UK government led by Prime Minister Rishi Sunak is partially subsidising domestic energy bills but this support ends in March.
The government believes the UK economy has already entered recession on fallout from rampant consumer price increases.
Related Articles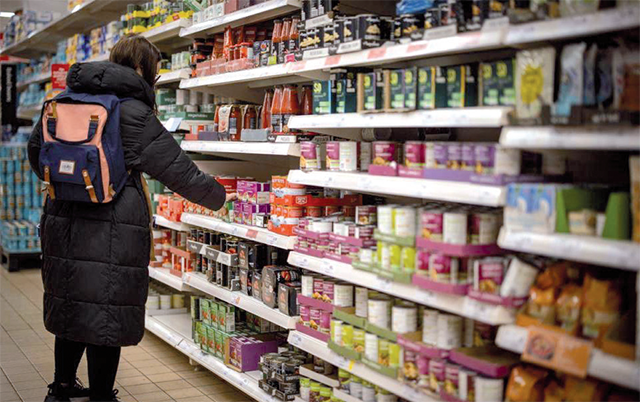 Nov 20,2023
LONDON — UK retail sales dropped surprisingly in October owing to a cost-of-living crisis, to reach the lowest level since February 2021 whe
Jan 11,2023
LONDON — Global stock markets mostly rallied on Wednesday as investors were buoyed by optimism over China's reopening and looming data expec
May 11,2023
LONDON — The Bank of England (BoE) on Thursday lifted its key interest rate to the highest level since the 2008 financial crisis, noting inf