You are here
New jobs created through Ritz-Carlton
By JT - May 18,2017 - Last updated at May 18,2017
Prime Minister Hani Mulki lays the cornerstone for the Ritz-Carlton and residences project in Amman on Thursday (Petra photo)
AMMAN — A hotel project is expected to create more than 1,200 jobs for the country during its construction phase, besides around 530 jobs once it is completed, the Jordan News Agency, Petra, reported on Thursday.
Prime Minister Hani Mulki on Thursday laid the cornerstone for the Ritz-Carlton and residences project, a Jordanian investment in its entirety, whose cost is estimated at $235-million, according to Petra.
Tawfiq Fakhoury, founder and chairman of Al Eqbal Real Estate Development, said His Majesty King Abdullah's commitment to promote Jordan and his calls to make use of the capabilities available in the tourism sector inspired the company to launch the project.
Emad Al Kilani, the company's CEO said the project is scheduled to be completed in 2020 and will reflect the Jordanian heritage, to be depicted in a modern way. The project will draw on the expertise of both local and international architects to bring about the desired results, he added.
The hotel project, to be constructed near the fifth circle, will include 233 rooms while the envisaged 20-storey Carlton-Ritz residences tower will comprise 90 apartments that will be offered for sale, Petra reported.
Related Articles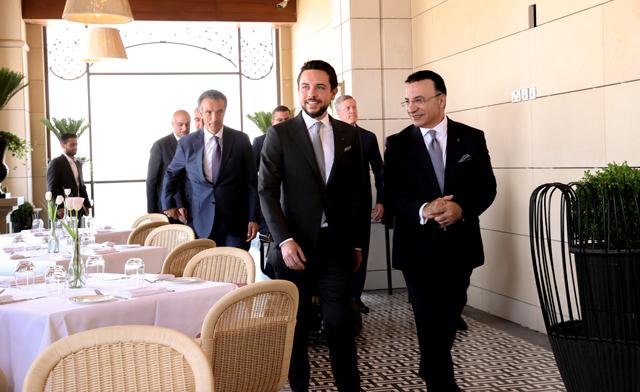 Jun 01,2022
AMMAN — Deputising for His Majesty King Abdullah, HRH Crown Prince Hussein on Tuesday inaugurated The Ritz-Carlton hotel in Amman, a project
Sep 02,2018
AMMAN — Minister of State for Investment Affairs Muhannad Shehadeh, who is also chairman of the Jordan Investment Commission (JIC), on Sunda
Jan 29,2019
AMMAN — Al Eqbal Real Estate Development and Lebanese Matta et Associés contracting company on Tuesday signed an agreement valued at $150 mi