You are here
Macron in Mali for diplomatic push on Sahel anti-extremist force
By AFP - Jul 02,2017 - Last updated at Jul 02,2017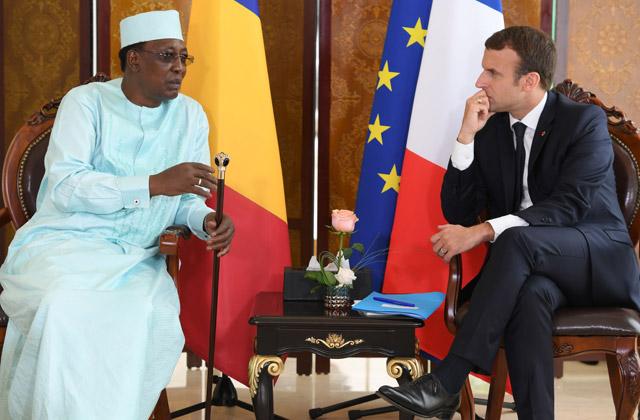 French President Emmanuel Macron (right) talks with Malian President Ibrahim Boubacar Keita during a G-5 Sahel summit in Bamako on Sunday (AFP photo)
BAMAKO — French President Emmanuel Macron on Sunday threw his weight behind a planned Sahel force to fight extremists on a lightning visit to Mali but told countries in the region their efforts had to bear fruit.
Faced with a growing number of extremist attacks in central Mali which have also hit neighbouring Burkina Faso and Niger, the so-called G-5 Sahel nations have moved to set up a regional force to tackle the threat.
The aim is to combat the wave of Islamist bombings, shootings and kidnappings in the Sahel, the region just south of the Sahara.
Joining the heads of state of Burkina Faso, Chad, Mali, Mauritania and Niger at a summit in Bamako, Macron hailed the initiative as "a dynamic, a groundswell which France is proud to back".
But, he said, "it will be up to you and your armed forces to demonstrate that the G-5 can be effective while respecting humanitarian conventions. The results have to be there to convince your partners".
The force, which will initially count some 5,000 troops, will begin its operations in Mali, Burkina Faso and Niger with Macron saying it was likely to be operational by September or October.
With a base in Sevare in central Mali, the force will work alongside France's 4,000-strong Operation Barkhane as well as with MINUSMA, the UN peacekeeping operation in Mali.
At a news conference with Macron, Malian President Ibrahim Boubacar Keita said the leaders had agreed on a budget of 423 million euros ($480 million).
"Each of our states will make a 10-million-euro contribution," he said, noting that the question of funding had taken precedence at the closed-door talks.
The European Union has already made an initial 50-million-euro pledge which Macron said was "the start of a long-term commitment".
On June 21, the UN Security Council adopted a resolution backing the joint counterterror operation.
Chad's concerns
Macron is also hoping for extra support from Germany, the Netherlands, Belgium and the United States, and said he hoped it would be possible to make a French-German funding commitment after talks in Paris on July 13.
Although Chad's military is widely viewed as the strongest of the five Sahel nations, President Idriss Deby has said his country cannot afford to mobilise large numbers of troops simultaneously for the UN peacekeeping mission and also in the new force.
Deby and Macron also discussed the financial issue on the sidelines of the Bamako summit, with the French and Malian leaders both saying the Chadian president had been reassured by the talks.
Laboratory for coordination
France intervened in Mali 2013 to chase out Al Qaeda-linked extremists who had overtaken key northern cities. A year later, that mission evolved into Operation Barkhane with an anti-terror mandate stretching across the Sahel.
The new Sahel force will support national armies trying to catch extremists across porous frontiers, and its operations will be closely coordinated with Barkhane, a source in the French presidency told AFP.
Analysts have compared the new force with the Multinational Joint Task Force battling Boko Haram in the Lake Chad region, comprising troops from Benin, Cameroon, Chad, Niger and Nigeria.
But the G-5 Sahel force will face other problems, with the inherent weakness of the armed forces in Burkina Faso and Mali, while Chad and Niger are already engaged on multiple fronts, said Rinaldo Depagne of the International Crisis Group.
The three-nation border of Liptako-Gourma between Burkina, Mali and Niger, will become a "laboratory" where French forces will work with them before bringing Chad and Mauritania into the mix, he predicted.
The G-5 Sahel force's top commander, Malian general Didier Dacko, has said each country's contingent would initially operate on its own soil and gradually shift focus to their mutual borders.
Related Articles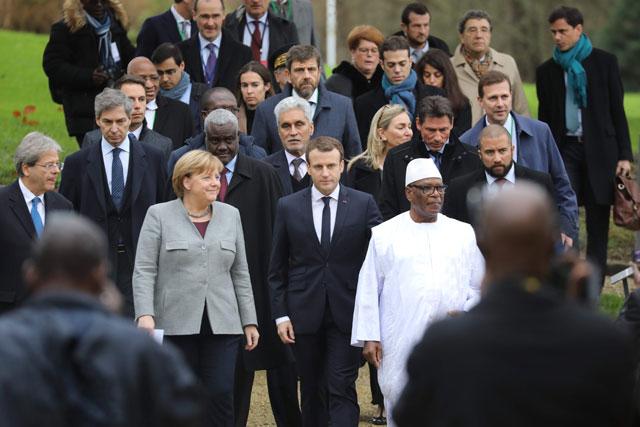 Dec 13,2017
PARIS — French President Emmanuel Macron hosts Germany's Angela Merkel and five African presidents on Wednesday, hoping to bolster the fledg
Mar 03,2018
OUAGADOUGOU — Dozens of people were killed on Friday in twin attacks on the French embassy in Burkina Faso and the country's military headqu
Feb 11,2016
DAKAR — Groups of Daesh militants are quitting their bases in Libya fearing Western air strikes and heading south, posing a new threat to co
Newsletter
Get top stories and blog posts emailed to you each day.