You are here
Europe's migration crisis casts long shadow as Austria votes
No party expected to win majority, coalition talks likely
By Reuters - Oct 15,2017 - Last updated at Oct 15,2017
A woman wearing a headscarf leaves a polling station during general elections in Vienna, Austria, on Sunday (AFP photo)
VIENNA — Austria voted on Sunday in a parliamentary election that is expected to see 31-year-old conservative Sebastian Kurz become chancellor on a pledge to take a hard line on refugees and prevent a repeat of Europe's migration crisis.
Foreign Minister Kurz propelled his People's Party (OVP) to the top of opinion polls when he became leader in May, dislodging the far-right Freedom Party (FPO) that had held first place for more than a year.
If Kurz's OVP wins, the FPO would still have a good chance of entering government for the first time in more than a decade.
The winner will probably need a coalition to govern and the FPO could be kingmaker because the OVP and their current coalition partner, the Social Democrats, are at loggerheads.
Austria, a wealthy country of 8.7 million people that stretches from Slovakia to Switzerland, was a gateway into Germany for more than 1 million people during the migration crisis that began in 2015. Many of them were fleeing war and poverty in the Middle East and elsewhere.
Austria also took in roughly 1 per cent of its population in asylum seekers in 2015, one of the highest proportions on the continent. Many voters say the country was overrun.
"Immigration policy, which Mr Kurz talked about so often, was decisive," 58-year-old Kurz supporter Ingrid Regina said outside a polling station in Vienna on a warm, sunny autumn day. "I expect things to improve and order to return."
The inflow of migrants buoyed the FPO and similar anti-immigration parties across Europe, including the Alternative for Germany Party, which secured seats in parliament last month.
The FPO, by contrast, has been in Austria's parliament for decades and currently holds a fifth of seats there.
"I am hoping for a good result with a greater vote of confidence," FPO leader Heinz-Christian Strache told reporters at a polling stating in Vienna. "If we reach 25 per cent that would be good, a great success, but perhaps even more is possible."
Kurz says he will shut the main migrant routes into Europe through the Balkans and across the Mediterranean. He and the FPO have kept immigration at the heart of the campaign, while Social Democrat Chancellor Christian Kern has touted falling unemployment and the fastest economic growth in six years.
Kurz plans to cap benefits for refugees at well below the general level and bar other foreigners from receiving such payments until they have lived in the country for five years.
He also says he wants to shake up Austrian politics, which for decades has been dominated by coalitions between his party and the Social Democrats. His opponents say he is merely a new face on a party in power in various coalitions for 30 years.
'Last hope'
"He is our last Christian-social hope," said Kurz supporter Thomas Heine-Geldern, a retired consultant. He was expressing a view that helped Kurz gain control of the OVP, namely that he is its only chance of bringing electoral success to an otherwise ageing and fading party. "I hope it is enough [to win]."
Kurz ended the current alliance with the Social Democrats when he took over his party, forcing Sunday's snap election.
Opinion polls have for months shown the conservatives ahead with around a third of the vote and a tight race for second between the Social Democrats and the FPO, whose candidate nearly won last year's presidential election.
The FPO has accused Kurz of copying its ideas and Strache called him an "impersonator".
The Social Democrats are hoping for a strong finish to make voters forget a scandal that plunged the party into turmoil two weeks ago when their chairman was forced to step down.
The party said it was connected to Facebook accounts that made unsubstantiated allegations against Kurz, blaming a political adviser Kern had hired. The party leadership has said it was unaware of the party's involvement and has launched an internal investigation.
"We are full of optimism. Now the voters have to decide. I think we have led a campaign in the last few days that has gained significant momentum," Kern told reporters after casting his ballot in Vienna.
He has warned of a repeat of the OVP-Freedom Party coalition in the early 2000s that was marked by financial scandals.
Related Articles
May 23,2016
VIENNA — Austria's Norbert Hofer narrowly failed Monday to become the EU's first far-right president after his ecologist rival scraped to vi
Dec 05,2016
VIENNA — Austria's voters have resoundingly rejected anti-immigration and eurosceptic Norbert Hofer's bid to become the European Union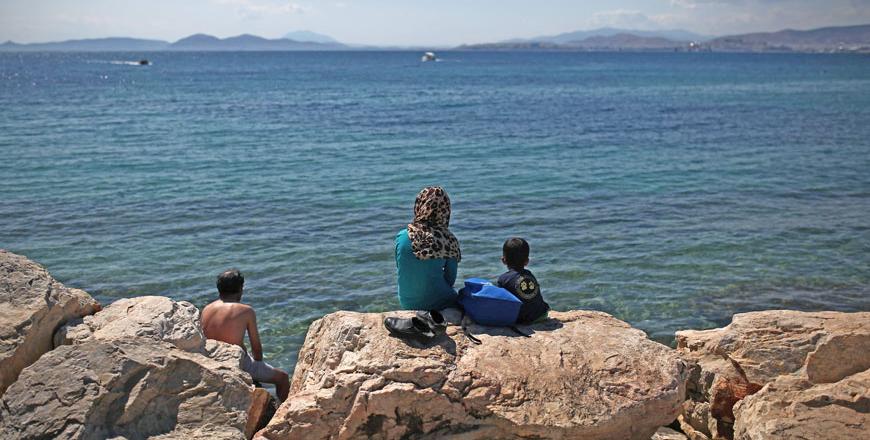 Jun 05,2016
VIENNA — Asylum seekers to the European Union should be held on islands rather than be allowed direct access to the continent, Austria's for
Newsletter
Get top stories and blog posts emailed to you each day.