You are here
Britain, Germany say US must decide on jets for Ukraine
By AFP - May 18,2023 - Last updated at May 18,2023
BERLIN/ KYIV — Any decision to send F16 fighter jets to Ukraine will fall on the White House, the UK and German defence ministers said Wednesday despite a jet "coalition" announced by Britain and the Netherlands this week.
"This is up to the White House to decide whether it wants to release that technology," British Defence Minister Ben Wallace said after talks with his German counterpart Boris Pistorius in Berlin.
"It depends on the White House... to decide whether the F16 fighter planes can be delivered," Pistorius added.
British Prime Minister Rishi Sunak and Dutch counterpart Mark Rutte had agreed on the fighter jet club on the first day of a Council of Europe summit in Iceland this week.
They said they would build an "international coalition to provide Ukraine with combat air capabilities, supporting with everything from training to procuring F16 jets".
However, Wallace pointed out that Britain has no F16 jets and also stressed that it was not planning to send anything from its Typhoon fleet.
"But we can help the pipeline... we can enable other people who wish to," he said.
Pistorius also said Germany could not "play an active role" in such an alliance "because we don't have the training capacity, the skills, or the aircraft".
Chancellor Olaf Scholz also said in Iceland that he did not see any direct "requirements" for Germany when it came to fighter jets.
Ukrainian President Volodymyr Zelensky has been pressing for fighter jets to help Ukraine repel Russia's invasion and repeated the request on a recent tour of European capitals.
Zelensky said in London he was "very positive" about creating a "jets coalition" in the war against Russia.
Meanwhile, President Volodymyr Zelensky was expected on Wednesday to receive a special envoy from China who arrived in Kyiv to promote Beijing-led negotiations to end the war in Ukraine.
In Kyiv, officials also sought to allay fears that Russian forces destroyed a US-supplied Patriot air defence system, saying the powerful weapon was in operation.
China's special envoy, Li Hui, arrived in the Ukrainian capital on Tuesday for two days of talks with authorities, part of a European tour to promote Beijing's plan to settle the conflict with Russia.
A high-ranking Ukrainian official told AFP on condition of anonymity that a meeting between Zelensky and Li was "possible in the afternoon".
Li, the highest-ranking Chinese diplomat to visit the war-torn country since Moscow invaded in February 2022, arrived in Kyiv three weeks after Zelensky spoke by telephone to Chinese leader Xi Jinping.
On Tuesday Kyiv warned that Ukraine did not need "mediation for the sake of mediation".
"Ending the war with a compromise at the expense of Ukraine will not work," a senior Ukrainian official, speaking on condition of anonymity, told AFP.
Beijing has said the aim of the tour is to "communicate with all parties on the political settlement of the Ukrainian crisis".
Xi, who has aimed to position China as a neutral mediator, and visited Moscow in March, has been criticised for refusing to condemn the Kremlin's attack on its neighbour.
'All well with Patriot'
Ukrainian Prime Minister Denys Shmygal hailed the "historic decision", saying it would help "establish justice".
On the ground "fierce" battles raged for the eastern town of Bakhmut, Ukraine's army said.
"The enemy continues to conduct offensive actions," the general staff said in its daily report.
Regional authorities said that Russian shelling in the small hours of Wednesday damaged a nine-storey residential building in the southern city of Kherson but no one was injured.
On Tuesday, the Russian defence ministry said its forces had struck a Patriot system in Kyiv with a Kinzhal hypersonic missile.
On Wednesday, Ukraine contradicted that claim, saying a US-supplied Patriot air defence system continued to operate in Ukraine.
"Don't worry, all is fine with the Patriot," air force spokesman Yury Ignat told AFP.
He declined to say if the sophisticated system had been damaged.
"The Patriot is in service," Ignat added. "All is well."
Kyiv received the first shipments of the American-made Patriot surface-to-air missile system in April.
CNN reported, citing a US official, that a US-made Patriot air defence system was likely damaged as a result of a Russian missile attack early Tuesday.
Kyiv announced Ukraine's air defence shot down six of Russia's hypersonic missiles, but Russian Defence Minister Sergei Shoigu rejected that claim.
Russian President Vladimir Putin, who unveiled the Kinzhal in 2018, has termed it "an ideal weapon" that is extremely difficult to intercept.
Related Articles
Mar 19,2022
KYIV — Russia said Saturday that it had unleashed hypersonic missiles against an arms depot in Ukraine, the first use of the next-generation
May 07,2023
MOSCOW/ KYIV — The chief of the Russian paramilitary group Wagner on Saturday asked Moscow to let him hand over his positions in the hotspot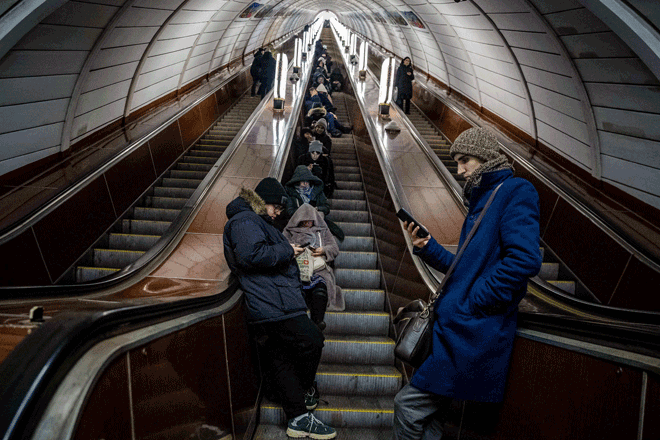 Feb 11,2023
KYIV — Ukraine said Friday that Russia had launched a major new wave of aerial attacks, as President Joe Biden announced he would mark one y