You are here
Week 4 of football league could be decisive for leading teams
By Aline Bannayan - Sep 19,2018 - Last updated at Sep 19,2018
AMMAN — The Jordan Professional Football League heads into Week 4 on Thursday with Jazira having taken the lead atop the 12-team standings leaving rivals Faisali and titleholders Wihdat trailing behind.
This week, Jazira beat Hussein 3-1 to take the lead ahead of their next match against Aqaba, who fell to 7th after losing to Baqaa 1-0 as the latter climbed to 6th. Shabab Urdun are second after managing a 1-1 draw with Salt who are now fifth. Shabab Urdun will take on Wihdat while Salt play Faisali in tough matches this round.
Baqaa will play That Ras who are 10th while Hussein meet Sarih who held Wihdat 1-1. Faisali held Ramtha while Ahli held That Ras by the same score.
In the earlier two stages Jazira beat Baqaa 4-2, Shabab Urdun beat Ramtha 3-1, That Ras held Faisali 1-1 , Aqaba beat Ahli 4-0, Baqaa beat Hussein 3-1, Sarih held Ramtha 1-1, Jazira beat Ahli 2-0, Salt upset Wihdat 1-0 to shape the current standings
This week Jazira lost their home match 1-0 to the Iraqi Air Force in the Asian Football Confederation (AFC) Cup which was twice won by Faisali and once by Shabab Urdun. Ramtha will host Tunisia's Etoile Sportive Du Sahel in the return leg of the Arab Clubs Championship on September 28 as they seek to makes up for their 3-1 defeat in Leg 1. Last year, Faisali finished runner-up to Tunisia's Tarajji in the Arab Championship after an impressive performance which included two wins over Egyptian veterans Ahli.
This week, the national team also tied Oman 0-0 before they regroup to play Albania on October 10 and World Cup runner-up Croatia on October 15. Jordan lost to Lebanon 1-0 earlier this month as the team's coach Jamal Abu Abed was relieved of his duty by the Jordan Football Association as the team gears up for the Asian Cup — the continent's most important football event. The team beat Cyprus 3-0 earlier in this summer.
The 2018-2019 football season kicked off in August when league champs Wihdat beat Jordan Cup champs Jazira in the 36th Jordan Super Cup.
Last season, Wihdat won the league for a record 16th time. Jazira conceded the 35th Jordan Super Cup to Faisali and the Jordan Football Association Shield final to Wihdat. Jazira also finished runner-up in the league.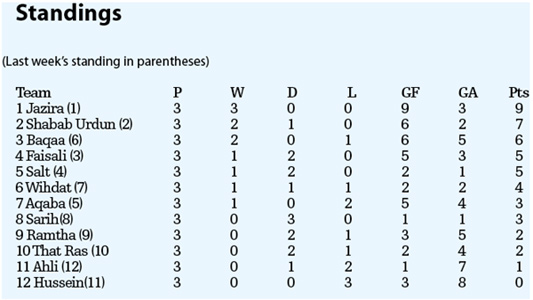 Newsletter
Get top stories and blog posts emailed to you each day.