You are here
Curry leads Warriors' onslaught over Rockets
By Reuters - May 21,2018 - Last updated at May 21,2018
James Harden of the Houston Rockets throws up a shot against Draymond Green (centre) and Stephen Curry of the Golden State Warriors during Game 3 of the Western Conference finals of the 2018 NBA play-offs in Oakland, California, on Sunday (AFP photo by Ezra Shaw)
Stephen Curry hit seven straight shots, including a pair of 3-pointers, in a third-quarter flurry on Sunday night that broke open a competitive game and sent the Golden State Warriors to a 126-85 blowout win over the Houston Rockets in Game 3 of the Western Conference finals in Oakland, California.
Curry, who had been held to a total of 34 points in the first two games of the series, exploded for 35 points in 34 minutes, propelling the Warriors into a 2-1 lead over the top-seeded Rockets in the best-of-seven series.
"That's what I expected to do, but just like my approach after every game is you don't get too high after highs, don't get too low after lows." Curry said in an on-court interview after the game. "Obviously thankful to hit some shots tonight, eventually."
Game 4 is scheduled for Tuesday night, also in Oakland.
Kevin Durant had 25 points, while teammate Draymond Green had a game-high 17 rebounds to complement 10 points, as the Warriors rebounded from a 127-105 shellacking Wednesday in Game 2 in Houston.
The Warriors have lost three games in their three series this postseason, and have rebounded to win the next contest by a combined 65 points.
"Tonight was all about defence and taking care of the ball," Warriors head coach Steve Kerr said. "That's it. When we defend at that level and take care of the ball, we're usually in pretty good shape."
James Harden had 20 points and a game-high nine assists to lead the Rockets, who had won three of their previous four road games in the postseason. Houston had the best road record in the NBA during the regular season at 31-10.
"As a team, we played a lot better defence today, which I think got everybody more involved," Curry said.
The 41-point margin of defeat was the largest in the Rockets' postseason history.
"It was not a very good game, and we're going to have to play a lot better Tuesday," Rockets head coach Mike D'Antoni said. "We have short memories. Have to."
The Rockets led by as many as four points in the first quarter and trailed just 54-43 at halftime before Curry almost single-handedly left them in the dust in the third period.
Curry, just 1-for-7 on 3-pointers in the first half after going just 2-for-13 in the first two games of the series, connected from 28 and 25 feet during a 14-0 burst midway through the third period that turned a 70-56 game into an 84-56 demolition.
"He's good, and sooner or later he's going to erupt," D'Antoni said. "You can analyse him all you want, but at the end of the day, he's still a pretty good basketball player."
Curry made four of his five 3-point attempts in the second half to finish 5-for-12. He hit 13 of 23 shots overall.
Asked what the Warriors had to do to keep rolling in Game 4, Curry answered, "Just do everything we didn't do in Game 2 and we should be in good shape."
Klay Thompson (13), Quinn Cook (11) and Andre Iguodala (10) also scored in double figures for the Warriors, who have won 26 of their last 30 play-off games.
Harden's 20 points came on 7-for-16 shooting for the Rockets, who shot just 39.5 per cent overall in the game and 32.4 per cent (11-for-34) on 3-pointers.
Clint Capela added 13 points, while Chris Paul logged a 13-point, 10-rebound double-double for the Rockets.
Eric Gordon (11), P.J. Tucker (six) and Trevor Ariza (six), who combined for 68 points in the Game 2 win, combined for just 23 points in Game 3.
Related Articles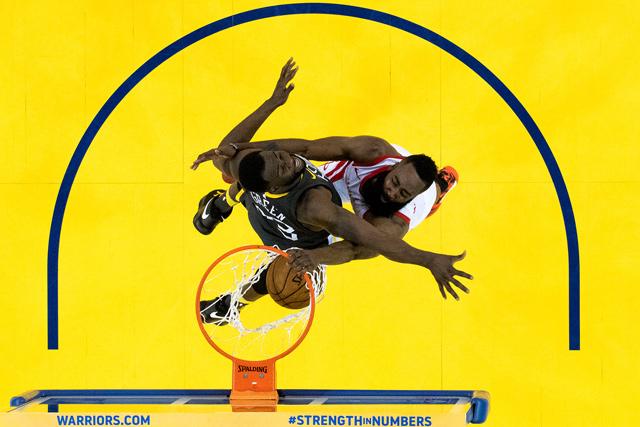 May 23,2018
Eric Gordon's first 3-pointer of the game gave Houston a late five-point lead, and the Rockets held on from there to defeat the Golden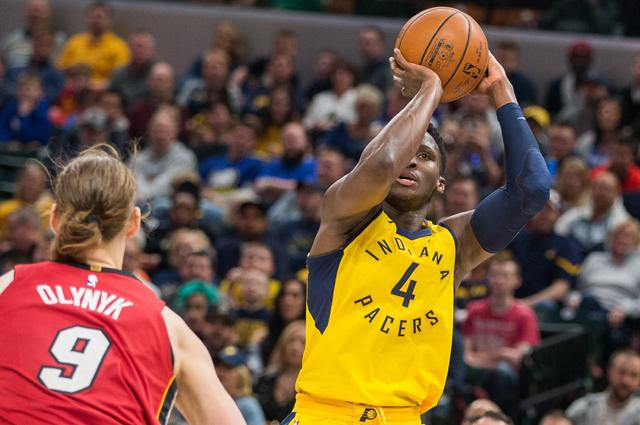 Mar 26,2018
Victor Oladipo scored 23 points, including a key overtime 3-pointer, to lead the Indiana Pacers to a 113-107 victory over the Miami Heat on
May 15,2018
Kevin Durant poured in a team-high 37 points and Klay Thompson chipped in 28 as the Golden State Warriors claimed the opener of the Western
Newsletter
Get top stories and blog posts emailed to you each day.