You are here
Basketball's Jordan Cup tips off
By Aline Bannayan - Dec 11,2021 - Last updated at Dec 11,2021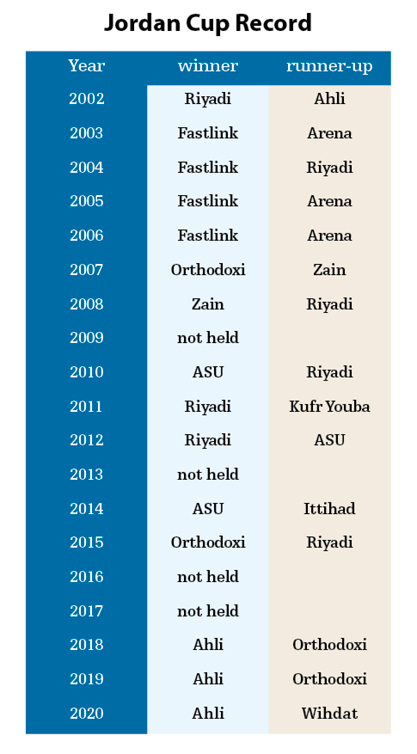 AMMAN — The 20th edition of basketball's Jordan Cup tipped off on the weekend, signaling the start of the local basketball season before clubs begin the league later on.
Kufr Youba beat Jalil and Orthodoxi overcame Jubeiha on day one with Kufr Youba next set to play runner-up Wihdat; Jalil facing Jubeiha and Orthodoxi facing holders Ahli on Monday.
Last year, Ahli won the Jordan Cup and clinched the league for a record 24th time as Wihdat relinquished their title and settled for runner-up. Kufr Youba beat Jubeiha to take third place while 2019 runner-up Orthodoxi did not reach the final four.
Ahli, led by coach Sam Daghlas, made history in 2018. After disbanding the team for over a decade , the club won the Jordan Cup, which they have now held for the third year running. They also ousted Kufr Youba to win the league which had eluded them since 1994.
Orthodoxi. who won their record 23rd league title in the 2014-15 season, last won the Jordan Cup in 2015. Led by coach Zeid Abbas, they have a strong lineup and have sights set on the seasons titles.
Wihdat who won the league in 2019 for the first time in their history after overcoming Orthodoxi are led by coach Mu'tasem Salameh and are eager for an advanced spot.
Missing the event are Riyadi who in 2015-16 season were crowned league champs — a title which had eluded them for 20 years — when they beat titleholders Orthodoxi. Riyadi had last won the league in 1997 by then Jazira-Aramex team (whose players later on formed Riyadi's lineup). Riyadi won the League again in 2016/17.
The Basketball League which started in 1952 has had 60 editions with eight teams crowned champion. It was cancelled in three seasons and discontinued once. Orthodoxi have won 23 times, Ahli 23, Zain (Fastlink) six times, ASU four times, Riyadi and Jazira-Aramex twice, while, Wihdat, Urdun, Watany and the Electricity Co. won once each.
Teams like former league and cup champs Applied Science University, Ittihad, and Zain have pulled out of the competition.
The Jordan Cup has seen Fastlink winning the most titles in four consecutive seasons 2003-04-05-06, before they played and won under Zain in 2008, Riyadi won three times in 2002, 2011 and 2012, as did Ahli 2018-19-20, ASU in 2010, 2013 and 2014 and Orthodoxi in 2007 and 2015.
Newsletter
Get top stories and blog posts emailed to you each day.