You are here
Yemen officials say rebels free hundreds of prisoners
By AP - Apr 04,2015 - Last updated at Apr 04,2015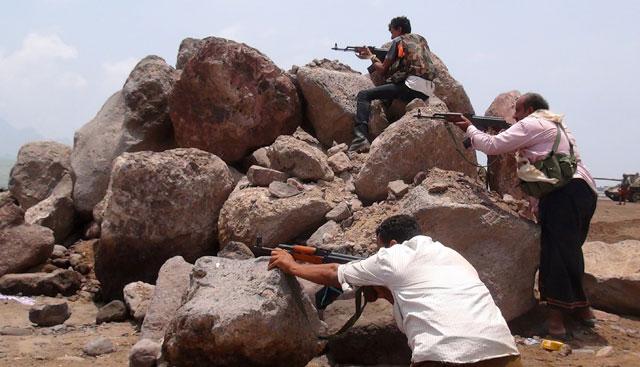 SANAA — Shiite rebels freed more than 300 prisoners in the southern city of Dhale, Yemeni security officials said, as the rebels fought pitched battles with supporters of the country's beleaguered President Abed Rabbo Mansour Hadi in the southern port city of Aden.
The Shiite rebels, known as Houthis, have been trying to take control of Dhale in order to open up a corridor to Aden, a stronghold for Hadi loyalists.
Since their advance began last year, the Houthis have overrun Yemen's capital, Sanaa, and several provinces, forcing Hadi to flee the country.
The officials, speaking on condition of anonymity because they were not authorised to speak to journalists, said that after the Houthi fighters took control of Dhale's central prison, they gave inmates a choice between joining their ranks or remaining incarcerated.
A Saudi-led coalition continued to carry out intensive air strikes overnight and early Saturday morning targeting Houthi positions in north and east Aden. The air strikes continued in the Houthi stronghold of Saada in the north of the country.
As night fell, the air strikes rocked northern Sanaa, Yemen's capital, prompting dozens of families to flee their homes.
The rebel-controlled ministry of interior said 11 people were killed, including four children, when a coalition air strike hit the village of Hajer, west of Sanaa.
In Aden, pro-Hadi militias are facing off against a combined force of Houthi fighters aligned with forces loyal to Hadi's predecessor — ousted autocrat Ali Abdullah Saleh. Eyewitnesses said rebel snipers are shooting at their adversaries from the city's rooftops.
Coalition planes airdropped weapons to fighters battling the Houthis in Aden early Friday, the first such airdrop since the strikes began 10 days ago.
Medical officials said six civilians were killed Saturday during fighting at the entrance of Al Ma'ala, a town on the outskirts of Aden.
Critics of the Houthis charge that they are an Iranian proxy. Iran has provided aid to the rebels, but both Tehran and the Houthis deny it has armed them.
Egyptian President Abdel Fattah Al Sisi met with his country's Supreme Council of the Armed Forces to discuss Egypt's role in the Saudi-led Yemen campaign.
"Egypt will never abandon her brothers in the Gulf," he said in remarks following the meeting and carried on state and private television channels.
Sisi added that he and his Gulf allies considered the Bab El Mandeb strait an issue of national security.
The Houthis and their allies took up positions last week overlooking the strategic strait, which serves as a gateway to the Suez Canal, raising the risk they could threaten the key global shipping route with heavy weapons.
Houthi spokesman Mohammed Abdel Salam said in a statement that "sowing fear about the Bab El Mandeb aims to support aggression in Yemen", adding that the rebels are open to talks with Egypt about the issue.
Related Articles
May 26,2015
SANAA — Fighters backing Yemen's exiled government captured a city on the road to the port city of Aden, officials said Tuesday, their first
May 18,2015
Saudi-led air strikes targeting Yemen's Shiite rebels resumed on Monday and fierce clashes were underway across the impoverished country after a five-day truce expired, as one-sided talks boycotted by the rebels offered little hope of ending the conflict.
Mar 26,2015
Yemen's President Abed Rabbo Mansour Hadi left his refuge in Aden under Saudi protection on Thursday and arrived in Saudi Arabia as Houthi rebels battled with forces still loyal to him on the outskirts of the southern port city.
Newsletter
Get top stories and blog posts emailed to you each day.