You are here
Yemen clashes intensify as Ban pushes peace
By AFP - Jun 27,2016 - Last updated at Jun 27,2016
ADEN — Fighting between Yemeni government forces and Shiite rebels killed 41 people on several fronts Sunday, as UN chief Ban Ki-moon urged the rival factions in Kuwait to accept a peace plan.
UN sponsored talks between the Iran-backed Houthi rebels and the government of President Abed Rabbo Mansour Hadi have failed to achieve a breakthrough since starting in the Gulf emirate on April 21.
The Houthis and allied forces loyal to former president Ali Abdullah Saleh have seized control of large parts of the impoverished country since 2014 and still control swathes of territory including the capital Sanaa.
UN special envoy Ould Cheikh Ahmed has repeatedly urged both sides to make concessions to end the conflict, which has cost more than 6,400 lives since March 2015 and displaced 2.8 million people.
But the clashes raged on Sunday, with the rebels pressing ahead with attempts to advance towards the strategic Al Anad Air Base, in the southern province of Lahj, a military official said.
The rebels and their allies captured the area of Qubaita, on the frontier between Lahj and Taez province.
Warplanes from the Saudi-led coalition that backs Hadi's government killed 11 rebels in Qubaita and Kirsh, the official said.
Also along the frontier between Lahj and Taez, five rebels and three government soldiers died in clashes triggered by a rebel attempt to advance in the Waziya area, said a loyalist militia source.
Six other soldiers were killed in clashes in the flashpoint city of Taez, where rebels attacked an army base, a military official said.
Meanwhile, nine rebels and seven soldiers were killed in the past 24 hours in clashes in northern Yemen, after rebels attacked loyalists in Nahm, northeast of the Sanaa, a military official said.
Alarming humanitarian situation
Clashes have continued despite a UN-brokered ceasefire that entered into effect on April 11 and paved the way for the peace talks in Kuwait.
In the Gulf emirate on Sunday, UN Secretary General Ban Ki-moon appealed to the warring parties to accept a roadmap for peace and quickly reach a comprehensive settlement to the 15-month-old conflict.
The peace roadmap proposed by Ould Cheikh Ahmed calls for the formation of a unity government and the withdrawal and disarmament of the rebels.
"I ask both delegations to work seriously with my special envoy to agree to a roadmap of principles... and quickly reach a comprehensive agreement," Ban told a joint meeting of the negotiators.
Ban also urged "the delegations to prevent any further deterioration of the situation, and to show the responsibility and flexibility required to arrive at a comprehensive agreement ending the conflict".
The Yemeni government insists the rebels withdraw from all territory they have seized since 2014 and hand back control of state institutions ahead of any political settlement.
The Houthis for their part are demanding an agreement on a consensus president and unity government before signing any deal on military and security issues.
Ban said the international community wants the conflict to end and Yemen return to the transitional process before the war.
The UN chief also warned the humanitarian situation in Yemen is alarming with scarcity of basic food and the economic conditions have deteriorated.
Ahead of the meeting, Ban held talks with Kuwait's Emir Sheikh Sabah Al Ahmad Al Sabah, as well as the Gulf country's prime minister and foreign minister.
up
37 users have voted, including you.
Related Articles
Apr 23,2015
Saudi-led warplanes launched new deadly strikes in Yemen on Thursday despite a demand by Iran-backed rebels for a complete halt to the raids as a condition for UN-sponsored peace talks.
Nov 16,2015
ADEN — Yemeni loyalists and Saudi-led coalition forces launched an offensive Monday to retake the key battleground province of Taez from Ira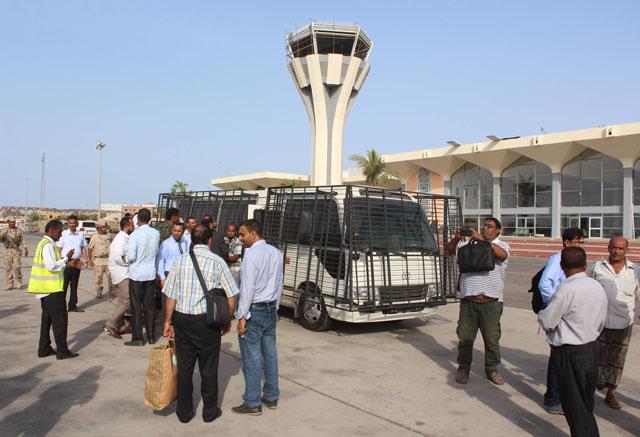 Jun 06,2016
ADEN — Eight civilians including five members of one family were killed in 24 hours of shelling by Iran-backed rebels on residential parts o
Newsletter
Get top stories and blog posts emailed to you each day.