You are here
UNIFIL says 'no appetite' for war as Lebanon, Israel talk about border dispute
By Reuters - Mar 08,2018 - Last updated at Mar 08,2018
NAQOURA, Lebanon — Lebanon and Israel have been holding talks nearly every day over a border dispute that has raised tensions between the two enemy states, according to the UN peacekeeping force on the frontier that is mediating their discussions.
"There is a full engagement from all the sides and there have been meetings almost on a daily basis. The dialogue is open. No one has ever walked out from these meetings," said Andrea Tenenti, spokesman for the United Nations Interim Force in Lebanon (UNIFIL).
Tensions have spiked recently over an Israeli border wall, Lebanese offshore energy exploration and the growing arsenal of Lebanon's Iran-backed Hizbollah group, which Israel sees as the biggest threat on its frontier.
Lebanon, Israel and UNIFIL were already holding three-way talks every few weeks in a building on the border near the peacekeepers' base at Naqoura in southern Lebanon. They are now being held more often, Tenenti said, along with indirect talks conducted through UNIFIL.
Israel is building a border wall near the Blue Line, as the frontier demarcation between the two countries in lieu of a formal border agreement is known.
Lebanon has described the wall as an "aggression", saying it intrudes into Lebanese territory. Israel says the wall will be entirely on its side of the Blue Line and in Israeli territory.
At the same time, Lebanon has begun oil and gas exploration in a block that includes a small area of sea along the maritime frontier that is claimed by Israel.
"There is a will to keep this dialogue open... I think now, beside the heightened rhetoric, the reality on the ground is different and there is no appetite for instability or for war," Tenenti said.
Reuters footage from a recent trip to the border area showed construction work in areas along the Blue Line, including cranes erecting concrete blocks and bulldozers working at a fence.
Israel occupied southern Lebanon from 1982 to 2000 and in 2006 it waged a month-long war against Hizbollah there. Israel says the Shiite Muslim group has grown stronger due to its role in the Syrian civil war, and has attacked it there.
Related Articles
Feb 08,2018
BEIRUT/OCCUPIED JERUSALEM — A US envoy has assured Lebanon that Israel does not seek an escalation between the countries following a surge i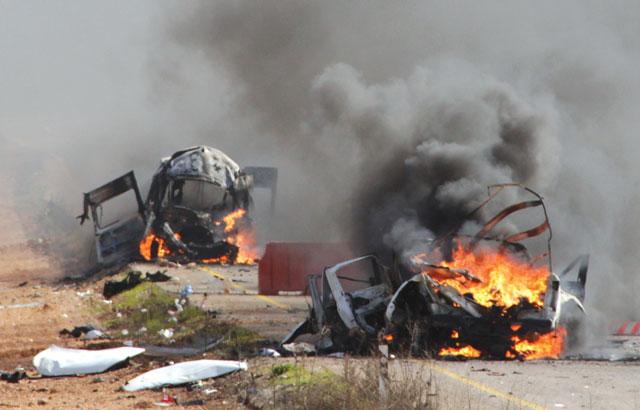 Jan 28,2015
Two Israeli soldiers and a Spanish peacekeeper were killed on Wednesday in an exchange of fire between Hizbollah and Israel, one of the most violent clashes between the two sides since a 2006 war.
Apr 20,2017
NAQOURA, Lebanon — Lebanon's Hizbollah sought on Thursday to show that Israel is building up defences in anticipation of another conflict, a
Newsletter
Get top stories and blog posts emailed to you each day.