You are here
Turkey in 'difficult position' over support for Qatar
By AFP - Jun 11,2017 - Last updated at Jun 11,2017
ISTANBUL — Turkey is keen to support its close ally Qatar in a diplomatic crisis with Doha's Gulf neighbours, but has found itself with little room to manoeuvre given its ties with Riyadh, analysts say.
"This is a most unwanted crisis for Turkey given its close relationship with both Qatar and Saudi Arabia," Sinan Ulgen, chairman of the Centre for Economics and Foreign Policy and visiting scholar at Carnegie Europe, said.
Saudi Arabia, the United Arab Emirates, Egypt and Bahrain lead a string of countries that last week cut ties with Qatar over what they say is the emirate's financing of extremist groups and its relations with Iran, the Saudis' regional arch-rival.
Turkey has close ties with Doha including in the energy sector, and their Middle East policies are almost identical, but it also maintains good relations with the other Gulf states.
Like Qatar when it provoked the ire of Saudi Arabia, Turkish President Recep Tayyip Erdogan supports several Islamist movements such as the Muslim Brotherhood and Hamas.
Ankara also has cordial relations with Iran, whose top diplomat was in Turkey on Wednesday to discuss regional issues including the over six-year Syrian conflict.
In an apparent attempt not to compromise its good ties with Saudi Arabia, leader of the Gulf monarchies, Turkey initially offered to help resolve the worst diplomatic crisis in the region for years.
But Erdogan on Tuesday threw caution to the wind in criticising the sanctions imposed on Doha, saying Turkey intended to develop ties with Qatar whose emir Sheikh Tamim Bin Hamad Al Thani was one of the first leaders to support Erdogan after last July's failed coup.
Support hashtags have been among the most popular on social media in Turkey since the start of the crisis including #KatarYalnizDegildir meaning "Qatar is not alone".
Economic interests
In another sign of support, the Turkish parliament approved on Wednesday the deployment of troops to a Turkish base in Qatar, although no date has been set.
Qatar and Turkey have also backed opposition groups in the Libyan civil war, the Muslim Brotherhood in Egypt, and also supported rebels fighting President Bashar Assad's regime in Syria.
Beyond the close diplomatic relations, Ankara's position can be explained by the volume of Qatar's investments, estimated to be worth $1.5 billion (1.3 billion euros).
Turkish companies have won contracts worth more than $13 billion (11.5 billion euros) for construction projects in Qatar ahead of the 2022 World Cup.
Drawing parallels between the foreign policies of Doha and Ankara, some Turkish columnists fear Turkey will in turn be targeted by reprisals from Saudi Arabia and its allies.
Judging that such a scenario is "not realistic", analyst Ulgen believed however that Turkey could suffer in turn from the sanctions imposed on Doha.
"The loss of foreign policy independence for Qatar would therefore weaken Turkey's partnership with this Gulf ally," he added.
Little hope for mediation
Marc Pierini, of the Carnegie Europe think tank, said any Turkish mediation in this crisis is unlikely to succeed.
"The impact of a conciliation policy will be limited by the almost permanent litigation between Ankara and Cairo since the overthrow of President [Mohamed] Morsi by Marshal [Abdel Fattah] Al Sisi," Pierini told AFP.
The military led by Sisi overthrew the Muslim Brotherhood's Morsi in July 2013.
"Turkey is considered in the Gulf as a close political ally of Qatar. It could therefore indirectly suffer diplomatically from this new situation in the Arabian peninsula," he added.
Didier Billion, deputy director of the French Institute for International and Strategic Affairs, stressed that Turkey was in a "difficult position".
"Its main course is to bring down the pressure but with relatively little chance of being truly heard at this stage," Billion said.
But he also excluded the chances of Turkey being targeted by Saudi Arabia because of its relations with the Muslim Brotherhood or with Iran.
"The Saudis know full well that they are dealing with Turkey, an important regional power that they cannot bring to heel — their heel in this case," he added.
Related Articles
Sep 13,2017
ISTANBUL — Qatar's Emir Sheikh Tamim Bin Hamad Al Thani will visit Turkey on Thursday to meet President Recep Tayyip Erdogan, in his first v
Jun 29,2017
ANKARA — The defence minister of Qatar is to visit its ally Turkey on Friday, state media reported, as Ankara resists pressure to shutter a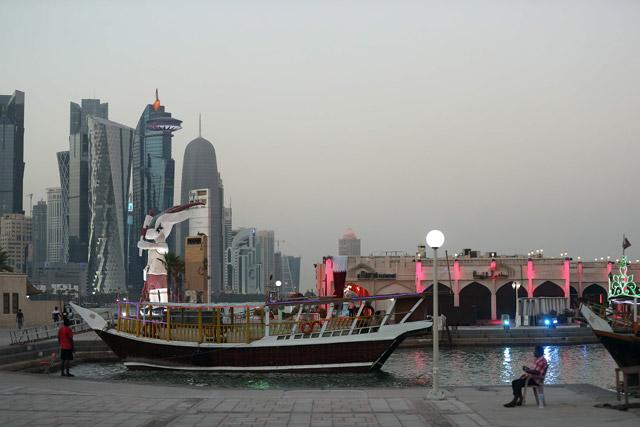 Jul 02,2017
DOHA — A deadline was approaching on Sunday for Qatar to accept 13 demands by several Arab states in return for lifting a de facto blockade.
Newsletter
Get top stories and blog posts emailed to you each day.