You are here
Tunisia recovers 29 bodies after migrant vessels capsize
By AFP - Mar 26,2023 - Last updated at Mar 26,2023
Migrants heading towards Italy are intercepted by Tunisian authorities off the coast of Sfax, Tunisia, on October 4, 2023 (AFP photo)
TUNIS — Tunisia's coastguard said on Sunday the bodies of 29 migrants from sub-Saharan African countries had been recovered after three vessels capsized, the latest in a string of such tragedies.
A series of shipwrecks has left dozens of migrants dead and others missing in the country that serves as a key conduit for migrants seeking to reach nearby European shores.
It comes after President Kais Saied made an incendiary speech last month, accusing sub-Saharan Africans of representing a demographic threat and causing a crime wave in Tunisia.
The coastguard said in a statement on Sunday that it had "rescued 11 illegal migrants of various African nationalities after their boats sank" off the central eastern coast, citing three separate sinkings.
In one, a Tunisian fishing trawler recovered 19 bodies 58 kilometres off the coast after their boat capsized.
A coastguard patrol off the coastal city of Mahdiya also recovered eight bodies and "rescued" 11 other migrants after their boat sank as it headed towards Italy.
Fishing trawlers in Sfax meanwhile recovered two other bodies.
Black migrants in the country have faced a spike in violence since Saied's speech and hundreds have been living in the streets for weeks in increasingly desperate conditions.
People fleeing poverty and violence in Sudan's Darfur region, West Africa and other parts of the continent have for years used Tunisia as a springboard for often perilous attempts to reach safety and better lives in Europe.
'Migratory wave'
The Italian island of Lampedusa is just 150 kilometres off the Tunisian coast, part of the Central Mediterranean route described by the United Nations as the most deadly in the world.
Rome has pressured Tunisian authorities to rein in the flow of people, and has helped beef up the coastguard, which rights groups accuse of violence.
Italy's hard-right Prime Minister Giorgia Meloni warned Friday that Tunisia's "serious financial problems" risked sparking a "migratory wave" towards Europe.
She also confirmed plans for a mission to the North African country involving the Italian and French foreign ministers.
Meloni echoed comments earlier in the week by Josep Borrell, the European Union's foreign policy chief, who warned Tunisia risks economic collapse that could trigger a new flow of migrants to Europe — fears Tunis has since dismissed.
Since Saied's speech, hundreds of migrants have been repatriated in flights organised by their embassies, but many say they fear going home and have called on the UN to organise evacuation flights to safe third countries.
Tunisia is in the throes of a long-running socioeconomic crisis, with spiralling inflation and persistently high joblessness, and Tunisians themselves make up a large proportion of the migrants travelling to Italian shores.
The heavily indebted North African country is in negotiations with the International Monetary Fund for a $2-billion bailout package, but the talks have been stalled for months and there is no sign a deal is any closer.
US Secretary of State Antony Blinken warned on Wednesday that unless they reach an agreement, "the economy risks falling off the deep end".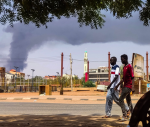 Newsletter
Get top stories and blog posts emailed to you each day.