You are here
Sudan army chief lambasts African Union as war deaths top 7,000
Diplomatic efforts have repeatedly floundered
By AFP - Sep 09,2023 - Last updated at Sep 09,2023
Sudanese women who fled the war in their country share a meal on the banks of the Nile River in the Egyptian city of Aswan, on Friday (AFP photo)
WAD MADANI, Sudan — Sudanese army chief Abdel Fattah Al-Burhan said Saturday "we don't need" the African Union to resolve the country's nearly five-month conflict, as new figures put the death toll at over 7,000.
Diplomatic tensions have flared since the head of the African Union Commission, Moussa Faki Mahamat met last week with a political adviser to the paramilitary Rapid Support Forces (RSF), prompting rebuke from Burhan's government.
The brutal war since April 15 between the army and the RSF has killed "nearly 7,500" people, according to a Friday report by the Armed Conflict Location & Event Data (ACLED) project which noted the toll was "a conservative estimate".
ACLED as well as activists and aid groups on the ground have repeatedly warned that casualty figures out of Sudan are underreported as fighting hampers access to many areas and the warring sides do not disclose deaths among their ranks.
Much of the violence has been concentrated around the capital Khartoum and the western region of Darfur, where witnesses again reported clashes on Saturday between army forces and the RSF on the outskirts of El Fasher, the North Darfur state capital.
Diplomatic efforts to end the fighting between the forces of Burhan and his former deputy, RSF commander Mohamed Hamdan Daglo, have repeatedly floundered.
Multiple truces brokered by the United States and Saudi Arabia in the early stages of the war had been systematically violated before the two mediators adjourned talks in June.
More recently, some moves by the army chief including trips to Egypt, South Sudan and Qatar have signalled a potential return to diplomacy.
But in a speech Saturday rallying troops in the southern state of Blue Nile, Burhan seemed to shun regional mediation efforts.
"If this is your approach, we don't need your help," the army chief said of the African Union, referring to Faki's recent meeting with the RSF adviser, Youssef Ezzat.
The Burhan-controlled foreign ministry has called the meeting "a dangerous precedent" and "a clear violation" of the continental bloc's norms, saying it "should hold no place for rebel movements and criminal terrorist militias".
Mohamed El Hacen Lebatt, a spokesman for the AU Commission, said in a statement Thursday the organisation was committed to interacting "with all parties".
Lebatt noted that no Sudanese party had expressed "any reservation" when "the same approach" was adopted by other international actors.The AU suspended Sudan's membership in 2021 after Burhan and Daglo together led a coup that derailed a transition to civilian rule following the ouster of longtime strongman Omar Al Bashir.
Speaking in the Blue Nile city of Al Damazin on Saturday, Burhan also took East African bloc IGAD to task, after his administration has repeatedly accused mediation coordinator Kenya of siding with the RSF.
IGAD "has deviated from its course", Burhan said. "We Sudanese can solve our problems ourselves."
Related Articles
May 03,2023
JUBA — The warring parties in Sudan have agreed to a seven-day truce starting May 4, in a phone conversation with South Sudan's President Sa
Oct 27,2023
RIYADH — Sudan's warring parties on Thursday resumed talks in Saudi Arabia aimed at ending a conflict that has raged for over six months and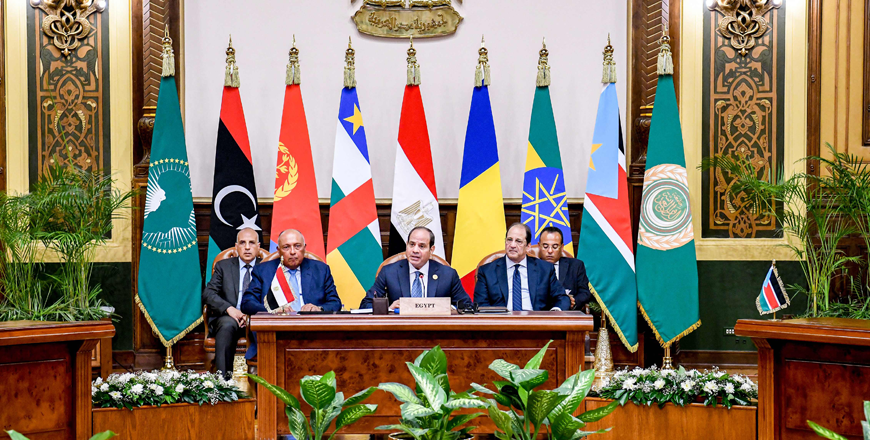 Jul 13,2023
CAIRO — A summit of African leaders from war-torn Sudan's neighbours on Thursday urged an end to the fighting, as UN experts reported a mass