You are here
Saudi princes, ministers, tycoon arrested in sweeping purge
By AFP - Nov 05,2017 - Last updated at Nov 06,2017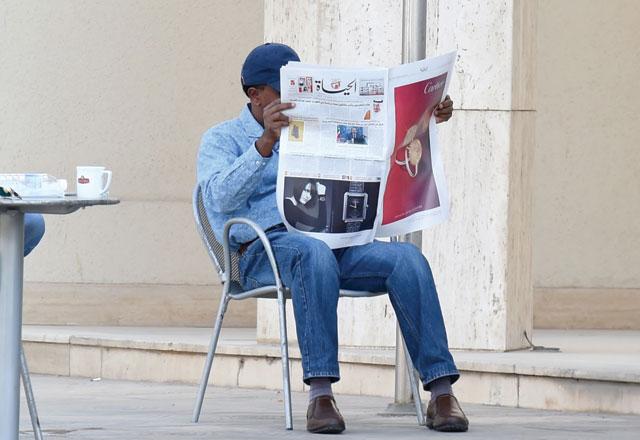 This photo taken on Sunday shows a man reading Al Hayat newspaper at a cafe in the Saudi capital Riyadh (AFP photo)
RIYADH — Saudi Arabia has arrested dozens of senior figures including princes, ministers and a top business tycoon, with authorities on Sunday pledging "fair" justice after a sweeping purge seen as consolidating the crown prince's hold on power.
Prominent billionaire Alwaleed Bin Talal was among the princes arrested late Saturday, a government source told AFP, immediately after a new anti-corruption commission headed by Crown Prince Mohammed Bin Salman was established by royal decree.
Separately, the head of the Saudi National Guard, once a leading contender to the throne, as well as the navy chief and the economy minister were replaced in a series of high-profile sackings that sent shock waves through the kingdom.
The dramatic shake-up comes at a time of unprecedented social and economic transformation in ultra-conservative Saudi Arabia, as Prince Mohammed steps up his reform drive for a post-oil era.
Al Arabiya New Channel reported that 11 princes, four current ministers and dozens of ex-ministers were arrested as the commission launched a probe into old cases such as floods that devastated the Red Sea city of Jeddah in 2009.
The government official gave AFP a list of 14 of the most high-profile names including Prince Alwaleed.
"The suspects are being granted the same rights and treatment as any other Saudi citizen," attorney general Sheikh, Saud Al Mojeb, said in a statement, adding that a number of investigations had been initiated.
"A suspect's position or status does not influence the firm and fair application of justice."
'A new era'
Shares in Kingdom Holding, 95 per cent of which is owned by Prince Alwaleed, dived 9.9 percent as the Saudi stock exchange opened Sunday after reports of his arrest. The share price later recovered some of its losses to end the day down 7.6 per cent.
The prince's office was not reachable for comment.
"With this [crackdown], the kingdom heralds a new era and policy of transparency, clarity and accountability," Saudi Finance Minister Mohammed Al Jadaan was quoted as saying by SPA.
"The decisive decisions will preserve the investment environment and boost trust in the rule of law."
The kingdom's top council of clerics also lauded the anti-corruption efforts as "important", essentially giving religious backing to the crackdown.
An aviation source told AFP that security forces had grounded private jets at airports, possibly to prevent high-profile figures from leaving the country.
"The breadth and scale of the arrests appears to be unprecedented in modern Saudi history," said Kristian Ulrichsen, a fellow at the Baker Institute for Public Policy at Rice University.
"The reported detention of Prince Alwaleed Bin Talal, if true, would send shock waves through the domestic and international business community," Ulrichsen told AFP.
The purge comes less than two weeks after Prince Mohammed welcomed thousands of global business leaders to Riyadh for an investment summit, showcasing his reform drive that has shaken up the kingdom.
Related Articles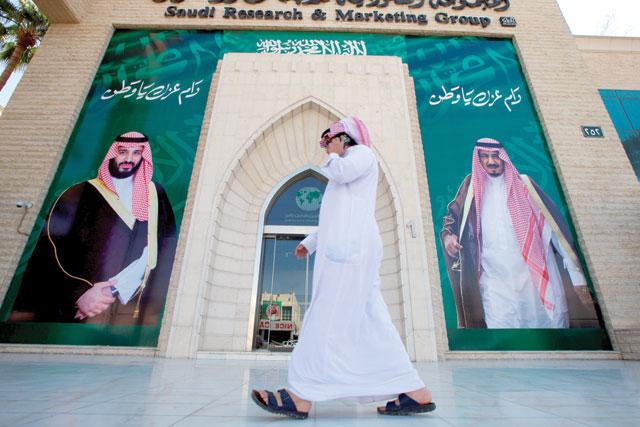 Nov 10,2017
RIYADH — Saudi Arabia said on Thursday 201 people are being held for questioning over an estimated $100 billion in embezzlement and corrupti
Mar 11,2018
RIYADH, Saudi Arabia — Saudi King Salman has ordered specialised anti-corruption units to be established in the public prosecutor's office,
Mar 12,2018
WASHINGTON — Prominent Saudis held in what Riyadh dubbed an anti-corruption campaign were subjected to coercion and physical abuse, the New
Newsletter
Get top stories and blog posts emailed to you each day.