You are here
Saudi-led warplanes hit Yemeni port; aid group sounds alarm
By Reuters - Aug 18,2015 - Last updated at Aug 18,2015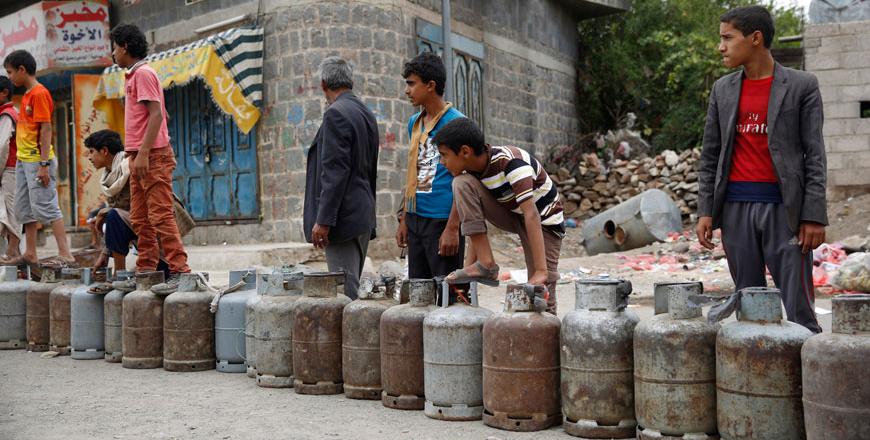 Yemeni people stand in a line to fill gas canisters at a street in Sanaa, Yemen, Tuesday (AP photo by Hani Mohammed)
SANAA — Warplanes from a Saudi-led coalition hit Yemen's Red Sea port of Hodeida on Tuesday, and officials there said the raids destroyed cranes and warehouses in the main entry point for aid supplies to the north of the country.
Hodeida, controlled by Iranian-allied Houthi forces, has become a focal point of efforts to resupply the impoverished Arab state, battered by five months of war that has killed over 4,300 people.
"Fighting, critical fuel shortages and restrictions on importing relief supplies have already helped to create one of the world's worst humanitarian crises," said Edward Santiago of aid group Save the Children.
"The bombing of Hodeida port is the final straw... The impact of these latest air strikes will be felt most strongly by innocent children and families," he added.
Officials said the raids destroyed the port's four cranes and also hit warehouses, bringing work to a halt. There was no information on what was in the warehouses.
Brigadier General Ahmed Asseri, spokesman for the Saudi-led coalition, said the strikes on Hodeida were directed not at the civilian port but at a base where the Houthis had deployed anti-ship weapons.
"There is a naval base inside the port. This is where we struck last night," he said.
He said the coalition had on Tuesday given permission to three aid vessels to travel to Hodeida's civilian port for humanitarian aid shipments.
Aid groups have previously complained that a coalition naval blockade has stopped relief supplies entering Yemen. The coalition, in which the United Arab Emirates also plays a big military role, has accused the Houthis of commandeering aid shipments for war use.
'Bloody trail'
The Houthis seized Sanaa last September in what they called a revolution against a corrupt government, then took over much of the country.
The Saudi-backed government fled to the southern port of Aden, then escaped to Riyadh in March. Gulf Arab countries led by Saudi Arabia intervened in the conflict to try to restore it to power.
Human rights group Amnesty International said in a report that the Saudi-led air campaign had left a "bloody trail of civilian death", which could amount to war crimes. It said it had investigated eight coalition air strikes in Yemen that killed 141 civilians, including children.
Evidence revealed a pattern of strikes against populated areas, in most of which no military target could be located nearby, it said.
The coalition has denied targeting civilians.
"I don't think they have a very accurate report. They never contacted us to ask any clarification for any situation," said Asseri, adding that some of the strikes Amnesty attributed to the coalition were in fact Houthi missiles.
Amnesty said it had investigated 30 attacks in Aden and Taiz by the Houthis that killed 68 civilians and also may amount to war crimes.
Loyalist forces, backed by Gulf Arab planes, weapons and training, have been on the offensive since breaking out of Aden last month, claiming a string of gains against the Houthis.
Besides advancing from the south, coalition-backed forces are also fighting the Houthi forces on a second front around Marib, northeast of Sanaa, bringing the combat ever closer to the Houthis' traditional strongholds in Yemen's north.
Saudi Arabia fears the Houthis are acting as a proxy for its main regional foe Iran to encircle Gulf states and undermine their security, something both Iran and the Houthis deny.
Related Articles
Feb 01,2016
RIYADH — Mortars and rockets fired at Saudi Arabian towns and villages have killed 375 civilians, including 63 children, since the start of
Mar 02,2016
UNITED NATIONS — A World Food Programme (WFP) ship carrying humanitarian aid offloaded its cargo in Yemen on Wednesday, the United Nations s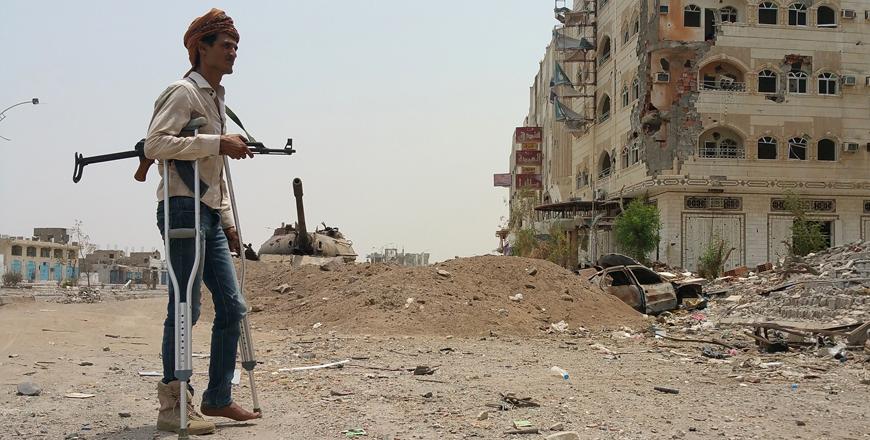 Jul 31,2015
DUBAI — The Saudi led-coalition fighting to reinstate Yemen's exiled government aims first to set it up in the mostly recaptured port city o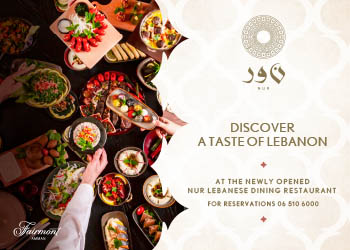 Newsletter
Get top stories and blog posts emailed to you each day.