You are here
Repair teams poised to begin work restoring Damascus water
By AFP - Jan 07,2017 - Last updated at Jan 07,2017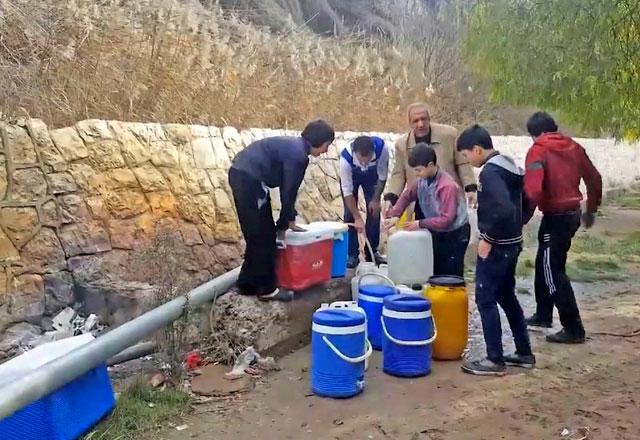 This frame grab from video provided By Yomyat Kzefeh Hawen Fi Dimashq (Diary of a Mortar Shell in Damascus), a Damascus-based media outlet that is consistent with independent AP reporting, shows Syrian residents filling up buckets and gallons of spring water from a pipe on the side of the road in Damascus, Syria (AP photo)
BEIRUT — Repair teams were poised to enter a restive region near Damascus on Saturday to begin work on restoring the Syrian capital's water supply, state media said.
Millions of people have been without water for weeks after fighting damaged key infrastructure in the Wadi Barada region that is the main water source for Damascus.
Clashes continued there overnight and into Saturday morning, killing seven Syrian government soldiers and two civilians, the Syrian Observatory for Human Rights said.
But by late morning, state media said maintenance teams had arrived in the area 15 kilometres northwest of Damascus and were "prepared to enter" to begin repair work.
A source close to the regime said a temporary ceasefire had been agreed to allow the repair crews to enter, though it could take days before the mains supply is restored.
Fighting has raged in Wadi Barada for several weeks, despite the December 30 start of a ceasefire brokered by regime ally Russia and rebel backer Turkey.
The truce has held across much of the country, though it does not apply to the Daesh terror group or former Al Qaeda affiliate Al Nusra Front, now known as Fateh Al Sham Front.
The government says Fateh Al Sham is present in Wadi Barada, and blames rebels there for cutting water to Damascus since December 22.
Rebels deny the extremist group is in the region and say the mains supply was severed after government strikes hit pumping facilities in the area.
5.5 million without water — UN
The fighting has left some 5.5 million people in Damascus and its suburbs facing water shortages, the United Nations warned earlier this week.
It said sabotaging water supplies was a war crime, but made no direct accusations of blame.
Russia and Turkey have worked increasingly closely on the Syrian conflict and last month brokered a deal for civilians and surrendering rebels to leave Aleppo.
They want the ceasefire agreement to pave the way for new peace talks to be held in the Kazakh capital Astana later this month.
But the fighting in Wadi Barada has already prompted rebels to halt talks to prepare for the Astana meeting, citing regime "violations" of the ceasefire.
Both Moscow and Ankara have launched military interventions in Syria, with Turkey starting its Operation Euphrates Shield in August targeting both Daesh extremists and Kurdish militants.
After seizing several towns from Daesh, Turkish forces and allied Syrian rebels are now focusing their attentions on Al Bab, a extremist bastion in Aleppo province.
The observatory said on Saturday that Turkey had sent major reinforcements to the area in apparent preparation for an operation against the town.
US-backed alliance advances
A US-backed alliance of Kurdish and Arab fighters has also been advancing into Daesh-held territory as they press a drive towards the extremists' de facto Syrian capital Raqqa.
Alliance fighters supported by US special forces moved within striking distance of the Tabqa Dam on the Euphrates River, the country's largest, the observatory said.
"They have taken the last village between them and the dam. Now all that remains in front of them is four kilometres of empty land," said observatory director, Rami Abdel Rahman.
The dam lies just 500 metres from the town of Tabqa, where many senior Daesh commanders have been based.
Russia launched its own military intervention in Syria in September 2015, aimed at bolstering ally President Bashar Assad against the rebels.
But it announced in December it would begin withdrawing forces, and the Russian military on Friday said the drawdown had started.
Russian military chief Valery Gerasimov said a naval group headed by the aircraft carrier Admiral Kutnetsov would be the first to leave.
President Vladimir Putin had already announced a partial withdrawal of Russian forces in March 2016, but Moscow later had to ramp up its presence again as fighting increased.
More than 310,000 people have been killed in Syria since the conflict began with anti-government protests in March 2011. Over half the country's population has been displaced.
Related Articles
Jan 07,2017
BEIRUT — A massive tanker truck bomb ripped through a market by a courthouse in the rebel-held Syrian town of Azaz on Saturday, killing 48 p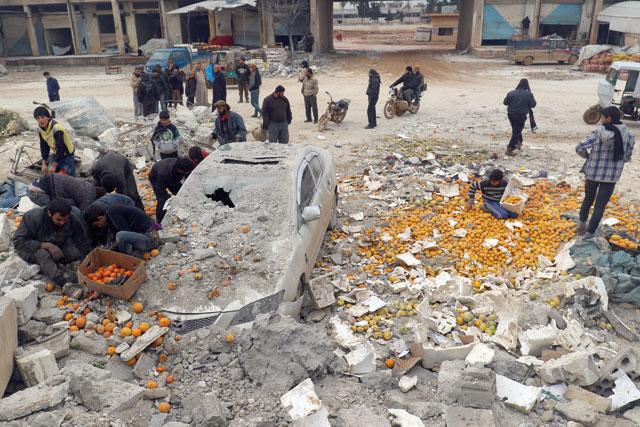 Jan 14,2017
BEIRUT — Air strikes on a rebel-held town in northwestern Syria killed eight people on Saturday, a monitor said, the latest to hit the area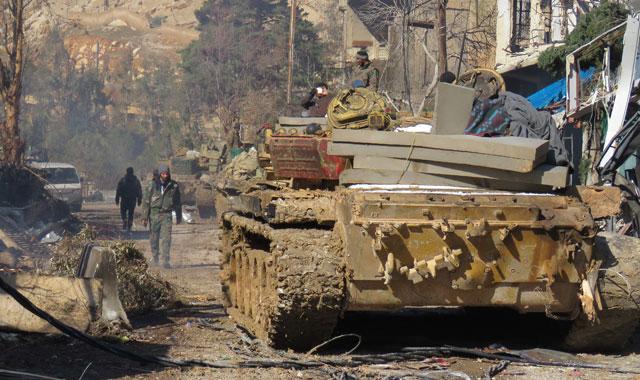 Jan 29,2017
DAMASCUS — The Syrian army said on Sunday that it had recaptured a flashpoint area from rebels near Damascus that supplies water to the capi
Newsletter
Get top stories and blog posts emailed to you each day.