You are here
New deadly strikes in Yemen despite rebel demands
By AFP - Apr 23,2015 - Last updated at Apr 23,2015
SANAA — Saudi-led warplanes launched new deadly strikes in Yemen on Thursday despite a demand by Iran-backed rebels for a complete halt to the raids as a condition for UN-sponsored peace talks.
The Saudi-led coalition declared an end to the first phase of its operations against the Houthi Shiite rebels and their allies, but vowed to keep hitting them with targeted bombing when necessary.
And two days on from the announcement, a new wave of strikes killed at least 23 rebels as the World Health Organisation said the overall death toll from fighting in Yemen since late March topped 1,000.
Meanwhile, UN Secretary General Ban Ki-moon announced plans to appoint Mauritanian diplomat Ismail Ould Cheikh Ahmed as his new envoy to the country.
Cheikh Ahmed replaces Morocco's Jamal Benomar, who resigned last week after losing support for his mediation efforts from oil-rich Gulf countries.
Saudi Arabia and its Arab allies launched the air war on March 26 in an attempt to restore the authority of President Abed Rabbo Mansour Hadi, who was forced to flee abroad last month as the rebels swept across the country.
After the end of Operation Storm of Resolve, the coalition said the campaign would enter a phase dubbed Renewal of Hope focusing on political efforts, aid deliveries and "fighting terrorism".
But the Saudi ambassador to the US, Adel Al Jubeir, has since warned that "the Houthis should be under no illusion that we will use force in order to stop them taking over Yemen by aggressive actions".
His remarks came as US President Barack Obama called on Iran to help find a political solution in Yemen, accusing the Islamic republic of contributing to the conflict.
Rebels demand talks
Talks on the Yemen crisis were high on the agenda as Pakistani Prime Minister Nawaz Sharif headed a powerful delegation to Riyadh for meetings with King Salman and other officials.
Pakistan's parliament has rejected a Saudi request for troops, warplanes and ships to take part in the coalition, favouring a mediating role.
The Saudi-led alliance says it has destroyed the Houthis' missile and air capabilities, but the rebels still control Sanaa and swathes of the country while Hadi remains in self-exile in Riyadh.
The rebels have called for a complete halt to the raids so warring parties can return to the negotiating table.
"We demand, after a complete end to the aggression against Yemen and the lifting of the blockade, to resume political dialogue... under the sponsorship of the United Nations," said spokesman Mohammed Abdulsalam.
Since his remarks, however, a new wave of strikes on Thursday killed at least 23 rebels in the southern town of Daleh, a government official said. Other raids targeted them in nearby Lahj.
In Yemen's third city of Taez, a Red Cross official said his team had retrieved the bodies of 10 loyalist troops thought to have been killed two days ago when rebels overran their base.
There were more bodies, he said, but the Houthis had denied rescuers access to the area.
The discovery came after a night of air raids in Taez that caused an unknown number of casualties, according to a medic.
A pro-Hadi military official said "heavy" air raids later struck rebel gatherings in the second city of Aden, where clashes between rebels and loyalists raged.
Three raids also hit rebels in the eastern province of Marib, and others targeted a rebel-held air base in the western city of Hodeida.
"The war is not over" but "there are several attempts to find a political solution," said Abdulkhaleq Abdulla, political science professor at the University of the Emirates.
Death toll tops 1,000
On Thursday, strikes also targeted Yarim in Ibb province, where warplanes hit an old university building used as a rebel headquarters, residents said.
A newly announced division of the Daesh jihadist group — the "Green Brigade" — also claimed a bombing in Yarim the day before that it said had killed five rebels.
In Lahj and Daleh, raids flattened five rebel positions in schools and public buildings, pro-Hadi fighters said.
In Aden, warplanes hit rebel positions and clashes ensued between pro- and anti-Hadi forces, witnesses said.
The WHO now says at least 1,000 people have been killed in Yemen between March 19 and April 20.
The Bill & Melinda Gates Foundation said it was providing the International Medical Corps with $800,000 to deliver emergency relief to Yemen, after the Red Cross warned of a "catastrophic" humanitarian situation.
In Nairobi, Somali Prime Minister Omar Abdirashid Ali Sharmarke warned the conflict posed dangers across the Gulf of Aden where an influx of refugees is stretching scarce resources and Al Qaeda is eager for support.
Related Articles
Oct 31,2015
ADEN — Dozens of Yemeni Shiite rebels and pro-government fighters have been killed in clashes in several southern provinces as Saudi-led coa
Apr 15,2015
Saudi-led coalition air strikes hit rebel targets in and around Yemen's main southern city of Aden on Wednesday as clashes with forces allied with fugitive President Abed Rabbo Mansour Hadi intensified.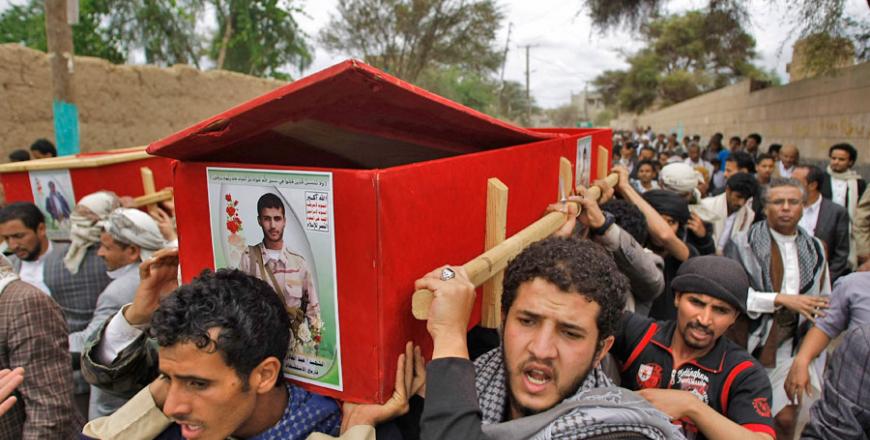 May 26,2015
CAIRO/ADEN, Yemen — Seven members of a family were killed in an overnight strike by Saudi-led warplanes on a border village in northern Yeme
Newsletter
Get top stories and blog posts emailed to you each day.