You are here
Morocco accused over coverage of Rif protests
By AFP - Jul 22,2017 - Last updated at Jul 22,2017
Demonstrators shout slogans in front of Moroccan security forces during a march in defiance of a government ban in the northern Moroccan city of Al Hoceima on Thursday (AFP photo)
RABAT — Media watchdog Reporters Without Borders (RSF) on Saturday accused the Moroccan authorities of hindering coverage of unrest in the Rif region which has been shaken by protests for nine months.
This year has seen waves of protests and bouts of violence in the Rif, where residents have long complained of neglect and marginalisation.
"The situation of Moroccan and foreign journalists covering the events in northern Morocco keeps on getting worse," said Yasmine Kacha, the head of RSF's North Africa bureau, in a statement.
"By trying to prevent coverage of the Rif protests, the Moroccan authorities are gradually turning this region into a no-go zone for independent media."
The northern city of Al Hoceima and the surrounding area have been the focus of the so-called Al Hirak Al Shaabi protest movement.
On Thursday, police in Al Hoceima fired tear gas to disperse demonstrators and stop them marching in defiance of a government ban.
RSF also called on the authorities "to free all the citizen-journalists who have been arrested and to condemn all the physical attacks against media personnel who are just doing their job by covering these demonstrations".
Dozens of people on both sides have been injured in the demonstrations.
The Moroccan Association of Human Rights reported 35 arrests.
Local journalists said that among those arrested was online journalist Hamid El Mahdaoui.
The Al Hirak movement was born last October after a fishmonger was crushed to death in a rubbish truck as he tried to retrieve swordfish confiscated for being caught out of season.
Calls for justice later snowballed into a wider social movement demanding jobs, development, and an end to corruption in the mainly Berber region.
However, since the arrest of the movement's leader Nasser Zefzafi and more than 150 of his supporters in May, the demonstrators' main demand has been their release.
Related Articles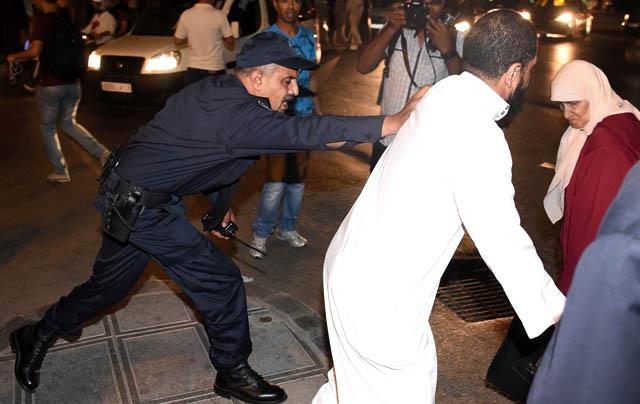 Jun 21,2017
RABAT — Police have arrested three more members of a protest movement in northern Morocco's neglected Rif region, prompting hundreds of demo
Jul 20,2017
AL HOCEIMA, Morocco — Protesters prepared to march in the Moroccan city of Al Hoceima on Thursday in defiance of a government ban, the lates
Jun 11,2017
IMZOUREN, Morocco — Moroccan police have detained four people in northern Morocco, an official and an activist said, as protests continued f
Newsletter
Get top stories and blog posts emailed to you each day.