You are here
Israel kills son of Hizbollah's late military chief in Syria — sources
By Reuters - Jan 18,2015 - Last updated at Jan 18,2015
BEIRUT — An Israeli helicopter strike in Syria killed five members of Lebanon's Hizbollah movement including the son of group's late military leader Imad Moughniyah, sources close to Hizbollah said, in an attack that has the potential to trigger reprisals.
Israel's military declined to comment, but Israel's Ynet news Website quoted an Israeli military source as saying the attack had targeted "terrorists who intended to attack Israel".
The missile strike hit Jihad Moughniyah's convoy in the Syrian province of Quneitra, near the Israeli-occupied Golan Heights, the Lebanese sources said.
The strike comes three days after Hizbollah leader Sayyed Hassan Nasrallah said he considered frequent Israeli strikes in Syria as a major aggression, and that Syria and its allies had the right to respond. Hizbollah has been fighting alongside President Bashar Assad's forces in Syria's nearly four-year-old civil war.
The Hizbollah-run Al Manar news channel did not mention Moughniyah but said Hizbollah had confirmed that a group of its fighters were killed when they were checking an area in Quneitra.
It said Hizbollah would announce the names of the dead later on Sunday.
Quneitra has seen heavy fighting between forces loyal to Assad and rebels including fighters linked to Al Qaeda.
"An Israeli helicopter fired two missiles on Amal Farms in Quneitra," the Lebanese news channel said earlier, adding that two reconnaissance planes had also been seen flying over the area.
Israel has struck Syria several times since the start of the war, mostly destroying weaponry such as missiles that Israeli officials said were destined for Hizbollah, Israel's long-time foe in neighbouring Lebanon.
Syria said last month that Israeli jets had bombed areas near Damascus international airport and in the town of Dimas, near the border with Lebanon.
Imad Moughniyah, who was on the United States' most wanted list for attacks on Israeli and Western targets, was assassinated in Damascus in 2008.
Related Articles
Jan 19,2015
An Israeli strike on Syria killed an Iranian general, Tehran confirmed Monday, as thousands of supporters of Lebanon's Hizbollah gathered to bury one of six fighters killed in the same raid.
Jan 20,2015
UN peacekeepers stationed in the Golan Heights along the Syrian-Israeli border observed drones coming from the Israeli side before and after an air strike that killed top several Hizbollah figures, the United Nations said on Monday.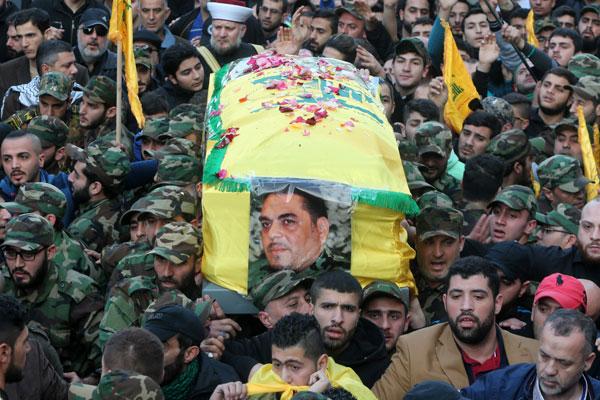 Dec 21,2015
BEIRUT — Lebanon's Hizbollah group on Monday said it would retaliate for the killing of prominent militant Samir Qantar in an Israeli air st
Newsletter
Get top stories and blog posts emailed to you each day.