You are here
Iraqi forces flushing Daesh out of last Fallujah pocket
By AFP - Jun 24,2016 - Last updated at Jun 24,2016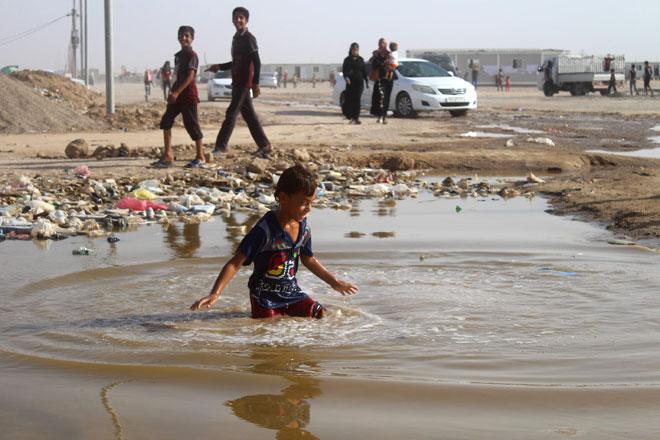 A displaced Iraqi boy from the Fallujah area plays in a puddle of water at a camp near Amiriyah Al Fallujah, on Wednesday (AFP photo)
FALLUJAH, Iraq — Iraqi forces closed in on the last neighbourhood of Fallujah still held by the Daesh terror group Thursday while aid groups struggled to deliver relief to desperate civilians.
A month into a major offensive against one of the extremists' most emblematic bastions, elite forces were close to establishing full control over Fallujah.
"I can say that more than 80 per cent is controlled by our forces," Lt. Gen. Abdulwahab Al Saadi, the operation's overall commander, told AFP in Fallujah.
Prime Minister Haider Al Abadi declared victory a week ago already and recent operations have focused on flushing out pockets of resistance in northern neighbourhoods of Fallujah.
Speaking from a recently reconquered area in the north of the city, Saadi said Daesh militants only retained a presence in the neighbourhood of Jolan and possibly parts of another called Al Muallemin.
He estimated that Daesh only had as little as five per cent of the manpower it had in those areas before Iraqi forces punched through defence lines and thrust into the city late last month.
Fallujah, which lies 50 kilometres west of Baghdad, was the first city to fall out of government control in 2014, months before Daesh swept across Iraq's Sunni Arab heartland and declared its "caliphate".
In the Shorta neighbourhood, counter-terrorism service (CTS) forces had taken an Daesh explosives workshop, stacked with dozens of homemade rockets and bomb-making material.
Welding equipment, yellow lumps of plastic explosives stored in an pot of paint, bags full of detonators and old sacks of palm dates stuffed with powder were still strewn across the rooms.
Bomb factory
In the deserted streets littered with rubble and torn down wires, the silence was only disrupted by the humming of drones, mangled iron creaking in the wind and the occasional controlled detonation of a roadside bomb.
While entire blocks in southern Fallujah were levelled during the height of the offensive earlier this month, substantial areas in the north of the city appeared to have escaped with relatively minor damage.
Senior CTS officer Mohannad Al Tamimi said he hoped the city's tens of thousands of displaced residents could return soon.
"Just here, eight improvised explosive devices have just been dealt with," he told AFP, pointing to the road in front of Fallujah's main hospital.
"In the next few days or weeks, families should return, once their cases have been approved by the city council," he said.
According to the United Nations, around 85,000 people have been displaced since the start of the operation a month ago.
When families fleeing the fighting and Daesh rule after months of a gruelling siege that left many starving, Iraqi forces would hold the adult men to screen them for any suspected Daesh links.
Thousands have yet to be released from screening, an opaque process some local officials and rights groups are concerned is plagued by cases of torture and sectarian revenge against Fallujah's Sunni population.
A massive influx of civilians last week left the aid community struggling to cope and some families without any form of shelter or assistance, even as temperatures started hitting their summer highs.
Exhausted civilians collapsing
Aid agencies were struggling to reach the most vulnerable families, said the Norwegian Refugee Council, one of the leading groups involved in the Fallujah aid effort.
"Pregnant women, children, elderly people and people with disabilities are collapsing of exhaustion with scant medical services and aid available in the camps," it said.
The NRC and the UN have asked for urgent funds to support the response to the crisis, which they have warned could yet worsen if water-borne diseases break out.
The total loss of Fallujah, which Iraqi forces say is days away, would be a significant blow to Daesh and further dent its claim that it is running a "caliphate".
Daesh has been losing ground steadily in Iraq over the past year and gradually relying more on bombing civilian targets in Baghdad or claiming spectacular attacks in the West to spread its ideology and attract more recruits.
The government said before the start of the Fallujah offensive that the percentage of Iraqi territory under militant control had shrunk from 40 per cent two years ago to 14.
Abadi, who is under intense political pressure over proposed anti-corruption reforms, has promised that the next target would be Mosul, the country's second city and the defacto Daesh capital in Iraq.
Iraqi forces, including CTS elite troops and Kurdish peshmerga fighters, have recently revived operations to take back the town of Qayyarah, which lies around 60 kilometres south of Mosul on the banks of the Tigris River.
up
43 users have voted, including you.
Related Articles
Jun 27,2016
FALLUJAH, Iraq — Iraqi forces took the Daesh terror group's last position in the city of Fallujah Sunday, establishing full control over one
May 25,2016
BAGHDAD — The Daesh terror group is preventing people from fleeing Fallujah amid a military operation to recapture the city west of Baghdad,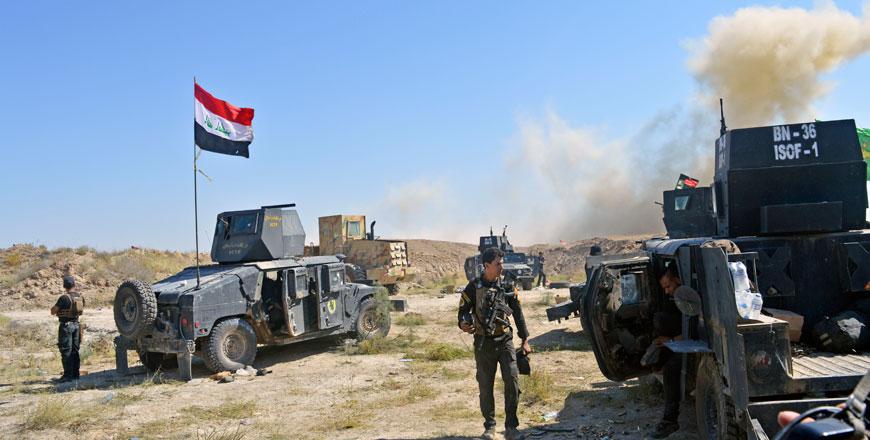 Jun 01,2016
BAGHDAD — Iraqi forces faced tough resistance from the Daesh terror group Tuesday as they attempted to enter the centre of Fallujah, where t
Newsletter
Get top stories and blog posts emailed to you each day.