You are here
Human smugglers in Libya have links to security services — UN report
By Reuters - Feb 08,2018 - Last updated at Feb 08,2018
Members of the self-styled Libyan National Army, loyal to the country's east strongman Khalifa Haftar, patrol the roads leading into the eastern city of Benghazi on Wednesday (AFP photo)
UNITED NATIONS — Most armed groups involved in human smuggling and trafficking in Libya have links to the country's official security institutions, sanctions experts said in a confidential report to a UN Security Council committee seen by Reuters on Wednesday.
People smugglers operating with impunity in Libya have sent hundreds of thousands of migrants to Europe, mainly Italy, by sea since 2014. Thousands have died during the voyages.
"Armed groups, which were party to larger poltical-military coalitions, have specialised in illegal smuggling activities, notably human smuggling and trafficking," experts reported to the 15-member Security Council committee. They said most of these armed groups "were nominally affiliated to official security institutions".
The experts were reporting on an arms embargo and targeted sanctions that the UN Security Council imposed on Libya in 2011 when former leader Muammar Qadhafi's forces cracked down on pro-democracy protesters.
Eritrean migrants told the sanctions monitors they had been arrested by the Special Deterrence Force (SDF), which is an armed group affiliated with the internationally recognised Government of National Accord's ministry of interior, the report said.
The migrants said the SDF handed them to various smuggling rings. "The panel is assessing whether the SDF's leadership was aware of collusion and trafficking being conducted within its ranks," the sanctions monitors wrote.
They also noted: "The panel is concerned over the possible use of state facilities and state funds by armed groups and traffickers to enhance their control of migration routes."
The SDF denied the allegations. The force "has nothing to do with smuggling", SDF spokesman Ahmad Bin Salem told Reuters in a written statement. "It is fighting illegal immigration and has arrested many smugglers," he said.
International agencies told the sanctions monitors that Libya's Directorate Combating Illegal Migration had no control over its 24 detention centres. Migrants told the UN monitors that local armed groups controlled the centres they stayed in. So far this year, just over 3,500 migrants are recorded to have crossed from Libya to Italy, about 60 per cent fewer than during the same period last year, according the Italian Interior Ministry.
Libya descended into chaos after a NATO-backed uprising in 2011 led to the overthrow and killing of Qadhafi, with two competing governments backed by militias scrambling for control of the oil-producing country.
"Foreign fighters and armed groups, moving in and out of Libya, exploit the uncontrolled proliferation of arms and related material in Libya resulting in regular violations of the [UN] arms embargo," the sanctions monitors said.
Related Articles
Dec 21,2015
TRIPOLI — Libyan naval forces have rescued more than 100 migrants whose vessel ran into engine trouble on the way from the Libyan coast to I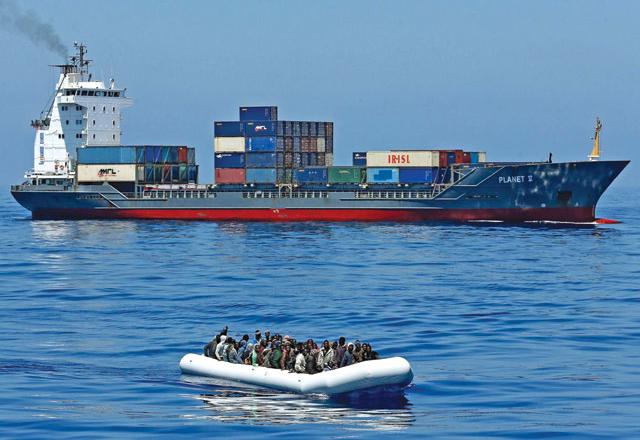 Apr 23,2015
Libya's chaos has turned it into a lucrative magnet attracting migrants desperate to make the dangerous sea voyage to Europe. With no central authority to stop it, business is booming, with smugglers charging ever more as demand goes up, then using the profits to buy larger boats and heavier weapons to ensure no one dare touch them.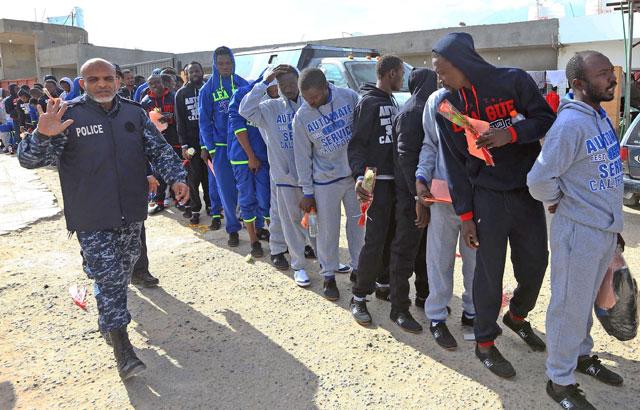 Nov 28,2017
UNITED NATIONS — France said on Tuesday it wanted the United Nations Security Council to consider imposing targeted sanctions on human traff
Newsletter
Get top stories and blog posts emailed to you each day.