You are here
Erdogan, Iran present common front after Iraq Kurd referendum
By AFP - Oct 04,2017 - Last updated at Oct 04,2017
A handout photo provided by the office of Iran's Supreme Leader Ayatollah Ali Khamenei shows him (right) meeting with Turkish President Recep Tayyip Erdogan in Tehran, on Wednesday (AFP photo)
TEHRAN — Turkish President Recep Tayyip Erdogan and Iranian leaders presented a united front in their opposition to Iraqi Kurdish aspirations of independence, on a visit on Wednesday that signalled a warming of ties.
"Some leaders of Iraq's Kurdistan region have made erroneous decisions which must be corrected," Iran's President Hassan Rouhani said after talks with Erdogan, visiting Tehran for the first time since 2015.
"Iran, Turkey and Iraq are obliged to take serious and necessary measures," he said in reference to retaliatory measures adopted since Iraqi Kurdistan's disputed September 25 independence referendum.
Erdogan, in a translation on Iranian state television of his comments, warned of "stronger" measures to follow and said the autonomous Kurdish region in northern Iraq would remain "isolated".
The two governments fear the secession of Iraq's Kurds would stoke separatist sentiment among their own large Kurdish minorities and are eager to work together with the federal government in Baghdad to block it.
Both Iran and Turkey have held military manoeuvres close to their borders with Iraqi Kurdistan to ratchet up the pressure on Kurdish leaders.
Those exercises have also involved forces of the federal government in Baghdad, which has demanded the annulment of the vote which returned a 92.7 per cent "yes" for independence.
Baghdad imposed a ban on all international flights to Kurdish airports on Friday prompting an exodus of foreigners.
Iran has ordered a halt to all trade in fuel products with Iraqi Kurdistan and has said it will allow Iraqi federal forces to deploy at its border crossings with the region.
Turkey has threatened to close its land border and halt the export of oil from Iraqi Kurdistan to the Turkish Port of Ceyhan, an economic lifeline.
Since 1984, Turkey has battled rebels of the outlawed Kurdistan Workers' Party (PKK) which has rear bases in northern Iraq and which initially sought to create a breakaway state.
Two Kurdish rebel groups are active in Iran — the Kurdistan Democratic Party of Iran and the Party of Free Life in Kurdistan.
Pragmatism
Iran and Turkey have been rivals for centuries but have recently sought to forge a pragmatic relationship, with the Islamic republic strongly supporting Erdogan after last year's failed coup.
The two governments have taken opposing sides in the six-year civil war in Syria but relations have thawed this year with them both joining Russia as co-sponsors of peace talks which began in Kazakstan in January.
On the economic front, Rouhani and Erdogan underlined the goal of tripling two-way trade to $30 billion in 2018, to be processed in their own currencies, easing the pressure on Iran whose banking sector is subject to US sanctions.
The atmosphere for the talks was a far cry from Erdogan's last visit to Tehran in April 2015 when a speech he gave just days before sparked demands from some Iranian lawmakers for it to be cancelled.
The Turkish leader had accused Iran at the time of seeking to "dominate the region" and demanded that it withdraw its troops from Iraq and Syria.
Before returning home, Erdogan was to meet Iran's supreme leader Ayatollah Ali Khamenei late on Wednesday.
Related Articles
Sep 07,2017
KOYSINJAQ, Iraq — Plans for an independence referendum in Iraqi Kurdistan have angered Ankara and Tehran, but little has changed for Iranian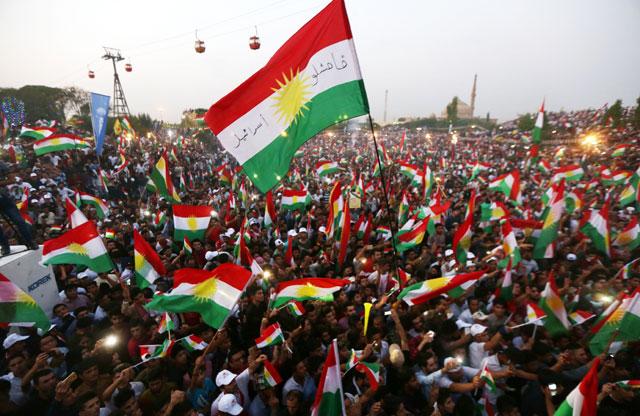 Sep 17,2017
ANKARA — Turkish President Recep Tayyip Erdogan will meet Iraqi Prime Minister Haider Al Abadi during his visit to the United States this we
Apr 03,2018
ANKARA, Istanbul — Iran, Russia and Turkey have teamed up to forge a strong if brittle tripartite alliance aimed at holding ascendancy in Sy
Newsletter
Get top stories and blog posts emailed to you each day.