You are here
Daesh Syria stronghold Raqqa falls, but where are its fighters?
By AFP - Oct 18,2017 - Last updated at Oct 18,2017
Members of the Syrian Democratic Forces, backed by US special forces, celebrate at the frontline in the Daesh group's crumbling stronghold of Raqqa on Monday (AFP photo)
BEIRUT — The Daesh terror group has lost its Syrian stronghold Raqqa, but the fate of hundreds of its foreign fighters who had been expected to battle to the death remains a mystery.
Captured by Daesh in 2014, the city became a "terror capital", where the extremists carried out some of their most gruesome abuses and also planned devastating foreign attacks, like the Paris massacres of 2015 and August's Barcelona attack.
Who were the Daesh fighters in Raqqa?
After the 2014 declaration of its self-styled "caliphate" straddling Syria and Iraq, thousands of local and foreign fighters flocked to the extremist group's ranks, with Raqqa becoming its de facto Syrian capital.
US officials estimated as many as 40,000 fighters travelled to join the extremists over the years, dispersed across a territory that was once the size of Britain.
In Raqqa, the extremists put up a fierce fight after the US-backed Syrian Democratic Forces (SDF) broke into the city in June.
But in four months the SDF seized around 90 per cent of the city, and fewer than 1,000 Syrian and foreign fighters were left in their onetime stronghold.
Where did
the fighters go?
Senior Daesh commanders are believed to have left Raqqa before the SDF penetrated the city, and hundreds of its fighters were killed in clashes with the SDF and in US-led coalition strikes.
As the battle neared its final phase, local officials negotiated a deal that saw several hundred Syrian Daesh fighters surrender with their relatives to the SDF forces.
The Raqqa Civil Council that negotiated the deal, as well as the US-led coalition, insisted no foreign fighters were among those who surrendered over the weekend.
Before the end of fighting, the coalition and SDF officials had estimated hundreds of diehard, mostly foreign fighters remained in the city.
But there was no public sign that those fighters had either surrendered en masse or been killed in the last 24 hours of fighting for the city.
The Syrian Observatory for Human Rights, a Britain-based monitor of the war, said a group of 130-150 foreign fighters had turned themselves in before the end of the battle.
"They surrendered the day before yesterday," said observatory director Rami Abdel Rahman.
"They were turned over directly to foreign intelligence services, the French for example," he added, citing sources on the ground.
Abdel Rahman said the group included Arabs from outside Syria, as well as Europeans and nationals from central Asian countries.
Other reports suggested a convoy of foreign fighters had been able to escape the city towards Daesh-held territory in neighbouring Deir Ezzor province, a claim denied categorically by SDF officials.
SDF spokesman Talal Sello said fighters that were not included in the surrender deal either "turned themselves in afterwards or were killed".
"We're doing clearing operations and searching for sleeper cells, there could be terrorists hidden here or there," he added.
Coalition spokesman Colonel Ryan Dillon told AFP that an additional 100 Daesh fighters had surrendered in the last 24-48 hours, and screening had uncovered four foreign fighters among them.
He could not specify which countries they were from.
What will happen
to the fighters?
Dillon denied reports that the coalition was holding any fighters.
"That is not something that we have done," he said.
"We have coalition forces that will interrogate them and ask them to try to get information from them, but they are in SDF control."
Under the deal negotiated by local officials, Syrian Daesh fighters who surrendered have been biometrically registered and turned over to local tribal leaders who will "be responsible for them and vouch for them", he added.
The SDF is expected to contact the home countries of any foreign fighters it holds, to discuss the possibility of turning them over to face prosecution.
In September, the SDF turned over an American Daesh fighters to US officials and he is now being held in Iraq.
Related Articles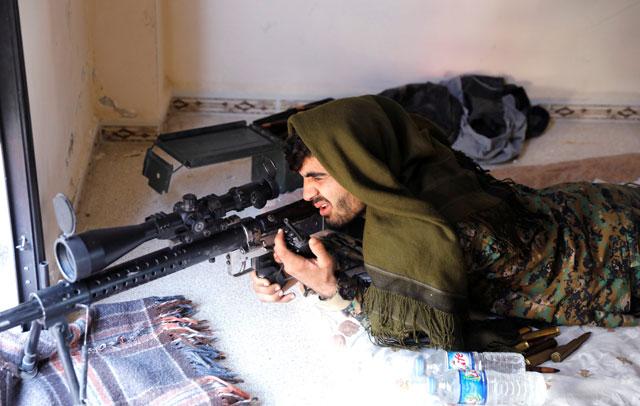 Oct 16,2017
RAQQA, Syria — US-backed militias battled foreign fighters defending the last pocket of the Daesh extremist group's one-time Syrian capital
Oct 10,2017
RAQQA, Syria — In the gutted four-storey building that he and five other US-backed fighters have turned into a frontline fortress, Babel can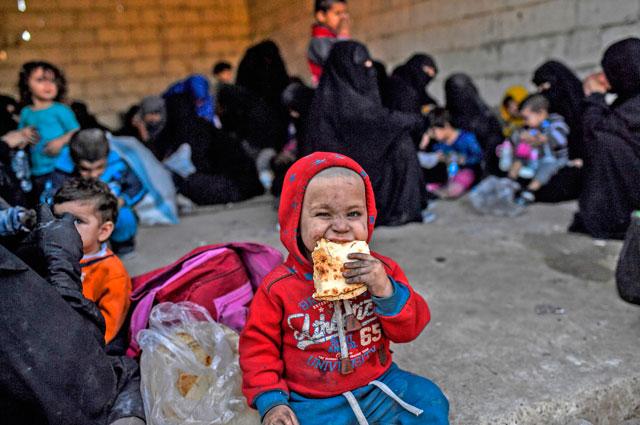 Oct 14,2017
AIN ISSA, Syria/BEIRUT — The Daesh terror group is on the verge of defeat in Syria's Raqqa and the city may finally be cleared of the extrem
Newsletter
Get top stories and blog posts emailed to you each day.