You are here
Air strikes hit rebel-held parts of Aleppo hours into truce — Observatory
By Reuters - Jun 16,2016 - Last updated at Jun 16,2016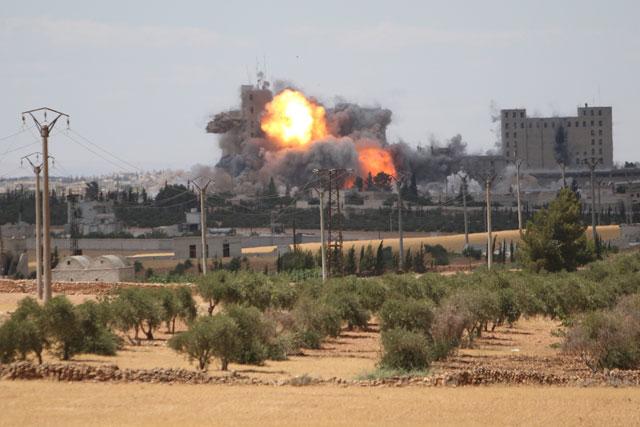 Smoke and flame rise after what fighters of the Syria Democratic Forces said were US-led air strikes on the mills of Manbij where Daesh militants are positioned, in Aleppo Governorate, Syria, on Thursday (Reuters photo)
BEIRUT — The Syrian Observatory for Human Rights said air strikes hit rebel-held parts of Aleppo just hours into an announced 48-hour ceasefire and fighting carried on in and around the northern Syrian city.
Aleppo, Syria's largest city before the civil war with a population of more than two million people, has been divided for years into rebel and government sectors. Capturing the city is one of President Bashar Assad's key strategic objectives.
Russia, an ally of Syria, announced the truce there on Thursday but did not say which parties had agreed to it. There has been no public comment from the government of President Bashar Assad or factions fighting his forces on the truce announcement.
The Britain-based observatory monitoring group said aerial bombardments hit a number of neighbourhoods in the opposition-held sector and that there were reports of one death and some injuries.
"There were strikes on a number of residential areas causing fires and damage. The truce was supposed to have come into effect at 12 midnight, but now there is no truce," Bebars Mishal, a civil defence chief working in rebel-held areas of Aleppo told Reuters.
Two residents in Aleppo said there had been a number of barrel bombs dropped from helicopters and aerial attacks on Thursday within the city.
The opposition-held part of Aleppo has been cut off in the past two weeks from the outside world as an escalation in air and artillery strikes on the only road in has made journeys perilous and put hundreds of thousands of people under effective siege.
Despite the truce, fierce fighting between government forces and rebels took place overnight around this road, known as the Castello road, with heavy government shelling of the area, the observatory said.
A Reuters witness said jets and helicopters have been continuously seen in the skies above the Castello road since dawn.
Rebels have since midnight also fired rockets into government-held territory in Aleppo, the observatory said.
In countryside around Aleppo, fighting and air strikes continue.
North of Aleppo, air strikes have hit the villages of Anadan, Hayan and Hariyatan. South of Aleppo, ferocious fighting went on between rebels and government and allied forces, which include fighters from Hizbollah.
Related Articles
Jul 10,2016
ALEPPO — Residents of rebel-held areas of Syria's Aleppo on Saturday faced food and fuel shortages after a Syrian government advance cut the
May 13,2016
BEIRUT — Syrian government forces battled rebels north of Aleppo on Thursday as a ceasefire expired in the city itself, the Syrian Observato
Jul 11,2016
ALEPPO, Syria — Opposition fighters launched a major assault on government-held districts of Syria's long-divided Aleppo on Monday, after th
Newsletter
Get top stories and blog posts emailed to you each day.