You are here
31 dead as Syrian army jet crashes in rebel-held town — monitor
By AFP - Aug 03,2015 - Last updated at Aug 03,2015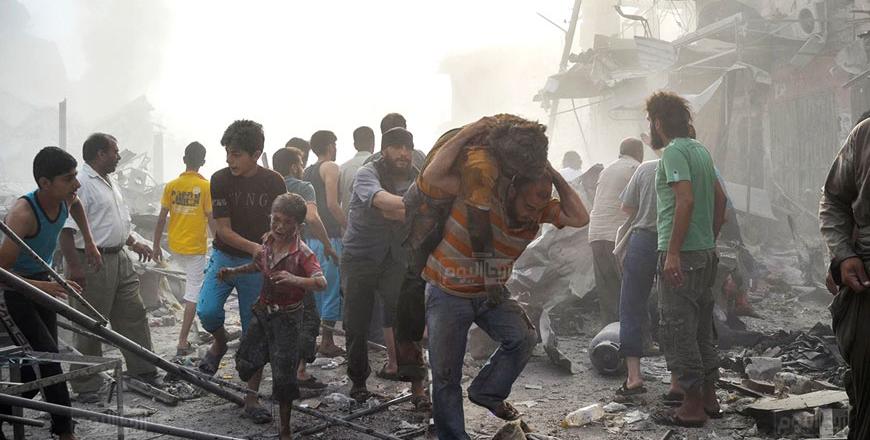 In this photo provided by the Syrian anti-government activist group Ariha Today, which has been authenticated based on its contents and other AP reporting, Syrian citizens help an injured boy as another carries a man after a government forces warplane crashed in the center of Ariha town in the northwestern province of Idlib, Syria, Monday (AP photo)
BEIRUT — A Syrian army aircraft crashed during a bombing run over rebel-held Ariha on Monday, killing at least 31 people and destroying a vegetable market, a monitoring group and residents said.
The Syrian Observatory for Human Rights said it was not immediately clear how many of the deaths in the northwestern town had resulted from the crash and how many were killed in the bombing run.
"It was flying at a low altitude when it had a mechanical failure," observatory chief Rami Abdel Rahman said.
"At least 31 people, including two children, were killed. Five of them have not been identified," said Abdel Rahman, citing medical officials and residents inside the town.
He said at least 60 people were wounded in the attack on Ariha, which is in Syria's northwest province of Idlib.
Security officials reached in Damascus would not confirm whether a regime aircraft had crashed in the area.
The official news agency SANA reported only that army units had destroyed ammunition warehouses and attacked "terrorist groups" in Ariha.
Residents cited by the observatory said the plane crashed near a vegetable market, causing "a huge blast" in the town, the scene of heavy destruction in previous regime bombardment.
Local activist Ibrahim Al Idlibi, speaking to AFP via the Internet, said the blast was caused by the remaining rockets and bombs on the plane.
"It destroyed the entire market, as well as residential buildings near the market," he said.
Local civil defence workers were scrambling to rescue anyone buried under the rubble, he said.
"The wounded have been taken to field hospitals inside Ariha and in nearby Jabal Al Zawiya, because there is such a high number," he added.
The observatory, which relies on a wide network of activists, medics and fighters throughout war-torn Syria, said the fate of the plane's crew was unknown.
The Damascus regime has relied heavily on its monopoly of air power in Syria's four-year-old civil war, repeatedly pounding rebel-held towns.
It has lost a number of aircraft, some to rebel fire and others to mechanical failure.
In mid-January, at least 35 government troops were killed when a military aircraft crashed in Idlib.
The province, which borders Turkey, has since been largely overrun by a rebel alliance including Al Qaeda affiliate Al Nusra Front.
The Army of Conquest alliance seized Idlib city on March 28, heralding a string of victories in the province including the capture of Ariha exactly two months later.
Related Articles
Nov 29,2015
AMMAN/BEIRUT — Air strikes believed to have been carried out by Russian jets killed at least 30 people in the town of Ariha in northwestern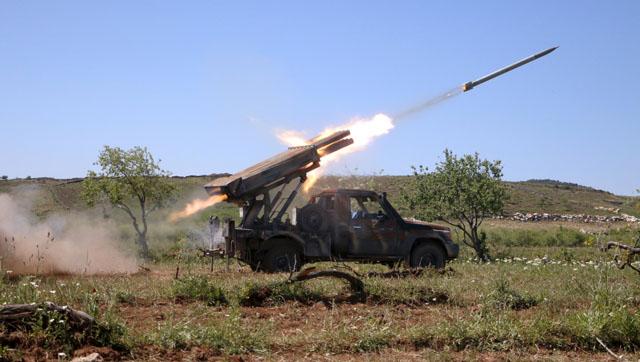 Apr 25,2015
Al Qaeda's Syrian affiliate and its allies seized the last major government-held city in Idlib province on Saturday, in a blow that could expose the regime's coastal heartland to rebel attack.
Jun 06,2016
AMMAN — Nearly 50 air strikes hit rebel-held areas in and around the Syrian city of Aleppo on Sunday in some of the heaviest recent raids by
Newsletter
Get top stories and blog posts emailed to you each day.