You are here
WFP, NAJMAH sign agreement to enhance food security of 7,500 Jordanians, refugees
By JT - Sep 09,2020 - Last updated at Sep 09,2020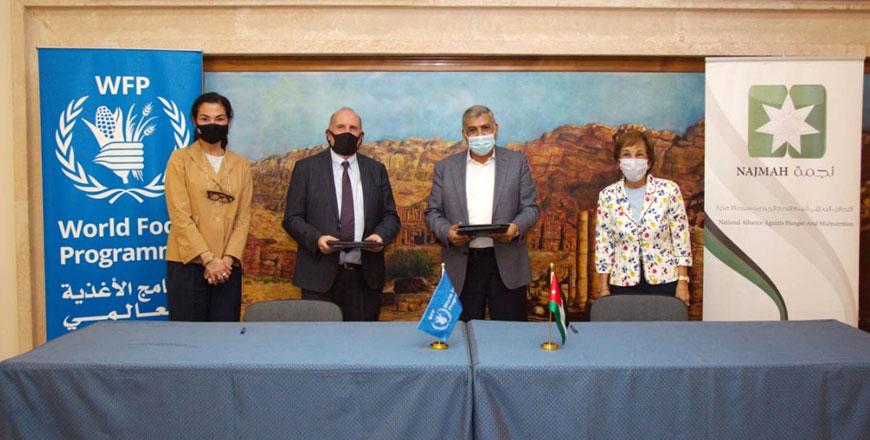 HRH Princess Basma poses for a group photo during the signing ceremony of an agreement between the National Alliance Against Hunger and Malnutrition (NAJMAH) and the United Nations World Food Programme to implement a training programme focusing on building the capacity of 1,500 participants on Tuesday (Petra photo)
AMMAN — The National Alliance Against Hunger and Malnutrition (NAJMAH), under the leadership of HRH Princess Basma, and the United Nations World Food Programme (WFP) on Tuesday signed an agreement to implement a training programme focusing on building the capacity of 1,500 participants.
NAJMAH and the WFP will work together to implement the 10-month project to improve the employability of vulnerable groups by providing participants with access to on-the-job training in vocational areas such as food production, crafts, welding and carpentry and hence improve their employment prospects and thus their food security, according to a statement made available to The Jordan Times.
Princess Basma highlighted the importance of the partnership between the WFP and NAJMAH, and building up on the successes achieved through the continuous cooperation between the two sides in fighting hunger, enhancing food security and curbing unemployment, the Jordan News Agency, Petra, reported.
The princess also commended the expertise that both sides gained in organising cooperation programmes towards the targeted categories and communities.
The on-the-job training will take place at small-and medium-sized enterprises across Jordan to support their recovery from the economic impacts of COVID-19.
"The WFP is committed to supporting the government of Jordan's efforts to adapt and respond to the current socioeconomic challenges and ensure the food security of the most vulnerable families. With NAJMAH, we will invest in young people, equipping them with knowledge and skills to access sustainable employment opportunities to support themselves and their families", said WFP Deputy Country Director Jonathan Campbell in the statement.
The project, which will benefit 7,500 people, aims to enhance the self-reliance of some of the most vulnerable populations in Jordan while also contributing to the 2030 Sustainable Development Agenda.
It targets youth between 18 and 40 years of age in Amman, Irbid, Zarqa, Karak and Aqaba, with a special focus on empowering women participants to secure decent employment and income and giving them a full understanding of their rights at work including protection from violence.
NAJMAH and the WFP have implemented a series of training activities in different governorates in Jordan, so far supporting more than 6,000 participants and benefiting around 30,000 beneficiaries through these activities.
All activities performed by NAJMAH and the WFP take the necessary precautions against COVID-19 to ensure the safety of all participants and staff as well as the wider community, according to the statement.
Newsletter
Get top stories and blog posts emailed to you each day.