You are here
Unemployment major concern for new gov't — experts
By Omar Obeidat - May 31,2016 - Last updated at May 31,2016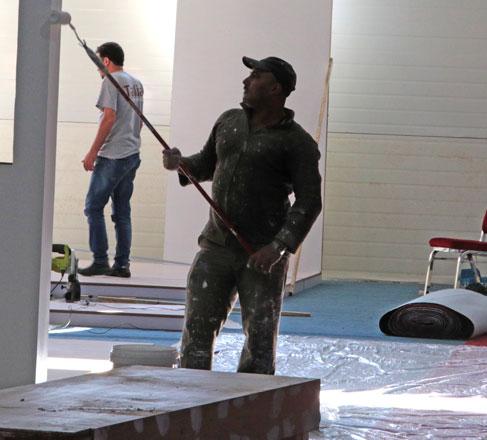 A worker paints the interior of a building in Amman on Monday. Unemployment is described by economists as the biggest challenge to the new government (Photo by Osama Aqarbeh)
AMMAN – Experts on Monday named unemployment as the biggest challenge the new government of Hani Mulki has to address.
In separate interviews with The Jordan Times, they said that given the current state of the economy and regional instability, the new government has to rise up and take immediate and medium-term "out-of-the-box measures" in crucial areas such as investment, exports and partnership with the private sector, which they said must be "genuine".
According to official data, unemployment rate reached 14.6 per cent in the first quarter of this year, which is the highest in eight years.
Economist Omar Razzaz said joblessness is the biggest problem facing the Kingdom, adding that it can be solved only by attracting large investments by Jordanian, Arab and foreign investors.
To stimulate investment, Razzaz said, the government has to address bureaucratic measures as regulations and laws cannot alone boost investors' confidence if red tape remains untouched.
"We need to target Chinese investors interested in the African market to make Jordan as their launch pad. There are also Jordanian and Syrian investors eyeing the reconstruction of Syria and Iraq," said the economist, who is currently the chairman of Ahli Bank.
Razzaz said that the unemployment is becoming worse and needs immediate remedy, indicating that the Kingdom needs a national programme to employ and provide training to jobseekers and students who are still at college.
"There should be youth camps for employment with the objective of building the culture of work among young people, who can be trained on the skills needed in the labour market," he said, adding there are certain sectors that could be developed to offer more job opportunities such as dry-land farming, trash recycling and crèches or pre-school kindergartens.
Only 3 per cent of children in Jordan go to pre-school educational facilities, he said, adding the sector is large enough to generate thousands of jobs to female jobseekers and encourage more women to join the labour market as many of them refrain from accepting jobs just to stay with children at home.
"There should be a national programme to buy such services," the economist said.
Razzaz said a better transportation system can also create more jobs.
Abdul Rahim Biqaai, a former deputy and municipal planner, agreed with Razzaz that unemployment is the main concern for Jordan.
"The way the Labour Ministry has managed the employment issue was completely a failure," he said, calling on the government to deal with investments as the solution to bring down the joblessness rate by encouraging foreign companies to settle in Jordan and forge partnerships with local businesspeople.
We need automobile, fertiliser and mineral companies to open businesses in the Kingdom, he said, indicating that he even believes that unemployment rates are higher than those announced by the government, particularly outside Amman.
Biqaai, who headed the outgoing House's financial and economic committee, said unemployment is a bigger problem than the widening indebtedness of the country. Public debt is currently around JD25 billion, nearly 92 per cent of the gross domestic product.
He also stressed the need to find alternative markets for Jordanian products as regional turmoil had a great toll on national exports to Iraq and Syria which used to be their major markets.
Economist Adli Kandah, director general of the Association of Banks in Jordan, said the government has to target four categories of investors to reduce unemployment: local, Jordanian expatriates, Arabs and foreigners, particularly Chinese.
The drop in foreign direct investments over the past two years has had a heavy impact on employment chances, he said, adding that the government should also work on resuming pending projects.
Kandah said as the Jordan Investment Fund Law has been approved recently, the government has to attract investments in the fields of infrastructure, transport and renewable energy.
He also urged the new premier to follow up on the outcome of the London donor conference to support Syrian refugees and host countries, held in February, adding that donors who pledged hundreds of millions of dollars to help Jordan deal with the Syrian refugee crisis should honour their commitments.
"Europeans who pledged to help Jordan should have investments here. We need to see the French example in the Kingdom copied by more countries like Italy, the UK and Germany."
France is the largest non-Arab investor in Jordan with around 20 blue-chip companies operating in various fields and employing over 4,000 Jordanians.
Fathi Jaghbir, vice chairman of the Amman Chamber of Industry, said the new government should embrace a "real" partnership with the private sector.
"It is time to implement real public-private partnership. We are optimistic about Mulki who had served as industry and trade minister and who is aware of the concerns of the sector," Jaghbir said.
The government has to assist local manufacturers in finding alternative markets in Africa and help promote domestic industries in the local market.
Related Articles
Jul 22,2017
AMMAN — Industrialists and economists called on the government to revisit Jordan's trade agreements and to repeal those which they deem to h
Oct 23,2016
AMMAN — Jordanian industrialists, traders and investors will showcase local products at an exhibition in Qatar later this year, the Amman Ch
Aug 15,2016
AMMAN — Jobseekers and employers in the industrial sector can now benefit from a database that allows them to survey job openings and consid
Newsletter
Get top stories and blog posts emailed to you each day.