You are here
Tech experts seek innovative solutions for refugees' future
By Ana V. Ibáñez Prieto - Feb 21,2018 - Last updated at Feb 22,2018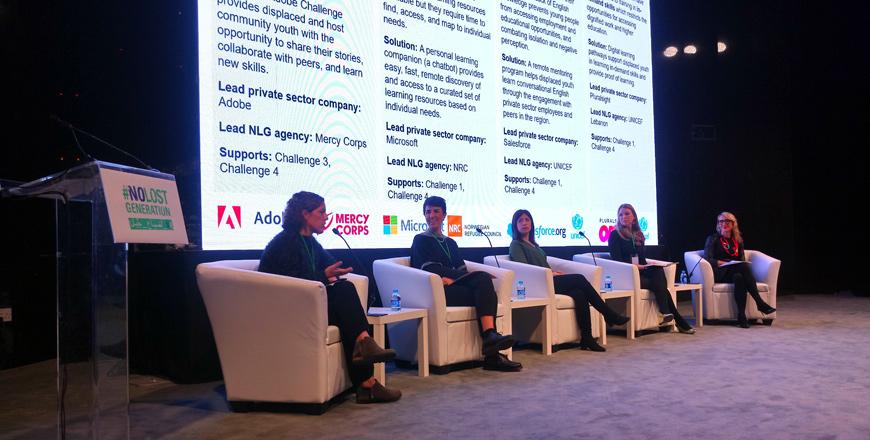 Speakers take part in a discussion panel at the No Lost Generation Tech Summit 2018 in Amman on Wednesday (Photo by Ana V. Ibáñez Prieto)
AMMAN — "It has been five years since the opening of the Zaatari Refugee Camp and our lives have changed drastically since," said Reem, a Syrian refugee and life and business skills mentor for Syrian youth.
"We are no longer striving to cover basic needs, but we are still fighting for a better future and our aspirations are bigger now," she noted, expressing that "it is time to address the real challenges and to come up with solutions for a youth full of vision, capacity and energy — an energy that must be well invested".
Her remarks came at the opening of the No Lost Generation (NLG) Tech Summit 2018 on Wednesday, an innovation forum focused on youth impacted by the Syrian and Iraqi crises that aims at discussing the ways in which technology can support education, employment, participation and representation.
Led by a multi-agency steering committee comprised of World Vision, NetHope, Mercy Corps, the Norwegian Refugee Council and UNICEF, the forum invites participants to listen to the ideas of inspirational speakers, initiate new partnerships and work together to identify technological tools to solve key challenges faced by conflict affected youth.
The event builds on the insights of the NLG EdTech summit held in Amman last year, which brought together over 200 participants from the private, public and non-profit sectors worldwide to network, collaborate and design interventions aimed at the support of education for children and youth.
"Following the summit held last year, we decided to follow up with a symposium held in Silicon Valley in order to expand the vision from education to other challenges faced by the youth," Head of NLG (World Vision) Mark Chaple said during the opening of the forum, noting that "this year's edition of the summit is focused on finding solutions to obstacles in fields such as employment or gender".
Adolescents and Youth Adviser at Mercy Corps Amie Wells highlighted that the Middle East and North Africa region is the territory with the youngest population in the world with 162 million youth. "Adolescence is a stage where so much is happening, and going through this phase in a context of conflict makes it worse," she said, explaining that "social and cultural norms are broken down and opportunities for meaningful engagement are lost, in addition to the disruption of school and the consequent absence of friends and role models".
The summit witnessed the intervention of NLG Tech Task Force leader Laila Toplic, who introduced a tech consortium formed by over 50 global NGOs aimed at bringing humanitarian experts together with the private sector to support the needs of displaced children and youth.
"The NLG Tech Task Force is focused on establishing information exchange about refugees' education and livelihoods and facilitating private sector engagement," Toplic explained, noting that "the three key ways of engagement for business are corporate social responsibility and philanthropy, business operation and product development, and public policy engagement".
Pluralsight, one of the private sector companies involved in the pursuit of solutions to challenges faced by refugees, offers a digital learning platform to support displaced youth in learning in-demand skills.
The initiative was presented by Head of Social Impact at Pluralsight Lindsey Kneuven, who explained that "through UNICEF Lebanon, Pluralsight is addressing the lack of access to training suffered by displaced youth, which restricts their opportunities for dignified work and higher education in later stages".
up
71 users have voted, including you.
Related Articles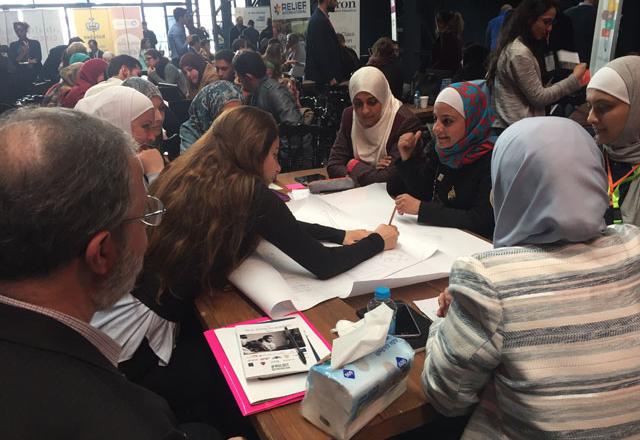 Mar 02,2017
AMMAN — Technology could help address some of the education and skills challenges caused by the Syrian crisis, participants at the No Lost G
Feb 13,2017
AMMAN — The No Lost Generation (NLG) EdTech summit on March 1 and 2 is attracting participants from the public, private and development sect
Feb 19,2018
AMMAN — Syrian crisis humanitarian experts will join forces with tech companies, donors, investors, and youth to host the "No Lost Generatio
Newsletter
Get top stories and blog posts emailed to you each day.