You are here
Syrian refugee population increases slightly last year
Fewer people lived in camps in 2017 compared to previous year
By Mohammad Ghazal - Feb 19,2018 - Last updated at Feb 19,2018
Slightly fewer Syrian refugees lived in camps last year, compared to the year before (Photo by Amjad Ghsoun)
AMMAN — The overall number of registered Syrian refugees in Jordan slightly increased from 655,344 in 2016 to 655,624 in 2017, while the number of Syrian refugees inside refugee camps dropped from 141,070 in 2016 to 139,552 in 2017, according to the UNHCR.
Of the total 655,624 Syrian refugees who were registered with the UNHCR by the end of 2017, only 21.3 per cent lived in refugee camps, according to the UN agency, which indicated that around 516,000 of the registered Syrian refugees lived in urban areas in Jordan by the end of 2017.
Of the total refugees last year, 332,901 were males and females aged between 0 and 7 years old, 298,074 were men and women aged between 18 and 59 years, while the rest are 60 and older, according to the agency's statistics.
The statistics indicated that 49,940 of the registered refugees last year are in serious medical conditions, 41,006 are children at risk, 20,309 suffer from disabilities, 20,381 are single parents, 17,286 are women at risk, 35,993 have specific legal and physical protection needs and 3,230 are unaccompanied or separated children.
With regard to refugee-locations across Jordan, the UNHCR indicated that around 185,332 are in Amman, 135,329 in Irbid, 78,663 in Mafraq, 47,795 in Zarqa, 18,546 in Balqa, 11,602 in Madaba, 9,427 in Jerash, 7,532 in Maan, 7,174 in Ajloun, 3,485 in Aqaba and 1,574 in Tafileh.
Regarding the Syrians in refugee camps, the figures showed that 78,908 are in Zatari camp and 53,557 in Azraq camp.
Of the total refugees, 50.4 per cent are females, while 270,525 are from Daraa in the south, 104,245 from Homs in the north, 77,651 from rural Damascus, 68,904 from Aleppo, 48,840 from Damascus, 34,624 from Hama and 17,043 from Raqqa.
The survey also indicated that the total number of refugees returning to Syria from Jordan in 2017 reached 8,037, and over half of those returnees left voluntarily in the three months following the July 9 ceasefire in southwest Syria, which Jordan sponsored along with the US and Russia.
According to official figures, the overall number of registered and unregistered Syrian refugees in the Kingdom stands at about 1.3 million.
Related Articles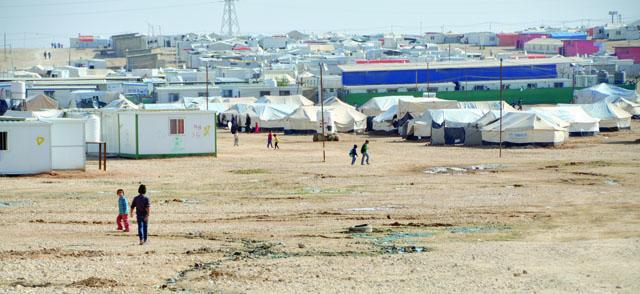 Mar 05,2018
AMMAN — Local organisations have welcomed the Ministry of Interior's (MoI) announcement of a brand new campaign aimed at regularising the st
Feb 26,2018
AMMAN — Students from Zarqa Private University on Sunday took part in a road show event organised by the West Asia–North Africa (WANA)
Aug 04,2016
AMMAN — More than half of the registered Syrian refugees in Jordan are below the age of 17, placing "tremendous" pressure on the Kingdom's r