You are here
Scholars explore evolution, views of 'post-Islamism' notion
By Rula Samain - May 05,2018 - Last updated at May 06,2018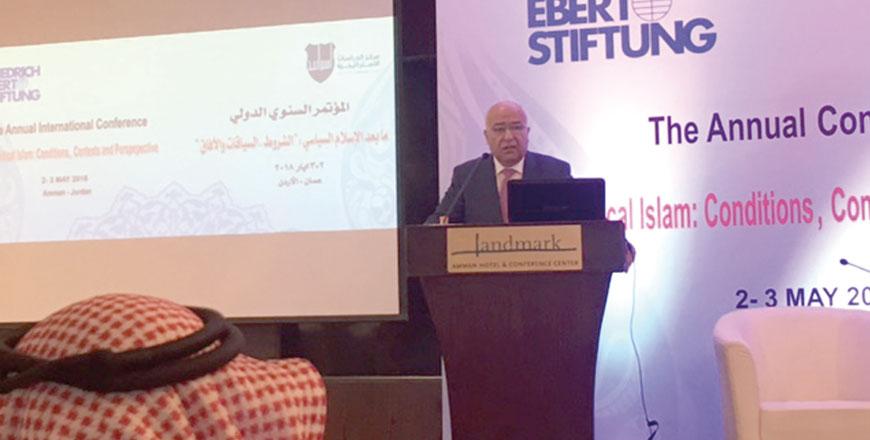 Minister of Political and Parliamentary Affairs Musa Maaytah speaks at the event on Thursday (Photo by Rula Samain)
AMMAN — The accuracy of the term "post-Islamism" and the evolution and nature of the phenomenon were explored by Islamic movements experts and other stakeholders at an Amman-hosted regional conference titled "Post Political Islam: Conditions, Contexts and Perspectives".
The two-day meeting, which concluded on Thursday, was organised by the Centre for Strategic Studies and Friedrich Ebert Stiftung, and attracted the participation of speakers from Iran, Turkey, Lebanon, Morocco, France and Jordan.
In his remarks at the opening session, Minister of Political and Parliamentary Affairs Musa Maaytah said that there has been "an urgent need" to address the topic, exchange views and share experiences on the issue, at a time when nations envision a shared living in peace in civil states founded on the principles of citizenship and the rule of law.
He called on Islamist groups to embrace civil statehood genuinely, in realistic and practical terms, rather than as a tactic. "They should draw a line between their role as preachers of Islam [or Da'wa] and that of politicians," he said.
Tim Petschulat, Friedrich Ebert Stiftung's resident director in Jordan and Iraq, said that sound governance requires that all needs of all components of society be met and means found to properly engage them all.
"We, as a foundation, would like to see Jordan develop towards a civil and democratic state according to what His Majesty King Abdullah promoted in his discussion papers. And, in order to achieve that, it is important to understand the society and its changes, thus the need to discuss political Islam as an important part of society," he stated.
Petschulat told The Jordan Times on the sidelines of the gathering that the political streams in Jordan and the Middle East are "dealing with new developments", pointed to the need to explore these changes and learn from each others' experiences to check whether political Islam is actually changing and the era of post-political Islam is truly there, or whether it is merely a term coined by the West.
In Baghdad, Iraq, for example, things have changed since July 2017, when the Shiites and Sunnis united in the fight against Daesh, which had imposed its strict version of an Islamic state, he continued.
Some participants viewed post-Islamism as a result of the failure of political Islam, while others saw it as the outcome of the evolution of party movements of political Islam or of other Islamic phenomena. A third trend portrayed it as a phase not belonging to political Islam.
Hassan Barari, associated professor of political science at the University of Jordan, said that the term post-Islamism appeared in the 1990s when several Islamic movements started to revisit, and consequently change, their discourses, and strived to be more involved in society.
An expert and author on Islamic movements, Hassan Abu Hanieh tackled the general framework of political Islam and its circumstances and the controversies surrounding the term, stressing that political Islam groups do accept a secular state and separation between Da'wa and politics.
The pundit also underlined a new trend among Islamists, one that accepts to safeguard women's and minorities' rights and believes in democracy, pluralism and in Islamists' ability to overcome differences to finally achieve society's stability and prosperity.
Related Articles
May 08,2018
AMMAN — Government Coordinator for Human Rights Basel Tarawneh on Tuesday met with Friedrich-Ebert-Stiftung (FES) Resident Director Tim O.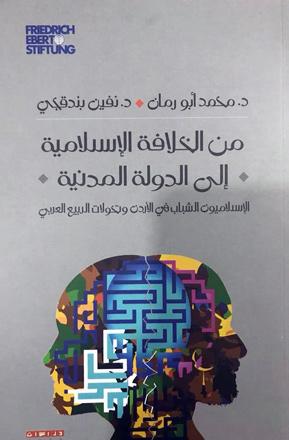 Jun 30,2018
AMMAN — The Arab Spring and the internal disputes inside the Muslim Brotherhood organisation have brought about ideological changes to the c
Sep 16,2014
The German Friedrich-Ebert-Stiftung (FES) in Amman will launch the newest publication in its Political Islam Series titled "I Am a Salafi. A Study of the Actual and Imagined Identities of Salafis" written by Mohammad Abu Rumman on Wednesday. 
Newsletter
Get top stories and blog posts emailed to you each day.