You are here
RFC signs MoU with LA foundation to develop TV, cinema writing professions
By Muath Freij - Jul 27,2018 - Last updated at Jul 27,2018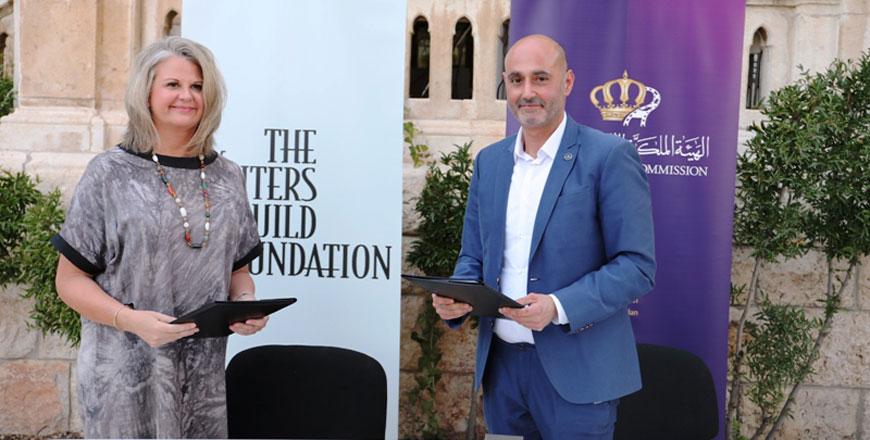 RFC Managing Director George David and Writers (right) Guild Foundation Executive Director Katie Buckland sign the MoU in Amman on Wednesday (Photo courtesy of RFC)
AMMAN — The Royal Film Commission – Jordan (RFC) on Wednesday signed a Memorandum of Understanding (MoU) with the Los Angeles-based Writers Guild Foundation (WGF), aiming to develop the writing profession in the field of television and cinema.
Katie Buckland, the executive director of WGF, stressed that stories do not only reflect people's culture, but they also shape their culture, adding that we become united as people when we celebrate the craft of storytelling.
"We are thrilled to be here today to enter this agreement to share our knowledge of storytelling and to receive the knowledge with the Jordanian people," she told the attendees during the signing ceremony.
The MoU aims at assisting Jordanian and Arab writers improve their television and cinema writing skills by providing them with the necessary advice and mentoring to build and enhance their abilities in this profession, an RFC statement said.
RFC Managing Director George David noted that, since the inception of the commission by HRH Prince Ali, stories have been the main focus of the RFC.
"We are thrilled to learn from another culture and know more about the Jordanian stories, with an American expertise as well. Our intent is not to bring more American stories to Jordan as it does not make any sense whatsoever," stressed Buckland, noting that " the idea is to bring the Jordanian stories and kind of use American writing techniques to make it more marketable."
The collaboration will entail a series of workshops and training programmes to be conducted in Amman between 2018 and 2019, where the RFC will serve as a focal point between the WGF and the Arab region.
Some of these workshops will specialise in writing for the TV screen while others will focus on cinema writing techniques. They will all be implemented through the assistance of award-winning and established screenwriters, advisers, consultants, editors and or script doctors, either international or from the region, according to the RFC statement.
Newsletter
Get top stories and blog posts emailed to you each day.