You are here
Number of local election candidates reaches 4,213 — IEC
706 women among candidates
By Rana Husseini - Feb 08,2022 - Last updated at Feb 08,2022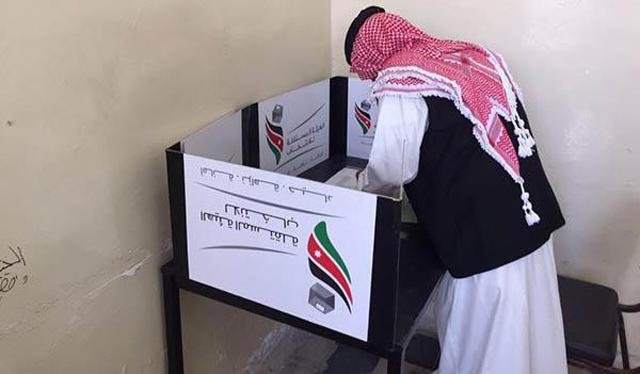 A man fills his ballot at a polling station in Amman during the local and municipal elections in this photo taken on August 15, 2017 (File photo)
AMMAN — The Independent Election Commission (IEC) on Tuesday announced that 1,018 candidates registered to run for governorate and municipal elections.
Among the registered, 233 were women, according to IEC Spokesperson Mohammad Rawashdeh.
"The number of registered candidates for the first two days has reached 4,213, including 706 women," Rawashdeh told The Jordan Times.
As was the case on Monday, none of the females who registered to run for elections applied for the city council president or mayoral seats, Rawashdeh said.
Registration will remain open for interested individuals who are 25 years or older until Wednesday, which is the last day to file a nomination for the elections, the IEC spokesperson said.
"Tuesday's numbers are lower than Monday's and this is expected," Rawashdeh noted.
He added that "the IEC expects that the last day will witness more candidates who will show up to register for the elections".
"This has been the norm in almost all elections, and hopefully we will have more people who will express interest to compete in the upcoming elections," the IEC official added.
Rawashdeh told The Jordan Times in a recent interview that the elections are scheduled for March 22, "unless the health situation related to COVID-19 would entail shifting the election date".
The IEC also issued health instructions related to the candidates' headquarters, according to Rawashdeh.
"We issued instructions, including obliging the candidates to sign a pledge that they will abide by health requirements at their campaign headquarters to combat the spread of COVID-19 and to ensure the safety of people," the IEC spokesperson said.
Some 4,602,135 people, including 2,437,340 women, are eligible to vote in the upcoming elections.
"There will be 1,845 polling stations that contain 6,907 ballot boxes for the time being. The number could decrease, or increase based on any future needs," Rawashdeh added.
Citizens wishing to cast their ballots should send a message to 94455 to get information on their polling stations, according to Rawashdeh.
The Cabinet decided to hold governorate and municipal council elections in November.
The Cabinet also approved the Amman Municipal Council Election Law and electoral appeals for 2021.
Newsletter
Get top stories and blog posts emailed to you each day.