You are here
Mulki's government takes oath of office before King
By Omar Obeidat - Jun 02,2016 - Last updated at Jun 02,2016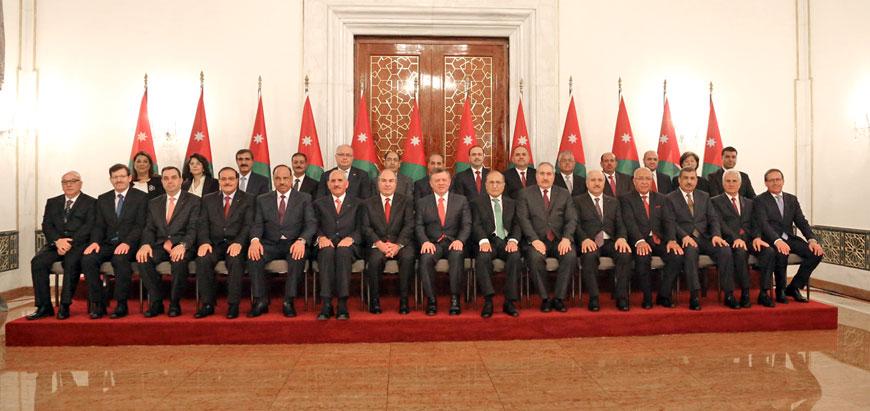 His Majesty King Abdullah poses for a group photo with members of the new government at the Royal Court on Wednesday (Photo courtesy of Royal Court)
AMMAN – Prime Minister Hani Mulki and his Cabinet were sworn in Wednesday before His Majesty King Abdullah.
Besides Mulki, who succeeded Abdullah Ensour, the Cabinet consists of 28 ministers.
Eleven ministers are from the outgoing government. They are: Mohammad Thneibat (education), Nasser Judeh (foreign and expatriate affairs), Hazem Nasser (water and irrigation), Imad Fakhoury (planning and international cooperation), Walid Masri (municipal affairs), Ibrahim Saif (energy and mineral resources), Mohammad Momani (media affairs), Sami Halaseh (public works and housing), Bassam Talhouni (justice), Majd Shweikeh (ICT) and Omar Malhas (finance) (See profiles of new ministers).
The Cabinet includes nine ministers who have served in previous governments.
These are Jawad Anani, (industry, trade and supply), Salameh Hammad (interior), Adel Tweisi (culture), Musa Maaytah (political and parliamentary affairs), Ali Ghezawi (labour), Mahmoud Sheyyab (health), Wajih Owais (higher education and scientific research), Yahya Kisbi (transport) and Yaseen Khayyat (environment).
Eight first-time ministers joined Mulki's team. They are: Rida Khawaldeh (agriculture), Rami Wreikat (youth), Fawaz Irsheidat (prime ministry affairs), Wael Arabiyat (Awqaf and Islamic affairs), Yasera Ghosheh (public sector development), Lina Annab (tourism), Khawla Armouti (social development) and Khaled Hneifat, who was appointed as minister of state.
Mulki will have three deputies; Anani, Thneibat, and Judeh.
The Cabinet list included four women, Shweikeh, Ghosheh, Annab and Armouti.
The Youth Ministry, cancelled in May 2012 and replaced by the Higher Council for Youth, was reintroduced in the new government.
One of the surprises –– seen by many Jordanians and observers –– is the return of Hammad as interior minister just less than two months after he was replaced by Mazen Qadi in the last Cabinet reshuffle in Ensour's government.
On Sunday, King Abdullah entrusted Mulki to form a new government, succeeding that of Ensour, which resigned earlier in the day after a Royal Decree was issued dissolving the Lower House of Parliament as the Kingdom prepares to hold new parliamentary elections later this year.
New government line-up
Following is the list of Prime Minister
Hani Mulki's Cabinet members:
Hani Mulki: Prime Minister and Minister of Defence
Jawad Anani: Deputy Prime Minister for Economic Affairs and Minister of Industry, Trade and Supply
Mohammad Thneibat: Deputy Prime Minister for Services and Minister of Education
Nasser Judeh: Deputy Prime Minister and Minister of Foreign Affairs and Expatriates
Salameh Hammad: Minister of Interior
Hazem Nasser: Minister of Water and Irrigation
Adel Tweisi: Minister of Culture
Musa Maaytah: Minister of Political and Parliamentary Affairs and Minister of State
Imad Fakhoury: Minister of Planning and International Cooperation
Ali Ghezawi: Minister of Labour
Mahmoud Sheyyab: Minister of Health
Wajih Owais: Minister of Higher Education and Scientific Research
Yahya Kisbi: Minister of Transport
Yaseen Khayyat: Minister of Environment
Walid Masri: Minister of Municipal Affairs
Ibrahim Saif: Minister of Energy and Mineral Resources
Mohammad Momani: Minister of State for Media Affairs
Sami Halaseh: Minister of Public Works and Housing
Bassam Talhouni: Minister of Justice
Majd Shweikeh: Minister of Information and Communications Technology
Omar Malhas: Minister of Finance
Rida Khawaldeh: Minister of Agriculture
Rami Wreikat: Minister of Youth
Fawaz Irshaidat: Minister of State for Prime Ministry Affairs
Wael Arabiyat: Minister of Awqaf and Islamic Affairs
Yasera Ghosheh: Minister of Public Sector Development
Lina Annab: Minister of Tourism and Antiquities
Khawla Armouti: Minister of Social Development
Khaled Hneifat: Minister of State
up
60 users have voted, including you.
Related Articles
Jun 01,2016
AMMAN – Prime Minister Hani Mulki and his Cabinet were sworn in Wednesday before His Majesty King Abdullah. Besides Mulki, who succeede
Sep 29,2016
AMMAN — Prime Minister Hani Mulki and members of his new Cabinet were sworn in on Wednesday before His Majesty King Abdullah. Besides M
Jan 15,2017
AMMAN — A Royal Decree was issued on Sunday approving a reshuffle in Prime Minister Hani Mulki's government. The Royal Decree, upon Mul
Newsletter
Get top stories and blog posts emailed to you each day.