You are here
King honours winners of World Interfaith Harmony Week award
By JT - Apr 20,2015 - Last updated at Apr 20,2015
AMMAN — His Majesty King Abdullah on Monday acted as patron at the King Abdullah II World Interfaith Harmony Week (WIHW) award ceremony.
During the ceremony, which took place at Husseiniya Palace, His Majesty presented awards to the top three winners, according to a Royal Court statement.
Royal family members and senior officials attended the event.
The WIHW was first proposed at the UN General Assembly on September 23, 2010 by King Abdullah. Just under a month later, on October 20, 2010, it was unanimously adopted by the UN and henceforth the first week of February has been observed annually as World Interfaith Harmony Week.
The Royal Aal al Bayt Institute for Islamic Thought established the WIHW award to recognise three activities or publications that best contribute to the promotion of the occasion.
First prize was awarded to Pakistan's Universal Interfaith Peace Mission, represented by Allama G R Chishti, for its various events in a range of locations including Islamia University of Bahawalpur, Roz TV Pakistan, Jame Masjid New Sohan and Divine Light Public School in Islamabad, according to the WIHW website.
The recipients of the second prize were Gisela Jahn and Beatrix Jakubicka of Germany for their "Friedenskette der Religionen" in Munich connecting 15,000 people in a human chain of light between five houses of worship.
The third prize was awarded to the World Interfaith Harmony Week Toronto Steering Committee of Canada for their eight events during the WIHW, including Launch Event, Interfaith Dialogue Circle, How We Talk To God, Race And Religion, Faith And Social Justice, Christian-Jewish Dialogue, An Evening Of Interfaith Performing Arts, Interfaith Ecology Hike, and Efforts To Obtain Government Of Canada Support, the website said.
Ninety-three applications were received for the prize from over 900 events held in total, WIHW said, adding that the judges focused primarily on those who had the courage to hold events in areas marked by recent interfaith tension or conflicts in addition to the excellence of efforts.
The interfaith week is an annual platform to raise awareness and understanding between followers of different faiths and promote dialogue and goodwill through conducting activities and events that spread this message, the Royal Court statement said.
The idea behind interfaith week comes from the work of the Common Word initiative, launched in 2007 to call on Muslim and Christian scholars to engage in constructive dialogue based on shared values: the love of God and love of neighbour without religious prejudice, to strengthen the shared ideological religious ground, as these two messages are at the heart of the three major religions.
In an address at the ceremony, HRH Princess Areej Ghazi, head of the award jury, said the world has seen around 900 events celebrating His Majesty's initiative, representing approximately a 100 per cent increase compared to those held last year during the WIHW, the statement said.
She also highlighted the King's efforts and his relentless defence of Islam and its true essence as a religion of tolerance and mercy.
HRH Prince Ghazi, the King's personal envoy and adviser for religious and cultural affairs, HRH Princess Jennah Bint Ghazi, Royal Court Chief Fayez Tarawneh and King's Office Director Jafar Hassan also attended the ceremony.
Related Articles
Apr 17,2019
AMMAN — His Majesty King Abdullah on Wednesday attended the 2019 King Abdullah II World Interfaith Harmony Week Prize ceremony at Al Hussein
Feb 07,2022
AMMAN — The Jordan Armed Forces-Arab Army on Monday marked the World Interfaith Harmony Week (WIHW).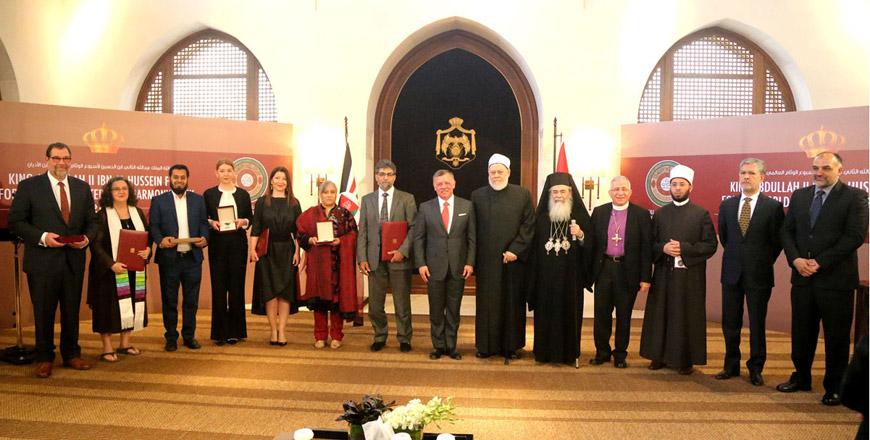 May 01,2017
AMMAN — His Majesty King Abdullah on Sunday presented the "King Abdullah II of Jordan Prize for World Interfaith Harmony Week 2017", accordi