You are here
Jordanian awarded global citizen prize at international women forum
Reem Habayeb was recognised for her work in empowering women and children in the Kingdom
By Camille Dupire - Oct 28,2017 - Last updated at Oct 28,2017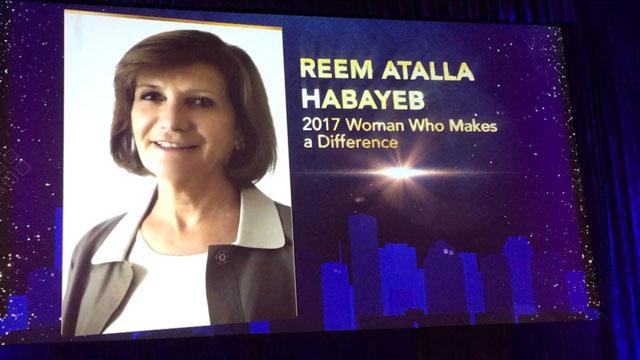 Jordanian Reem Habayeb on Friday was recognised as one of the eight 'women who made a difference in 2017' at this year's International Women Forum, held under the theme 'Global Citizens: Interconnected, Inquisitive, Engaged' (Photo courtesy of Reem Habayeb)
AMMAN — Jordanian Reem Habayeb on Friday was recognised as one of the eight "women who made a difference in 2017" at this year's International Women Forum (IWF), held under the theme "Global Citizens: Interconnected, Inquisitive, Engaged".
Selected as the Jordanian representative by her 46 peers at the IWF Jordan Chapter, Habayeb was praised "for her lifetime efforts in empowering women and children in Jordan", during the award ceremony that concluded the international conference held in Houston on October 25-27.
Maha Amr, one fellow IWF member, said: "Reem works very hard and has been incredibly devoted towards children and women. She really considers them like her own family and she truly works from the heart."
Every year, the IWF Leadership Conference honours eight women who have set "groundbreaking precedents" through their work and have become examples for positive change. Inviting women from more than 50 countries, the event gathers the world's leading advocates, catalysts and pioneers of change, according to the IWF website.
"I am overwhelmed to have been given this recognition, especially given the group of inspiring women I am surrounded by here," Habayeb told The Jordan Times over the phone, adding "I am incredibly honoured to be recognised for my contribution in helping women and children."
Habayeb's journey started 30 years ago when she founded Silsal Ceramics with her sister Rula, with the aim of employing disadvantaged women across Jordan, and creating Jordanian products using local material and talent.
"It was a very challenging move at the time [1980s-1990s] as people did not buy local products or think of ceramics as a nice present to offer," she recalled, adding "because my sister and I were fresh graduates, we had the energy and hope to make a difference and change things in Jordan."
She started encouraging local women artists to work with Silsal, helping them to become socially and economically empowered as working mothers and wives.
"First of all, it has become a necessity for most households to have two incomes, but I also think that there is a dire need for women to be better represented in many sectors in society," she said, noting "there are so many great brains in the country that end up being 'wasted' because they are not being translated into concrete actions."
Calling for more female representation in the government, she said women's influence on legislation is "crucial" for the advancement of a country.
"I continue to be shocked by the disproportionate number of women graduates compared to their number in the labour market," she continued, stressing the importance for women to "have a bigger voice on the legislation to ensure their rights are protected".
While she advocates the benefits of work in a woman's life, she also stresses the importance of their role as mothers. This is one of the reasons behind her involvement with SOS Children's Villages Jordan, with whom she has been volunteering for over 20 years.
"Children are just as important as women in shaping a sustainable future for the region," the SOS Villages Jordan president said, highlighting the interconnectedness between those two aspects of her work.
"Women at our villages are raising children and influencing the next generation. We therefore work to teach them how to provide the best environment for these children to grow to be enlightened, educated members of society," she added.
"What I want more than anything is to see people getting out of their sense of entitlement. We train women to become givers and producers so that they become productive members of the community," Habayeb continued.
She said she noticed a big change in women as they start working and producing something. "When they see the effects of their work on the community, they are so much happier," Habayeb recounted, adding that she works hard to involve people from marginalised communities in her projects.
"I am very humbled by this award because I personally think that everybody is making a difference in his own way," she explained, noting that "even in the little things in life, which might seem insignificant to us, there is a possibility for great changes".
In addition, Habayeb has served on the boards of IWF and the Business and Professional Women's Association/Jordan, where she worked to empower women in the management of their career and to support small business owners.
She also worked alongside several human rights organisations to change the legislation related to orphans, so as to grant them the same rights as other children.
"They used to have IDs with numbers that identified them as orphans and they were greatly discriminated against," she explained, noting that they now have similar identification details as every other Jordanian child.
Related Articles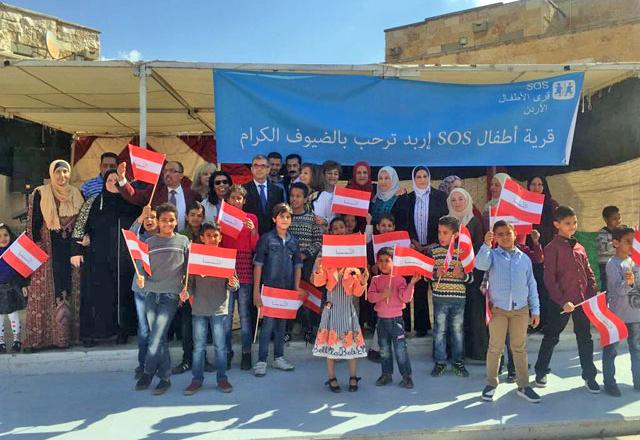 Nov 09,2017
AMMAN — SOS Children's Villages Jordan on Thursday celebrated the National Austrian Day with the visit of Austrian Ambassador Michael Desser
Dec 06,2016
AMMAN — Experts from eight MENA countries are scheduled to convene in Amman later this month to discuss crucial issues related to children w
Mar 08,2016
AMMAN — On the occasion of International Women's Day, Her Majesty Queen Rania met on Tuesday with more than 100 influential Jordanian women
Newsletter
Get top stories and blog posts emailed to you each day.