You are here
Jordan Press Foundation's revenues reach around JD10 million in 2018
By JT - May 13,2019 - Last updated at May 13,2019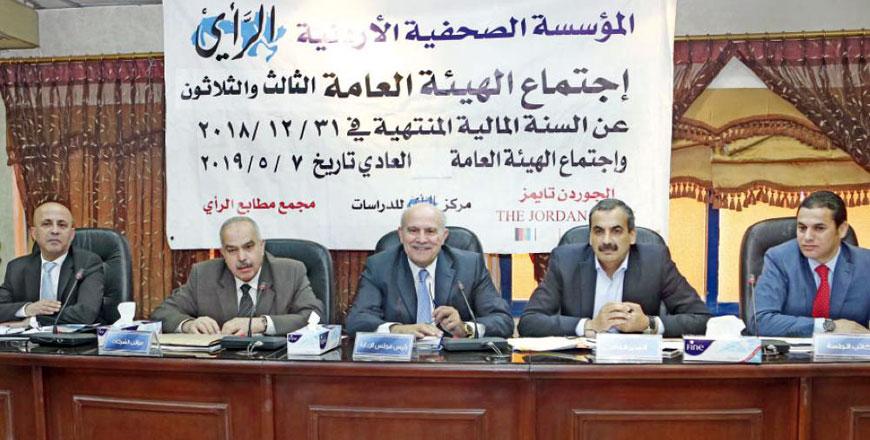 The Jordan Press Foundation, which publishes The Jordan Times and Al Rai, says that its revenues in 2018 reached JD10.1 million, compared with JD12.2 million in 2017, with the value of its assets totalling JD35.7 million (Photo courtesy of Al Rai)
AMMAN — The total 2018 revenues of the Jordan Press Foundation (JPF) reached JD10.1 million, compared with JD12.2 million in 2017.
The value of the JPF's assets, which publishes The Jordan Times and Al Rai, totalled JD35.7 million in 2018, down from JD39.2 million in 2017, while the net intellectual property valued at some JD19.9 in 2018, compared with JD25.5 million in 2017, according to the foundation's financial report.
During the annual ordinary meeting of the JPF general assembly to discuss the report, JPF Chairman Ayman Majali expressed optimism in the future of the foundation, noting that its losses in the first quarter of this year dropped by JD700,000 when compared with last year's results.
Majali noted that the JPF has recently signed a memorandum of understanding to establish a radio station without incurring any financial costs, as the partner company will equip the station with the necessary tools and equipment for broadcasting in return of sharing profits by half.
As for the Al Rai Commercial Press, he said that the JPF signed a memorandum of understanding with a strategic partner to establish a private shareholding company with the foundation owning 49 per cent of the shares.
Majali said that other JPF projects include the Al Rai archive, adding that a meeting was held with a specialised company and both sides agreed in principle on the way that Al Rai archive can be used as a source of income for the foundation.
The chairman also referred to the Al Rai Media Training Centre that was founded with a cost of JD65,000 and has so far contributed to JD25,000 in revenues.
JPF Director General Farid Silwani said that the increase in administrative expenditures in 2018 was mainly due to endorsing the allowance by-law, which contributed to the resignation of at least 100 employees who all received their due money during 2018.
Silwani expected the JPF's losses to stop within two years in case stakeholders are committed to the strategic plan of the JPF.
Newsletter
Get top stories and blog posts emailed to you each day.