You are here
Jordan has no expansion plans — spokesperson
By Khetam Malkawi - Jun 24,2015 - Last updated at Jun 24,2015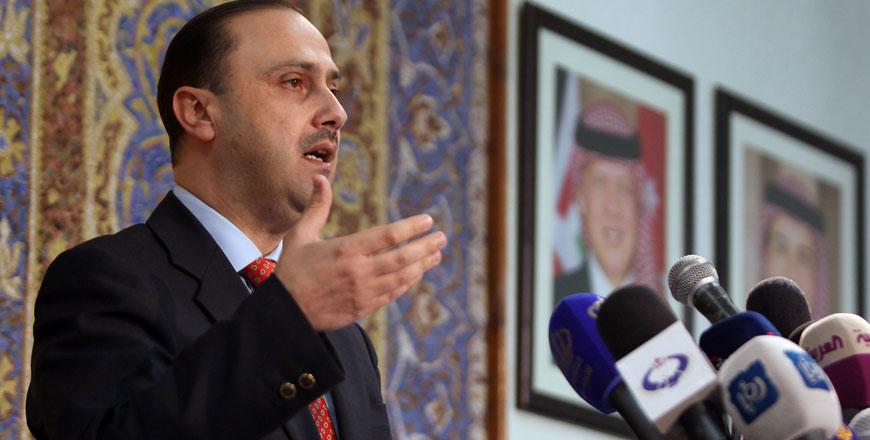 Government Spokesperson Mohammad Momani holds a press conference at the Prime Ministry on Tuesday (Petra photo)
AMMAN — Jordan has no plans "whatsoever" to expand beyond its borders, a government official stressed on Tuesday, rejecting as baseless any reports or speculation that suggest the opposite.
Minister of State for Media Affairs and Communications Mohammad Momani said the Kingdom's regional role is part of efforts to find political solutions to regional conflict and help bring about security and stability in the neighbourhood.
"Jordan respects other countries sovereignty… In fact, we help these countries regain their stability and security," Momani, who is also the government spokesperson, said at a press conference at the Prime Ministry in which he addressed local and regional issues.
Some news reports claimed that Jordan plans to stretch its borders with Syria and Iraq to control "hot" areas that might pose a threat to the Kingdom's security. Some analysts note that the aim of any such act is to protect tribes in the two countries threatened by terrorist groups.
The minister affirmed that Jordan will continue playing its humanitarian role in helping Syrians, including the Druze, but will not open a "passage" from Suwaida, the provincial capital of Jabal Druze, south of Syria, to Jordan as claimed by some news reports.
He explained that the Kingdom will continue allowing the humanitarian assistance to go through "our borders" if needed to Suwaida, where the majority of Syria's Druze live. But "there are no talks or even thoughts about opening a safe passage to allow thousands of refugees into the Kingdom", Momani said.
Druze is a religious sect whose followers reside mainly in Jordan, Syria, Lebanon and Palestine. In south Syria, they have been lately subject to attacks by terrorist groups.
As for the training of Syrian civilians and tribes, the minister said this comes as part of regional and international efforts to support those who need help.
Details about this "training programme" will be announced at the right time, according to Momani.
Related Articles
Jun 13,2015
AMMAN — Jordan on Saturday rejected as baseless Damascus' allegations that the Kingdom, along with other countries, supports "terrorist grou
Jul 06,2015
AMMAN — Jordan's political stance regarding the Syrian crisis remains the same since it started four years ago and has never changed, Govern
Jun 22,2015
OCCUPIED JERUSALEM — Israeli Druze blocked an Israeli army ambulance they believed was transporting wounded Syrian rebels on Monday, local a
Newsletter
Get top stories and blog posts emailed to you each day.