You are here
Jordan to extend help to Syrian, Iraqi tribes 'which ask for it' — source
By Khetam Malkawi - Jun 20,2015 - Last updated at Jun 20,2015
AMMAN — Jordan on Saturday said it will support the Syrian tribes that have asked for help, stressing that dozens of tribes are left vulnerable and the Kingdom is "ethically" obliged to help them.
An official source, who spoke on condition of anonymity, told The Jordan Times that Jordan "will support Syrian tribes and civilians who need help, have good relations with us and asked for that".
The remarks were made in response to news reports quoting some Syrian tribes who expressed rejection of Jordan's offer to support them against Daesh and Al Nusra and accused the Kingdom of backing "terrorists".
Last week, His Majesty King Abdullah pledged to support the tribes in areas of Syria and Iraq where the extremists are operating.
"It is our duty as a nation to support the tribes in eastern Syria and western Iraq," the King said during a meeting with tribal leaders.
While the pledge for support was well received by some of Iraq's tribal leaders, it received a considerably colder welcome by some in Syria, according to a report by Agence France-Presse.
"The Syrian tribes firmly and definitively reject any call or project to deprive them of their national, Syrian or Arab essence," said Sheikh Mohamed Fares Al Abd Al Rahman of the Tay tribe, as quoted by AFP.
But, according to the official source, this tribal leader does not represent all Syrian tribes, especially those who asked for Jordan's support.
The Syrian government and its supporters have accused Jordan more than once of interfering in the turmoil in Syria and supporting terrorist groups.
These claims have been categorically rejected by the government on more than one occasion.
Related Articles
Nov 30,2017
NORTH SINAI, Egypt — An attack that killed more than 300 people in North Sinai has prompted Egyptian officials to renew efforts to enl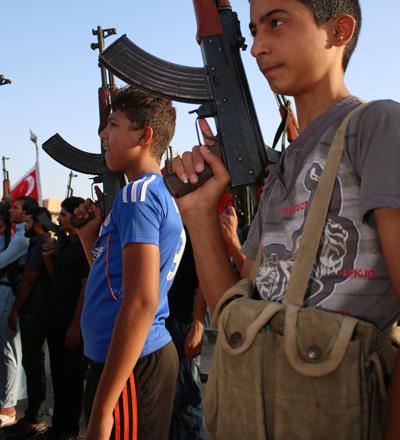 Jun 23,2014
The Kingdom on Monday continued sending military reinforcements to the country's border with Iraq, where business was as usual regarding the flow of passengers and goods, sources said.
Sep 30,2014
Iraqi Kurdish troops drove Islamic State fighters from a strategic border crossing with Syria on Tuesday and won the support of members of a major Sunni tribe, in one of the biggest successes since US forces began bombing the Islamists.