You are here
Jordan allows Syrian children with no documents to join schools — officials
UNICEF congratulate government for bold and positive step
By Mahmoud Al Abed - Sep 24,2017 - Last updated at Sep 25,2017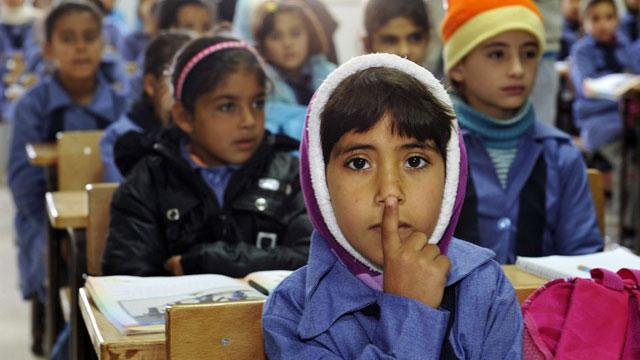 Children inside a classroom at Zaatri refugee camp, host to tens of thousands of Syrians displaced by conflict, near Mafraq (Photo courtesy of UN)
AMMAN — Prime Minister Hani Mulki has approved a recommendation by concerned officials to allow Syrian refugees who do not possess the required documents to enrol in government schools, officials have announced.
To be able to join formal education in the Kingdom, Syrians have to present a special ID card issued by the Interior Ministry indicating their status as refugees.
In exclusive remarks to Al Rai and The Jordan Times, Education Minister Omar Razzaz said that the decision is consistent with the government's policy not to leave any children without education "because we do not want anyone to lose their right to education".
In remarks to The Jordan Times, State Minister for Media Affairs and Government Spokesperson Mohammad Momani said: "In line with our value system in Jordan, we do not accept that any child be left out without education."
"Education is among a string of services provided to Syrian refugees from the moment they are received on border," the minister said, renewing a call on the international community to ensure proportionate assistance for Jordan to continue carrying out its humanitarian mission.
Asked if the new numbers would add to the problem of crowding at schools, he said that the newcomers would join afternoon periods in double-shift schools, where there is no such a problem.
In an exclusive statement to The Jordan Times, UNICEF Representative Robert Jenkins said: "We would like to congratulate the government of Jordan for this bold and positive step forwards towards ensuring that every vulnerable girl and boy in Jordan goes to school.
"UNICEF stands by the Ministry of Education in doing everything we can for every child to access quality education and get a fair chance in preparing for a better future for themselves and their families."
In addition to expanding schools in Syrian refugee camps, the Ministry of Education has opened a total of 200 schools operating double shifts to offer formal education to young refugees, according to UNICEF. Catch-up education programmes are also being rolled out to reach children who have missed more than three years of schooling, for them to accelerate their learning, and enroll in the formal system, the agency has said in a report.
In Jordan, according to official figures, more than 126,000 Syrian children were receiving education in public schools last year, while 80,000 were out of school, for different reasons, including the fact that they did not have the necessary identification documents. There is no official estimate of how many children would benefit from the new policy.
According to a report by Save the Children, 35 per cent of the 4.8 million Syrian refugees in the region are of school age. Whereas before the conflict 94 per cent of Syrians attended primary or lower secondary school by June 2017, 43 per cent of Syrian refugees were out of school. "This is in fact an increase from 34 per cent in December 2016," according to the organisation.
Related Articles
Dec 16,2014
Despite financial constraints and overcrowding in schools across the Kingdom, UNICEF and the Education Ministry on Tuesday reiterated their commitment to ensuring that all children in Jordan are provided access to learning opportunities.
Jul 11,2017
AMMAN — Over 3,000 children have begun attending a summer school programme established by the Ministry of Education and supported by UNICEF,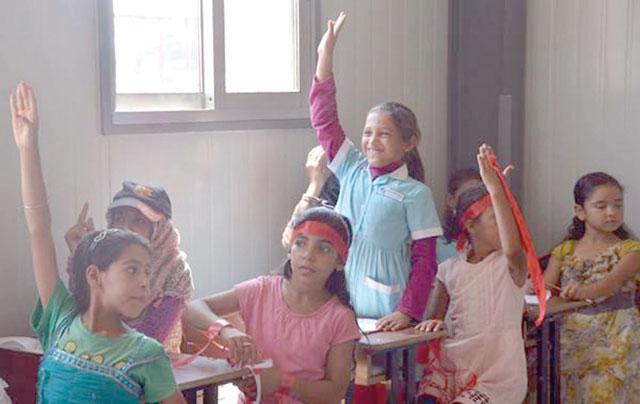 May 03,2018
AMMAN — Over 3,500 out-of-school Syrian and Jordanian children are set to get back into the formal education system following their attendan
Newsletter
Get top stories and blog posts emailed to you each day.