You are here
Food security missing in region's social protection plans — report
By Hana Namrouqa - Mar 29,2017 - Last updated at Mar 29,2017
An Iraqi volunteer (right) gives food to displaced people during a battle with Daesh militants in Mosul, Iraq, on Monday (Reuters photo)
AMMAN — Despite plans implemented to provide support to refugees and host communities, the national social protection strategies of the Near East and North Africa (NENA) region lack food security as a core component, according to a recent report.
The Near East and North Africa Regional Overview of Food Insecurity report, released by the Food and Agriculture Organisation (FAO), indicated that food security and nutrition were not treated as key components of current national social protection schemes, with the exception of programmes focusing on internally displaced persons and refugees in a humanitarian context.
The report suggested that sustainable agriculture and water management are central to ending hunger and adapting to climate change, noting that NENA countries have been facing increased economic and social challenges since the influx of Syrian refugees.
It cited Jordan, Iran, Iraq and Lebanon as host countries dealing with these challenges.
"Despite plans to address the influx of refugees, such as Jordan's National Resilience Plan and Response Plan and Lebanon's Roadmap of Priority Interventions for Stabilisation from the Syrian Conflict, in general, national social protection strategies lack food security as a core component in their design and result frameworks," the report indicated.
Conflicts and political instability in several parts of the region are major causes of disruption in food availability and accessibility, the report stated, noting that regional conflicts are a leading cause of the surge in undernourishment among children.
The FAO's report also highlighted that the region is cognisant of the interrelation of food security, water and climate change, with the majority of NENA countries considering climate change to be a major threat to their food security and agricultural sectors. The report also noted that measures to address the impacts of climate change have been set as a foremost priority.
According to the report, recent FAO studies highlighted Jordan's potential in exporting vegetables and broiler meat, while recommending the establishment of an agribusiness hub in the Jordan Valley, accompanied by supportive policies and investments.
NENA is the most arid region in the world, the report pointed out, indicating that the availability of per capita renewable freshwater is less than 10 per cent of the world average.
The report also noted that water scarcity is expected to worsen as a result of population growth and climate change.
Countries of the region need to implement long term and comprehensive sustainable water management strategies to manage agricultural production and adapt to climate change, the report concluded.
Related Articles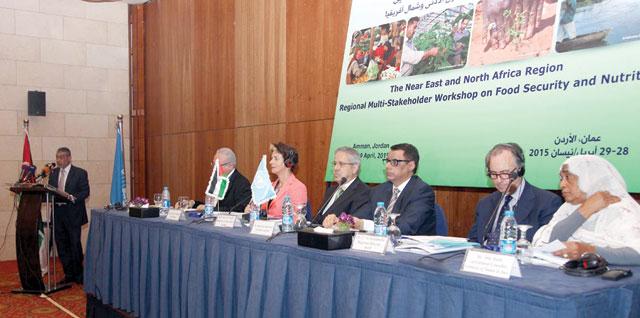 Apr 28,2015
The Near East and North Africa (NENA) region faces unprecedented challenges to food security and nutrition, especially in the countries that are now under conflict, experts and UN officials said on Tuesday.
Jan 14,2018
AMMAN — The prevalence of undernourishment (PoU) in Jordan rose sharply following the start of the Syrian crisis, a recent report by the Foo
Dec 15,2016
AMMAN — Agriculture Minister Khaled Hneifat on Thursday said the challenges facing the sector are not limited to climate change, rainfall de
Newsletter
Get top stories and blog posts emailed to you each day.