You are here
Film depicts struggles and lives of Pakistani porters in shadow of K2
By Suzanna Goussous - Apr 26,2017 - Last updated at Apr 26,2017
AMMAN — The power of arts and culture to speak about the human condition is a primary motivation for director Iara Lee, who has recently finished her sixth film, tackling subjects as diverse as human rights, psychology, wildlife protection and education.In her most recent film "K2 and the Invisible Footmen", which was screened in Amman last week, filmmaker and activist Lee narrates the story of her journey up K2, the mountain located between Pakistan and China.
The film was made after a group of Pakistani mountaineers climbed the K2 Summit in 2014 to mark the 60th anniversary of the first successful ascent in 1954, Lee said, who is also the founder and director of the Cultures of Resistance Network Foundation.
In their journey, the mountaineers came across a different and more diverse view of Pakistan, which is often not covered by the media, the filmmaker said.
This inspired Lee, who is a Brazilian national of Korean descent, to direct the documentary film in April 2015, as her way to narrate "human stories showing the other side of Pakistan".
The director used this film to shed light on issues ranging from women's and children's rights, psychology, education and environmental protection.
Shot in northern Pakistan, the film records the "plight of the indigenous porters of majestic K2, the second-highest peak in the world", the activist said, with the summit standing at 8,611 metres.
"[Making a film] is very effective, because if you write political analysis and complicated things, nobody connects. But when you see a powerful photo or a beautiful song, this touches people's hearts," she told The Jordan Times.
Lee said she used her artistic passion to engage people and to encourage them to care about global issues by showing them the other side of things.
The documentary is dedicated to Pakistani high-altitude porter Amir Mehdi, who lost his toes while supporting the first successful climb of K2 in 1954, the activist explained.
"It is about acknowledging people behind the scenes, connecting the dots and respecting human rights and wildlife," Lee added, "[about] the real people doing the hard work and paid very little money".
She said: "Films transport you to different worlds… Ultimately, it is better to just travel. To be there. Since not everybody can [do that], people watch films, connect to distant areas around the world;it is a very powerful tool for engagement."
Lee's previous works include: "Life is Waiting: Referendum and Resistance in Western Sahara", which recounts "40 years of Moroccan occupation and the Sahrawi struggle for self-determination", according to a statement sent to The Jordan Times.
In 2013, Lee produced "The Kalasha and the Crescent", which tells the stories of indigenous minorities in north Pakistan and the challenges they face culturally.
"The Suffering Grasses", released in 2012, explores the Syrian crisis through the eyes of civilians living through the conflict.
In 2010, the director and activist produced a documentary titled "Cultures of Resistance", which discusses the concept and use of creativity to counter conflicts.
Lee is currently working on a documentary film, titled "Burkinabe Rising", which will focus on the movements of resistance and resilience in Burkina Faso. It is expected to be screened later this year.
Related Articles
Jun 03,2016
AMMAN — Throughout their history, Jordanian-Pakistani ties have been characterised by mutual respect and collaboration at various levels and
Nov 09,2014
Scientists who unlocked the genetic code of bacteria grown from a soldier who died of dysentery in World War I say it revealed a superbug already resistant to penicillin and other antibiotics decades before they were in common use.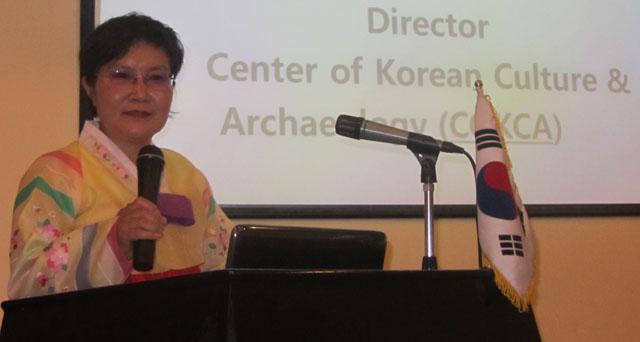 Aug 13,2014
Venturing out of poverty and despair has been no easy journey for the people of South Korea, but it has become possible through their diligence and relentless efforts to ensure proper education, according to Ji-Young Lee, director of the Centre of Korean Culture and Archaeology.
Newsletter
Get top stories and blog posts emailed to you each day.