You are here
Education Ministry embarks on plan to fight radicalism at school
By Laila Azzeh - Dec 26,2016 - Last updated at Dec 26,2016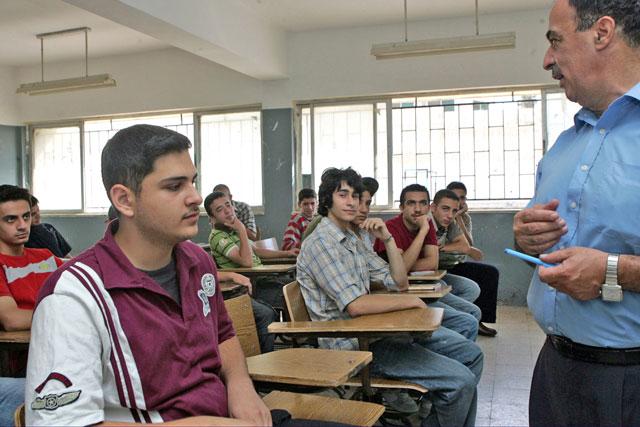 Students attend classes at a school in Amman recently (Photo by Osama Aqarbeh)
AMMAN – A weekly class that covers the dangers of terrorism will now be taught at the Kingdom's schools as part of a comprehensive plan to combat extremist ideologies.
According to the Education Ministry, every Tuesday, students will be exposed to the importance of denouncing all forms of violence and extremism, while understanding the "true essence of Islam" that is based on tolerance, moderation and acceptance.
"The lessons will be based on a guidebook the ministry is working on in cooperation with different security, military, Islamic and youth institutions," the ministry's spokesperson, Walid Jallad, told The Jordan Times on Monday.
At a meeting with the ministry's planning committee on Sunday, attended by the directors of education departments, Deputy Prime Minister for Services and Minister of Education Mohammad Thneibat underlined a plan being formulated by the ministry to "immunise young generations against the influence of extremism".
He said the plan also seeks to instil in young Jordanians a sense of belonging, good citizenship, respect and acceptance.
Thneibat called on education directors to follow up on schools' abidance by the plan and update the ministry with all the extracurricular activities held at schools.
While hailing the move, education expert Bilal Jayousi underlined the significance of teachers' preparedness to be up to the mission and the way they present the material.
The challenge, according to the pundit, is to ensure that the plan's authors and the teachers in the field are on the same page.
In addition, Jayousi said, anti-extremism values should be incorporated in textbooks, which should serve as sources of enlightenment.
"Parents should also be engaged in the ministry's efforts to fight extremist ideologies," he noted.
Related Articles
Feb 26,2015
The National Anti-Extremism Coalition's preparatory committee on Wednesday held a coordination meeting to discuss work mechanisms the coalition will follow in its endeavours to counter ideological extremism.
Feb 18,2016
AMMAN — Deputy Prime Minister and Education Minister Mohammad Thneibat on Thursday was following up on a Wednesday attack on a teacher at Um
Sep 09,2014
The Education Ministry is planning to start appointing teachers based on their scores in evaluation exams designed to gauge their competence as educators, the minister, Mohammad Thneibat, said Tuesday.
Newsletter
Get top stories and blog posts emailed to you each day.