You are here
Documentary offers intimate look at Iraq during US invasion
By Gaelle Sundelin - Jun 04,2016 - Last updated at Jun 04,2016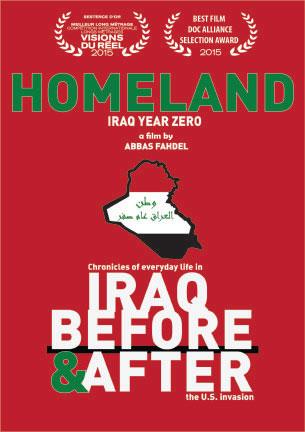 AMMAN — Haider's small hands struggle to find the edge of the brown scotch-tape roll.
The 12-year old is not putting the final touches to some science project or building a kite. He is taping the window panes of his modest home in Baghhad.
The year is 2002 and the US is about to invade Iraq.
"I am protecting the windows so that they don't explode when the bombings start, so the glass doesn't shatter," he tells the camera with a disconcerting maturity.
The young boy's laughter and wit guide viewers throughout "Homeland: Iraq Year Zero", a documentary by Iraqi-French director Abbas Fahdel, which was screened on Friday in Amman as part of the Franco-Arab Film Festival.
Fahdel had not seen his nephew Haider or the rest of his family in years.
As war loomed, he decided to return to Baghdad, a city he left long ago to study in France. Through his camera, he invites the audience into his home to share the everyday life of his brothers, nephews and cousins.
From morning cartoons with the children to the graduation of his niece, the first part of Fahdel's documentary goes beyond the intimacy of his family.
Each family member has a story to tell: the elders speak of past humiliations and mass graves, the youths speak of the war yet to come with a mix of fear and excitement.
Fahdel stayed one year in Baghdad, waiting for what he anticipated would be "the worst war Iraq would ever see". It eventually broke out — in March 2003 — but three days after he returned to Paris.
It took him one year and a dangerous road trip from Amman to the Iraqi capital to complete what would become the second part of his documentary: the aftermath of the US invasion.
From the cosy home of his family, Fahdel leads the viewers into a harsh world of destruction, poverty and death. Testimonies pile-up and neither president Saddam Hussein's regime nor the US is spared.
"They [the Americans] promised to make Baghdad as developed as Tokyo. Where is their Tokyo? We want to recover former Baghdad," a man rages.
Yet, Fahdel does not indulge in victimisation. Some Iraqis get their fare share of criticism as they loot, kidnap and carjack their fellow citizens.
No one escapes the harsh scrutiny of Fahdel's camera — not even the audience; the film does not respect any of the codes of traditional documentary making.
It uses excruciatingly slow scenes at times, shaky shots and jump cuts. The viewer is left alone without any commentary from the director for almost six hours.
It is not a lack of experience. Fahdel left Iraq when he was 18 and graduated in filmmaking from the prestigious Sorbonne University. His two previous documentaries — also set in Iraq — received multiple awards.
It is a social and political statement.
The filmmaker breaks the rules of moviemaking only to free Iraqis from common stereotypes. In many US movies, most Iraqis are portrayed as terrorists while US soldiers come out as the liberating heroes.
"I made this film because Iraqis' image had been distorted. The American vision of Iraqis has been dominating until now, even in France," Fahdel said.
In his homeland, Iraq, another war is raging today. Fahdel has no illusion that the situation will improve anytime soon, but he is confident that his documentary could have a positive impact.
"A film will never prevent a war from taking place. [But] if the American people watch this documentary, maybe they will be more aware and question their government before it launches into a new war or a new invasion," the director hoped.
It took Fahdel 10 years to reopen his archives. Ten years, to recover from the last images he filmed in Baghdad as his family's car was heading home.
It was dark. In the backseat a baby laughed and waved at the camera. Suddenly, gunshots resonated in the air. And these words: "hurt", "uncle". A stray bullet had hit his nephew, Haider.
"This movie is like a shrine... to what happened to my family and to my country," said the director.
The 22nd Franco-Arab Film Festival, organised by Institut Français in cooperation with the Royal Film Commission, included a number of screenings at the Rainbow Theatre and the commission in Amman.
It concluded on Saturday with screenings of "As I Open My Eyes", a joint Tunisian-French-Belgian production by filmmaker Leyla Bouzid.
Related Articles
Jun 15,2015
AMMAN — The 21st Franco-Arab Film Festival concluded late last week, with the closing Falcon Awards ceremony recognising the winners of the
May 25,2016
AMMAN – In its 22nd cycle, the Franco Arab Film Festival is featuring this year short movies highlighting stories and aspirations of Syrian
Apr 18,2016
AMMAN — Like going through pages of an old photo album with the narrative of a father to his children, Samir Jamal Al Din's documentary "Ira
Newsletter
Get top stories and blog posts emailed to you each day.