You are here
Citizens divided over ride hailing apps
By Camille Dupire - Aug 24,2017 - Last updated at Apr 30,2018
More residents turn to ride hailing apps for their daily commute, with an overwhelming majority of foreigners adopting this means of transportation (File photo)
AMMAN — As the Land Transport Regulatory Comission (LTRC) on Wednesday issued an initial approval for the licensing of ride hailing app "Careem", the use of such apps remains controversial.
Since the launch of ride hailing apps like Uber and Careem, taxi drivers have been complaining that "their livelihood is dying", while local residents have been hailing a "much better quality service".
Drivers of Amman's yellow taxis have repeatedly protested against an "unfair" competition which has been growing in the past few years, staging sit-ins and denouncing the lack of governmental action in this regard.
Amman resident, on the other hand, have praised the "safer" and "better" services offered by the ride hailing apps.
Yasmine Samii, a 26-year old Jordanian, praised the "great quality" of the service offered by those apps.
"Although it is a bit more expensive than regular taxis, it is definitely worth it. The drivers are always kind, courteous and respectful. They don't smoke in the cab and they ensure that I arrive to my destination in a timely manner," she told The Jordan Times in a recent interview.
More and more people have been turning to these ride hailing apps for their daily commute, with an overwhelming majority of foreigners adopting this means of transportation.
"Yellow taxis always try to rip me off: they refuse to turn the metre on, or they charge me more for no reason, said Andrew, a British student in Amman, adding that "they get lost sometimes too, and get upset that I don't know the route myself".
"I never use taxis anymore," said Raghda Haddad, a 40-year-old Jordanian. Since her "ordeal" with an abusive taxi driver, she said that she will "never set foot in a yellow taxi again".
However, some citizens sympathise with the yellow taxis' situation.
Sara, a young Jordanian, explained that "Yellow taxis have to pay a huge amount of money to register their car to abide by the current regulations."
She added, "I know some taxis are rude and take advantage of customers, but not all of them. It is a question of individual behaviours. And right now, with those apps, taxis are losing customers, which is unfair."
According to the 2010 Public Transport Law, it is mandatory to obtain a special licence to operate a public transport vehicle. However, the ride hailing apps do not abide by the same regulations as they are part of a private company.
For Khaled Najjar, a taxi driver, "this is unfair. We are suffering and struggling to make ends meet, while those people work illegally and nobody does anything to stop them."
In April this year, taxi drivers staged a protest in front of Parliament, calling for the government to "finally take action against those illegal apps".
Mohammed, one of the protesters, said that they have repeatedly addressed the Ministry of Transport, the Ministry of Interior and the Integrity, and the Anti-Corruption Commission. However, no concrete action has been taken to support them.
For Willian Clifton, an American working in Amman, it is a "conflicting" situation. "For me, it is an essential service in Amman. People need and demand safe, reliable, and clean transportation. But these apps clearly leave the drivers in a very precarious work situation," he agreed.
"I wish that the yellow taxis were just better legalised and regulated in order to protect the interests of consumers and drivers. However, unless there is a drastic change with the yellow cabs, the choice for me will be either Uber or Careem," the 35 year-old stated.
Related Articles
Mar 07,2017
Amman — Ride-hailing app Careem on Tuesday announced the start of bringing yellow taxis under its wings, helping put an end to a month-long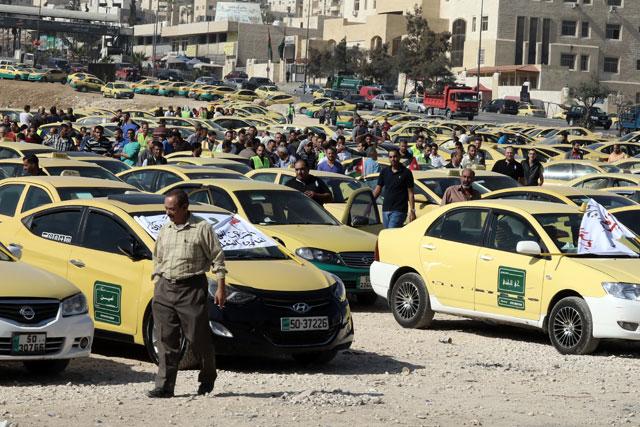 Nov 15,2016
AMMAN — Taxi drivers in Jordan protested on Tuesday against what they called "unfair" competition from ride hailing apps such as Uber and Ca
Dec 26,2017
AMMAN — Taxi drivers on Tuesday rejected the government's decision approving a regulation that allows the licensing of ride-hailing apps.Tax