You are here
Artists recapture their school days by turning desks into works of art
By Suzanna Goussous - Dec 11,2016 - Last updated at Dec 11,2016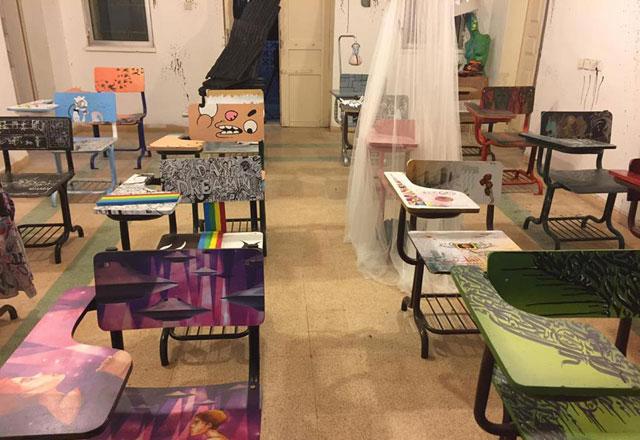 Art pieces by 20 local artists on display at an exhibition at FADA 317 in Amman on Saturday (Photo by Suzanna Goussous)
AMMAN — A project has taken school desks from the classroom, where students start dreaming of their futures by scribbling their random thoughts on them, to an art exhibition representing a new idea of a classroom by introducing colours, shapes and characters into the place.
The "Back to School" art exhibition aims at going back to the classroom to take a journey into students' minds, project curator Mike V. Derderian said.
The project, showcased at FADA 317 on Saturday, was organised with the participation of 20 local artists in the framework of establishing "comic graffiti, and an illustration-driven scene", according to Derderian, who is also an illustrator and writer.
"I used to get bored in class. I was a daydreamer who always got caught and talked to by teachers… Looking out the window, 12 years on the same desk, then moving to an individual desk on your own… It's a step to individuality," he said.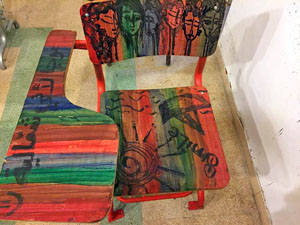 The most important aspect, to Derderian, is to reach a point where people start realising there is an art movement.
"When you're doing a collective exhibition, each artist will bring his/her network of people and it will spread," the curator added.
"With the current circumstances in the world, creativity is frowned upon. I think the only way to fight that darkness is through art, culture, literature and education," he told The Jordan Times.
Artist Suha Sultan said that in the third grade, she started doodling on desks, which was what triggered her interest in art. Her art piece showed a woman with sharp features on a black background.
"People should be more focused on art because it's what is building Amman. You go around and you see pieces of art; this is what distinguishes Amman and Jordan," Sultan said.
Shamekh Bluwi, an Amman-based architect and artist, said group exhibitions allow artists to express their thoughts in unique ways.
Bluwi's piece depicted a female figure wearing a uniform, with a blank face painted with sharp colours. He said it represents students' thoughts, depicted in doodles and messy ideas written on school desks.
"Every participating artist has a different idea of the school desk. It is a good opportunity to see new talents," he added.
Interior Design student Raya Biqaeen participated with a colourful desk featuring doodles and rainbows.
She said education should be mixed with art to reform the younger generations and to stimulate students' imagination.
Being the youngest artist taking part in the exhibition, Biqaeen said she gained skills and exchanged experience with local artists from different generations.
Ibrahim Tonnerieux's idea for his desk-related artwork was inspired by a piece of gum glued to a chair's lower part, which, to him, looked like a brain.
He developed the idea of attaching a brain-like structure to the chair.
"It's all about brainwashing in education… if you don't participate in educating your child, school will be a prison for brainwashing every day [for] seven hours," Tonnerieux added.
Graphic designer Yasser Ameen chose to depict the "students' dream" to see the school demolished so that they do not have to attend it, but he said some schools have been demolished for good in Syria and Palestine.
"We witnessed it in real life. It is no longer something we dream of. We see schools getting bombed and students do not go to school anymore. Our dream became their nightmare," Ameen told The Jordan Times.
One of the pieces was by artist Suzanne Saoub. The chair, painted in pink, had a white gown on top of it with a pink balloon inside. The piece, according to the curator, represents early marriage for women and the way girls are forced to quit school and get married.
The participating artists also included Dina Fawakhiri, Lubna Juqqa, Hiba Wasef, Eman Hamdallah, Rana Mousa, Lutfi Zayed, Farah Hourani, Fadi Abu Idam, Mo Awwad, Joanna Arida, Natasha Dahdaleh, Odai Jalil, and Al Hudood.
Derderian said the team aims at developing the idea on a broader scale in the long run to introduce different colours and shapes into schools and classrooms.
Related Articles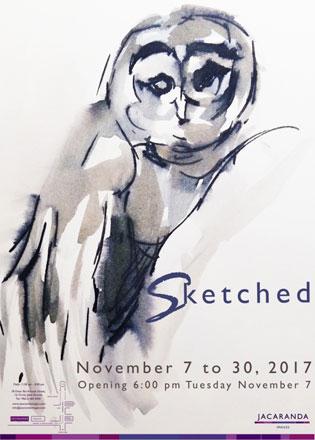 Nov 09,2017
AMMAN — An artist's preliminary drawings give an insight into how they perceive a painting — the composition, shadows and forms develop in s
May 09,2015
Incorporating a transportation vehicle in artworks might seem like an odd concept at first, but the works displayed as part of the "Do You Vespa?" exhibition at Jacaranda Images proved the opposite.
Feb 27,2018
AMMAN — Foreign visitors to Amman often recalled being mesmerised by the colourful works of art covering the walls of the capital, designed
Newsletter
Get top stories and blog posts emailed to you each day.