You are here
'Amman's congested roads main challenge for traffic department'
By Rana Husseini - May 31,2017 - Last updated at May 31,2017
Traffic jams in the capital are a constant concern for the Central Traffic Department, especially during Ramadan (Photo by Amjad Ghsoun)
AMMAN — Reducing traffic jams in the capital's streets will be one of the major challenges facing the reinstated director of the Central Traffic Department (CTD), Col. Bassim Kharabsheh.
Col. Kharabsheh was recently reappointed to his old post, and he told The Jordan Times his number one priority is to ease traffic congestions in the capital.
"Traffic jams in the capital have been a constant concern for the CTD, whether in Ramadan or during regular days. Each day, there are around 1 million vehicles roaming the streets of Amman or coming from other governorates," Kharabsheh said.
The only thing that changes, the senior traffic official added, is the peak hours in Ramadan, with "people heading to shops to buy juice and sweets, and resorting to double, and sometimes triple, parking."
The holy month of Ramadan also brings other challenges, Kharabsheh explained. On the first days, there are only traffic jams, but "then, over the next 10 days, people start going out to restaurants and visiting relatives for iftar, while on the final 10 days, people start their shopping for the Eid holiday".
The police official said the CTD has taken "swift actions" to ensure "the flow of traffic goes without major obstacles".
"We have sent more officers to busy intersections, tow trucks are on standby to tow vehicles that might breakdown on a busy road, and officers on motorcycles can intervene quickly in the event of any accident," Kharabsheh said.
Other measures include clamping vehicles that are parked illegally and "towing away other vehicles that obstruct traffic", he added, warning that "of course, all will be fined".
Despite the measures taken by the CTD, several motorists voiced their frustration with the current traffic situation in the capital.
"I spend long periods waiting for a traffic officer to allow us to pass, especially in the major circle intersections," said Ali Alhasani, adding "Sometimes, motorists get out of their cars to see if the traffic officer is okay and hadn't fainted and keep us waiting."
Alhasani told The Jordan Times that "traffic officers sometimes unintentionally cause traffic jams by closing one lane and opening another, which causes major traffic jams".
He argued that solving traffic jams at major circles such as Jamal Abdul Naser (Duwar Al Dakhlieh) and Madina Circles is "easy and simple".
"All they have to do is to install traffic lights, which would allow motorists to pass through the circle at equal intervals, rather than having to sit for long hours in our vehicles," Alhasani added.
Technologist Razan Khatib said she spends almost 45 minutes for "a ride that should usually take me 20 minutes".
"I believe one of the solutions is for the government to remove all restrictions on mobile transportation applications, because it will allow people to leave their vehicles at home and use these services, which would eventually reduce the volume of traffic," Khatib told The Jordan Times.
Meanwhile, other motorists took to Facebook to express their anger and frustration.
"The streets are badly planned in Amman and engineers failed to design streets that would absorb the large number of vehicles," wrote Rafe' Miteb.
Yousef Munther said on Facebook that the government should seriously consider building railways and encourage people to use scooters, which will lead to "traffic jams disappearing from our streets".
But Muhannad Nahar blamed motorists themselves for causing the congestion.
"Some motorists are ill-mannered and willing to block a lane in order to push themselves into other lanes to beat other vehicles," Nahar wrote.
Related Articles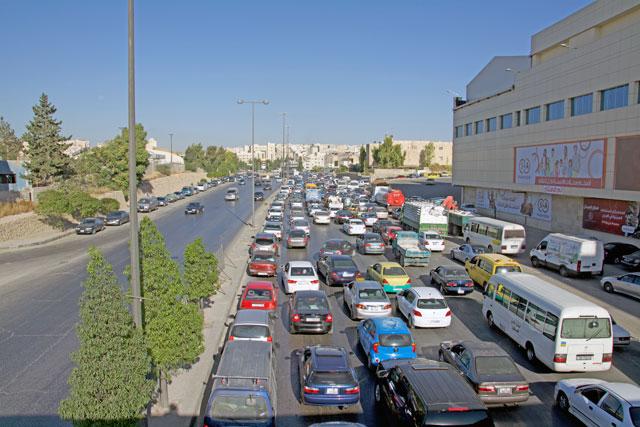 Jun 07,2016
AMMAN — With the start of the month of Ramadan traffic jams in Amman have increased in intensity, prompting the traffic department to implem
Jul 21,2014
For traffic officers Mohammad Nimer and Salah Mahmoud, directing traffic and breaking their fast on Amman streets is a national duty and joyful event.
Jun 23,2017
AMMAN — The increase in traffic fines is a measure intended to protect people's lives, Central Traffic Department (CTD) Director Brig. Gen.
Newsletter
Get top stories and blog posts emailed to you each day.