You are here
56 COVID deaths, 9,535 virus cases registered Wednesday
By JT - Mar 18,2021 - Last updated at Mar 18,2021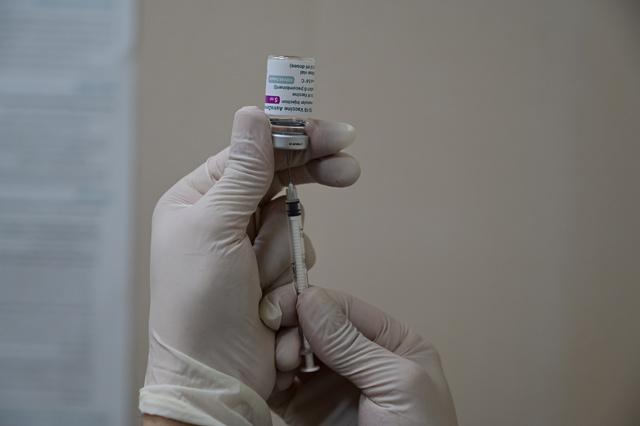 A nurse draws up a dose of AstraZeneca vaccine against COVID-19 in a syringe at a vaccination centre in Prince Hamzeh Hospital in Amman on Monday (Photo by Amjad Ghsoun)
AMMAN — Fifty-six COVID-19 deaths and 9,535 virus cases were recorded in the Kingdom on Wednesday, increasing the caseload to 504,915, the government announced.
The new fatalities took the Kingdom's coronavirus death toll to 5,553, according to a joint statement issued by the Prime Ministry and the Ministry of Health.
The cases comprised 4,702 infections in Amman, 1,186 in Irbid, including 90 in Ramtha District, 267 in Mafraq, 1,213 in Zarqa, 541 in Balqa, 242 in Madaba, 305 in Karak, 306 in Ajloun, 234 in Aqaba, 219 in Jerash, 140 cases in Tafileh and 180 cases in Maan, including 46 in Petra District.
The statement added that there are currently 86,975 active COVID-19 cases in Jordan.
A total of 473 COVID-19 patients were admitted to hospitals on Wednesday, taking the number of patients currently receiving care for COVID-19 in hospitals to 3,102, the statement said, adding that 277 recovered patients left hospitals.
The statement revealed that the number of isolation beds occupied by COVID-19 patients in hospitals on Tuesday totalled 2,411, registering an occupancy rate of 45 per cent, while a total of 671 ICU beds were occupied by COVID-19 patients, at a rate of 53 per cent.
A total of 357 ventilators were used for treating COVID-19 patients, at an occupancy rate of 30 per cent.
The statement added that 5,733 recoveries were registered in hospitals and home quarantine on Wednesday, bringing the total number of recoveries to 412,387.
A total of 50,180 virus tests were also conducted on Wednesday, bringing the cumulative number of coronavirus tests administered since the outbreak of the pandemic to 5,317,747, with the share of tests returning a positive result, known as positive rate, standing at some 19 per cent, the statement added.
Related Articles
Mar 30,2021
AMMAN — Ninety-six COVID-19 deaths and 7,751 virus cases were recorded in the Kingdom on Tuesday, increasing the caseload to 605,007, the go
Feb 17,2021
AMMAN — Twelve COVID-19 deaths and 2,887 virus cases were recorded in the Kingdom on Wednesday, increasing the caseload to 355,106, the gove
Jan 27,2021
AMMAN — Fourteen COVID-19 deaths and 870 virus cases were recorded in the Kingdom on Wednesday, increasing the caseload to 323,111, the gove