You are here
Wagner chief defends 'protest' as Russia claims return to normal
Jun 27,2023 - Last updated at Jun 27,2023
This screengrab made from undated video footage released by the Russian defence ministry on Monday show Russia's Defence Minister Sergei Shoigu (centre) gesturing between officers as they look at a map in an undisclosed location (AFP photo)
MOSCOW (AFP) — Wagner boss Yevgeny Prigozhin defended his aborted mutiny on Monday as a bid to save his mercenary outfit and expose the failures of Russia's military leadership, not to challenge the Kremlin.
The rogue warlord's first audio message since calling off his troops' advance on Moscow was released as Russian officials attempted to present the public with a return to business as usual.
Fighting continued in Ukraine, where Kyiv's forces claimed new victories in their battle to evict Russian troops from the east and south of the country, but in the Russian capital authorities stood down their enhanced security regime.
Prigozhin, who did not reveal from where he was speaking, said in an online audio message that his revolt was intended to prevent his Wagner force from being dismantled, and bragged that the ease with which it had advanced on Moscow exposes "serious security problems".
The mercenary leader, a former close ally of Russia's President Vladimir Putin, has a long-standing feud with Defence Minister Sergei Shoigu and Chief of General Staff Valery Gerasimov and has demanded they be sacked over the conduct of the Ukraine campaign.
"We went to demonstrate our protest and not to overthrow power in the country," Prigozhin said, boasting that his men had "blocked all military infrastructure" including air bases along their route towards a point less than 200 kilometres from Moscow.
Prighozin called off the advance, and pulled out of a military base his men had seized in the southern city of Rostov-on-Don, a nerve centre of the war in Ukraine, late on Saturday after mediation efforts from Belarus' strongman Alexander Lukashenko.
He did not say where he had recorded Monday's message, but he explained that Lukashenko had offered him a way of keeping the Wagner outfit — a key element in Russia's military machine in Ukraine and in African and Middle East hotspots — operational.
"Lukashenko held out his hand and offered to find solutions for the continuation of the work of the Wagner private military company in a legal jurisdiction," Prigozhin said.
Saturday's extraordinary sequence of events — Russian military bloggers report that Wagner shot down six Russian helicopters and a command and control plane during their advance — has been seen internationally as Russia's most serious security crisis in decades.
But Prigozhin insisted the revolt was designed "to demonstrate our protest, and not to overthrow power in the country" and claimed civilian supporters had turned out along the column's route to wave patriotic flags and Wagner symbols.
The Kremlin, meanwhile, was at pains to stress that there had been a return to normal, having announced at the weekend that Prigozhin would be permitted to seek exile in Belarus and that there would be a general amnesty for his troops.
Putin himself did not directly address the dramatic events, but made a video speech to a youth forum dubbed the "Engineers of the future" and praised companies for overcoming "severe external challenges".
Wagner headquarters in Saint Petersburg said it remained open for business, and Foreign Minister Sergei Lavrov said the firm would continue to operate in Mali and the Central African Republic.
Putin, his office said, had spoken to Iran's President Ebrahim Raisi by phone and had received Tehran's "full support".
He also received a call from Qatar's Sheikh Tamim Bin Hamad Al Thani, who also expressed his backing.
Defence Minister Shoigu appeared in more pre-recorded footage on state television, apparently visiting troops in Ukraine, but it was not clear when the piece was filmed.
Officials in Moscow and in the Voronezh region south of the capital lifted "anti-terrorist" emergency security measures imposed to protect the capital from rebel assault.
'Moving forward'
Ukrainian military leaders, meanwhile, insisted they were making progress in the south and east of the country, and President Volodymyr Zelensky made a morale-boosting trip to troops fighting Russian forces near the city of Bakhmut.
"We are knocking the enemy out of its positions on the flanks of the city of Bakhmut," eastern ground force commander Oleksandr Syrskyi said. "Ukraine is regaining its territory. We are moving forward."
Deputy defence minister Ganna Malyar said Ukraine had recaptured the rural settlement of Rivnopil, on the southern front in the Donetsk region.
Ukrainian residents in the frontline town of Druzhkivka, near Bakhmut, also in Donetsk, told AFP that four explosions rocked a residential district overnight.
The blasts severed water and sewage pipes, shattered windows and threw up stones that hit yards and roofs, but municipal authorities said no one was hurt.
"It was a 'fun' night, we haven't had this for a long time, it's been quiet for a month or so," said 66-year-old Lyubov, showing off the new hole in her cement-shingled roof.
The wine-growing and salt-mining city of Bakhmut, in Ukraine's eastern region of Donbas, was captured in May by Russian forces led by Prighozin's private army.
The victory was short-lived, however.
With the Wagner chief feuding with Shoigu and Gerasimov, Ukraine launched a counteroffensive.
The Western allies backing Ukraine with weaponry and cash see Putin's grip on power weakened by both Wagner's revolt and the operation in Ukraine.
NATO Secretary General Jens Stoltenberg, visiting Lithuania ahead of the alliance's Vilnius summit next month, said Putin's Ukraine campaign had weakened his own position at home.
Germany, meanwhile, boosted Europe's defences on its eastern flank facing Russia, announcing it would station a powerful 4,000-strong army brigade in Lithuania.
Related Articles
May 07,2023
MOSCOW/ KYIV — The chief of the Russian paramilitary group Wagner on Saturday asked Moscow to let him hand over his positions in the hotspot
Mar 11,2023
KYIV — The head of Russian paramilitary group Wagner said on Saturday his fighters were near the centre of Bakhmut as a top Ukrainian comman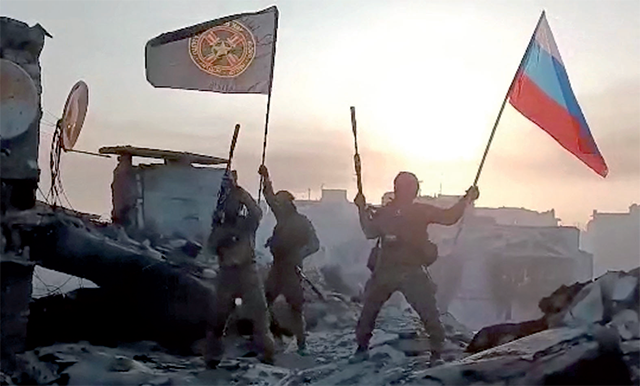 May 22,2023
KYIV — Ukrainian President Volodymyr Zelensky said Sunday that Bakhmut was "not occupied" by Moscow, while the head of Russia's Wagner group